The Gun Trace Task Force had a hugely detrimental impact on the city of Baltimore while they were in action.
The unit of the Baltimore Police Department consisted of eight officers, all of whom have now been convicted for racketeering, robbery, extortion, and overtime fraud.
Their crimes are charted in HBO's new true crime drama from The Wire's David Simon and George Pelecanos titled We Own This City, which stars Jon Bernthal in the title role of Sergeant Wayne Jenkins.
Here, Newsweek looks at everything you need to know about the group and what it was they did.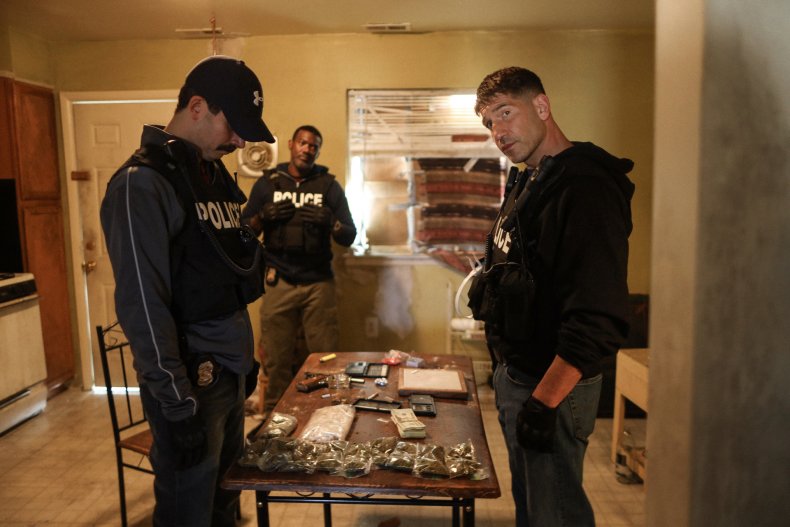 Who Were the Gun Trace Task Force and What Did They Do?
Baltimore Police Department's Gun Trace Task Force (GTTF) were a group of plain-clothes officers who were tasked with clamping down on particular targets in the city seen to be "bad guys with guns."
The GTTF was first established in the city in 2007 as part of former mayor Martin O'Malley's quest to tackle the city's high murder rate, and some of the department's most successful officers joined the unit.
Journalist Justin Fenton reported on the subject for The Baltimore Sun, before collating his thorough investigation in a non-fiction book titled We Own This City, which the HBO show takes its name from.
In his reporting, Fenton shared that the GTTF's mission was to "trace guns back to distributors and straw purchasers."
This meant that rather than roam the streets, the GTTF were tasked with finding and seizing weapons and drugs in bulk from the people believed to be putting them on the streets in the first place.
However, the focus on quantity rather than quality led to widespread corruption amongst the GTTF, with the officers going so far as to steal money from Baltimore citizens, plant evidence, and even steal and sell drugs back onto the streets.
In 2017, seven officers were arrested and charged following a two-year federal investigation into the group, and a further two were also later convicted.
The GTTF consisted of Sergeants Jenkins and Thomas Allers, and Detectives Momodu Gondo, Evodio Hendrix, Jemell Rayam, Maurice Ward, Daniel Hersl, and Marcus Taylor.
Philadelphia police officer Eric Snell was also embroiled in the GTTF scandal after he was found to have conspired with members of the police unit to sell heroin.
During their trial, bail bondsman Donald Stepp claimed that he had been selling drugs that Jenkins had given him during his tenure with the GTTF, and they sold around $1 million worth of narcotics.
Stepp called the GTTF a "front for a criminal enterprise," adding, per the BBC: "It was obvious to me, when I'm taking millions of dollars worth of drugs from the Baltimore Police Department and selling them, that... this is not a normal police department."
Michael R. Bromwich, who led the Steptoe investigation into the group, said in a press statement in January 2022: "Our investigation demonstrated that the corruption within the GTTF began long before the officers joined forces on that squad, and was by no means limited to that squad."
Jenkins, Allers, Gondo, Hendrix, Rayam, Ward, and Snell all pled guilty to the charges made against them, with Hersl and Taylor taking their cases to court where they were found guilty.
The longest sentence handed down was to Jenkins as he was sentenced to 25 years after pleading guilty to one count of racketeering, two counts of robbery, one count of destruction, alteration, or falsification of records in a federal investigation, and four counts of deprivation of rights under color of law, per The Baltimore Sun.
Ward and Hendrix were given the shortest sentences, with both being sentenced to prison for seven years after they cooperated closely with the investigation team.
We Own This City premieres on Monday, April 25 at 9 p.m. ET on HBO.