'The Wire' Creator and Cast on Reuniting for 'We Own This City'
We Own This City feels like a coda to The Wire, co-creator George Pelecanos told Newsweek, as he, David Simon and the show's cast reflected on their reunion.
The HBO true-crime drama explores the Gun Trace Task Force scandal and the actions of the officers in the plain-clothed unit that led to their arrest in 2017 and later conviction.
Simon was aware of the case when it was happening and he was the one who ensured Baltimore Sun journalist Justin Fenton's reporting was turned into nonfiction book "We Own This City," which the show is named after.
Despite this involvement, Simon admitted that he'd never considered adapting the book for the small screen that was his collaborative partner, who also wrote on The Wire.
Simon said: "I didn't think for a minute about it as a television show, this was me reacting as somebody who used to have that gig. It was months, maybe a year later, that George had the idea for us [to adapt it]."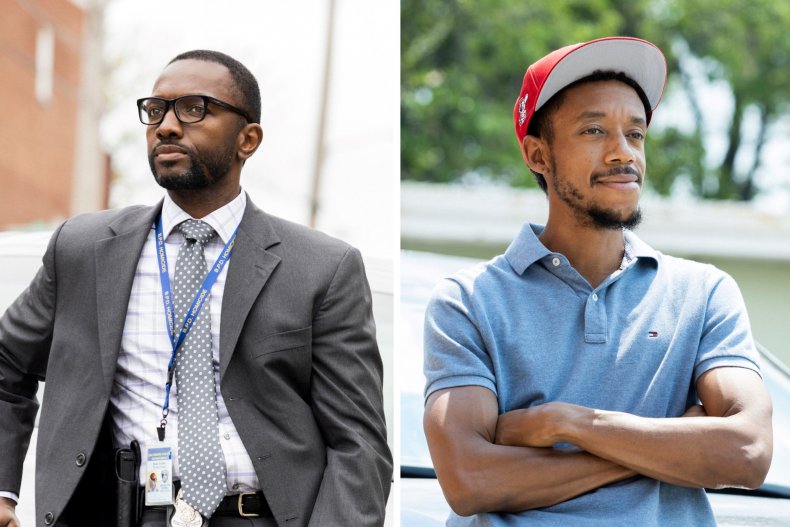 'The Wire' Team Talk Reuniting for 'We Own This City'
Pelecanos felt the show was a natural successor to The Wire and he wanted to make it with Simon and The Wire producer Nina Noble because they could "round up some of The Wire writers as a karmic thing."
He explained that he thought they could "get the band back together and go back to Baltimore and make a coda to The Wire 20 years later."
The co-creators did this not only by bringing back The Wire's writing team but also including actors Jamie Hector and Darrell Britt-Gibson, who played Marlo Stanfield and Darius "O-Dog" Hill in the iconic show.
In We Own This City, Hector and Britt-Gibson play police officers Sean Suiter and Jemell Rayam, respectively. Rayam was one of the members of the GTTF and Suiter was a detective who died a day before testifying in court against the officers. A medical examiner ruled Suiter's death a homicide while the police's internal review board have labelled it a suicide.
Hector said it was "fun" to work with everyone from The Wire again, sharing: "It was exciting, it was a great way to actually come back together and work together because the whole team, the entire team, was there.
"George, David, Ed[ward] [Burns] wasn't there but obviously he was one of the writers, Nina. It was exciting to know that we're going to get together and create some material that's going to stand the test of time. Why? Because that's the kind of work that they are dedicated to doing."
He went on: "Their writing, their directing, their hiring of cast, the hiring of the director, great thought and great times, so we're only ever going to create something great whether people see it or not.
"That's what David always says, right, people don't see much, I feel like I see all the work, but we know that we created something great alongside them."
Britt-Gibson described reuniting with Simon as "seeing your uncle you haven't seen in a while" and he said: "It felt very much family reunion-ish in the best way possible. They're just such great people, George, David, and Jamie, like, that's my big brother.
"When we did The Wire, so much of the work that we do, you do it and then you walk away from it, and hopefully you take a person from it but The Wire was one of those shows like, 'wow, you took a lot of people with you Darrell,' You know what I mean? Like, those are my family.
"I feel so incredibly blessed to have them and to be able to do this incredibly tough job of [telling] this story, because to have them there with me it felt a little bit comforting.
"It was never comfortable just because the subject matter it doesn't leave space for that. But, knowing who was there, to me, [made it] a little bit more [comfortable] than maybe something else, by different people who wouldn't have got that."
George Pelecanos Reveals Reason Behind Casting 'The Wire' Stars
Of bringing the two actors back for the new show, Pelecanos said: "I know Jamie outside of work, you know, we're friends. and I know if you only know him as Marlo and you think he's this cold blooded, vicious person, but he's actually closer to Sean Suiter.
"He's a very spiritual soulful guy, and, and we thought he'd be really good in that role. And Darrell had a sort of a personal connection to the subject, he had an uncle who was shot and killed by police.
"And, you know, we welcome all the different types of people with different views that come into something like this. We'd like to collaborate with that. Darrell was fantastic in this role, really good."
Jamie Hector and Darrell Britt-Gibson on their 'We Own This City' characters
Although Suiter passed away in 2017, Hector ensured he did all the research he could to embody the late homicide detective as accurately as possible.
"I spoke to his colleagues, I listened to a lot of his voice, a lot of videos of his relationship with his children, with his grandkids, with his wife, with his colleagues, and we just had hours of conversation," Hector reflected. "Even our consultant on set Andres [Severino, a detective in the Baltimore police department], he also worked with Sean.
"[I spoke to] civilians that knew him, they had several names for him; I think they called him 'red', they called him 'face.' It was about learning and then trying to figure out the reason why they called him those things, I had a great deal of information that I gathered about him."
Britt-Gibson, meanwhile, shared that he didn't want to approach the real-life Rayam, who is currently serving a 12-year prison sentence, because he "could care less" about what the officer thought. He was more focused on the people he had harmed.
"I had so many people to lean on, so many conversations that I was able to have," Britt-Gibson explained. "It breaks your heart every time you hear one of these stories, but you sit and you listen, because you want to make sure that you're telling their story... Baltimore is still hurting from what this group of men did, and they are going to be hurting for a long time."
Simon concurred with this, sharing how the GTTF scandal reflects a much larger issue: The War on Drugs.
"Nothing good is going to happen in the dynamic policing America until we abandon the Drug War, until we walk away from that disease, that 50-year disaster that has done nothing but brutalize neighbourhoods, brutalized people, brutalized families," Simon said.
"It hasn't had any effect at all on the purity or the availability of any single drug, ever, hasn't achieved anything other than to drive an incredible wedge between law enforcement and the people that need to be policed, and need to live in American cities. It's destroyed everything it's touched."
He added: "That, to me, was the power of the piece... It's like we have one last chance to hammer a few more nails into this, it was the argument of The Wire. It's still the argument."
We Own This City premieres Monday, April 25 at 9 p.m. on HBO.