Wellington is a tiny city really. We only have around 200,000 people living here, even though we're the capital of New Zealand. The city sits on the edge of a beautiful harbour and you can walk almost everywhere; a journey on foot from one end of the city to the other takes less than an hour. But one of the conversations I have often is that while Wellington is a beautiful place to live, it's not beautiful for everyone in our community, and particularly those who are struggling financially.
I actually trained as a chartered accountant, but in 2000 I decided I needed to do something of more value to the community and so, after working for Barnardos and the New Zealand government, in 2018 I became the 12th Wellington City Missioner and the first Missioner who is not an ordained Anglican priest.
Wellington City Mission was founded in 1904 as part of the Church of England to respond to the needs of the community. And while faith is central to the organization, we are completely inclusive. Everybody is welcome and we will treat everyone with dignity and respect.
Although providing food support to the community with food parcels is great, it doesn't give people the opportunity to choose food that they like and know what to do with. So, we began to think about how we could give people the opportunity to choose their own food and ultimately that became the concept of the Social Supermarket. Currently we're building a transformational community hub here in Wellington and a Social Supermarket will be part of that, but because we knew we had 18 months before the hub was complete, we decided to trial the supermarket, which is the New Zealand term for grocery store, in a warehouse space we have.
A large supermarket chain here in New Zealand agreed to help us and they came in and designed a supermarket in the space we had available; fitting it out with shelving and aisles, refrigeration units, vegetable racks and all sorts of displays. We have a checkout counter, trolleys and baskets; everything you would find in a "normal" grocery store or supermarket. I'm so proud of what the team has done.
People don't need to prove their need to shop here, they just have to come to us and tell us who they are and what their circumstances are. Then they can make an appointment to shop with us.
We didn't want prices, so we decided to assign implicit value through a points system, which is a simple way to help people manage what they are getting from us. It's a five point scale where items worth (NZ)$1-2 equate to one point, and then it moves up to where items worth more than (NZ)$10 are worth five points. People are allocated points based on their situation, so an adult individual is allocated 55 points and a family is allocated more points. The idea is that people get to choose but also learn how to shop within a limited budget.
But, this project is underpinned by generosity, so if we get to the point where someone needs an item but has used all their points, the instruction to the team is to be generous and do what they need to for the benefit of the shopper.
We also have "specials" bins. I remember asking how a "specials" bin could work in a supermarket where there are no prices. The idea is that you can take whatever you need from the specials bin and it doesn't come out of your points total.
We run the Social Supermarket by appointments, and a trained volunteer hosts each shopper because often people who come haven't shopped regularly and may need help to decide what to buy. We stock virtually everything except alcohol and tobacco and already have around 3,000 product lines. The mission has relied on donations for a long time, and we do still encourage them despite getting support from a supermarket chain, but often items are donated that we can't put in a food parcel, like hot sauce or gluten-free products. Now, we can put those items on the shelves in the Social Supermarket and our customers can benefit from that.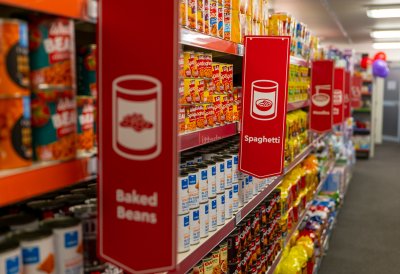 We opened on March 16 and our manager ended up in tears at the end of our first shopper's visit. It was such a powerful moment. That first shopper came in and was so excited to be given her own trolley. She'd never used a trolley before because she hadn't had the resources to fill one. That hit my team quite hard. Then, when she left she said that it was one of the best things she'd ever done. I don't profess to have all the answers, but it felt like we'd got something right and managed to create a deeply respectful and meaningful process that helps people when they are at their most stressed and ashamed.
It's important to note that we are dealing with a problem that stems from the inadequacy of household income and given the cost of housing; food need is just a manifestation of those other problems. The beauty of our hosting model is that during the course of the conversation— which is hopefully warm and respectful—our hosts and customers will discuss these topics. The mission has other support services that people can utilize if they want or need them: budgeting advice, social work support and support with parenting, amongst other things. We want to walk a journey with someone and help them on their way.
Someone asked how we avoid members of the same family coming in, and we do try and control that as best we can, but we're not going to define our model around people who may choose to abuse it, because those people are always in the minority. Most people are genuine and won't come and ask for help unless they are desperate.
My hope is actually that people won't shop with us very often, because I hope their experience with us is part of their journey towards independence.
Many of us go to the supermarket, buy our shopping and go home. Very seldom would we reflect on the privilege of being able to do that. I think the uniqueness of our project is the efforts we have made to make this look like a regular supermarket, because we're genuinely trying to say that we want this to be a normal, lovely experience for people.
We are a faith-led, faith-centred organization, but we're not here to evangelize or convert people, everybody is welcome here without judgement. I find the people who use our services to be deeply honest and beautiful and I often reflect that there isn't a lot of difference between us.
One of the things that underpins this journey is that we have tried to create a community where there is no "us" and "them." I want us to be connected together as a community. What's important to me is less about what the mission does, but what it enables to be done. That means equipping and empowering the community to care for itself.
So, I hold the work we do quite lightly—although it's important—because I want the mission to be a mechanism that helps people care for each other. Our ultimate goal is to build better communities.
Murray Edridge is Wellington City Missioner at Wellington City Mission in Wellington, New Zealand. Social Supermarket is a partnership between Wellington City Mission and New World supermarket.
All views expressed in this article are the author's own.
As told to Jenny Haward.