'We Run Grocery Stores Charging $4 For a Cart of Food'
There was definitely a specific moment that led to the idea for our grocery stores. It was March 23, 2020, when British Prime Minister Boris Johnson announced the U.K. lockdown and everything at our charity shut down.
Like pretty much everyone else in the country, we were like rabbits in the headlights for the first couple of weeks. On our doorstep is one of the largest public housing projects in Europe: Wythenshawe, in Manchester, England. Around 110,000 people live there, so we work a lot with those families.
Our charity, The Message Trust helps people living in tough communities and we recognized that as kids couldn't go to school, parents were really struggling, especially the families that get free school meals. We started cooking up food in our big catering kitchens and began delivering it to these families; within a few weeks we delivered 60,000 meals. We just sprang into action.
My son works with me at The Message Trust and together, we went to a lovely pantry close by in April 2020 to collect some food for these meals. It was not a food bank, it was more of a farm shop. Residents were coming in and for £3 ($4) they were able to shop from surplus food donated by supermarkets. On the way back, my son said, "We could do this."
We had a space in our headquarters and discussed how as well as providing a really affordable grocery store, we could run courses in healthy cooking, debt relief, IT and more. We had it all mapped out by the time we got back. My son really took the initiative, designed this farm shop and together we scrambled around to get the food and get our financing partners in place. We wrote to all the people we'd delivered food to, letting them know about it, and four weeks later we opened our first Message Community Grocery.
On the first morning I had a knot in my stomach, but there were people queuing down the street and we had well over 100 people shop with us that day. It was just beautiful and showed what's at the heart of our charity. Yes, we're Christian, but it's very much sharing the good news in deeds, if you like.
We see our grocery stores as a bridge between food banks and traditional grocery stores. There is a dignity in paying something and doing an actual shop yourself. When people come in, they become members, but you do not have to be Christian to become a member. It's £5 (approximately $7) for membership, but if people can't afford that we have a pay-it-forward scheme where others have donated £5 to allow another member to join. When people come in they are often desperate, sometimes suicidal with debt. Every day we have families turning up who have to decide between heating or eating. It's getting warmer now but in winter, that was horrendous. There are parents who are eating one meal a day so their kids can eat. Debt is crippling people in these inner city communities. Often people are in tears saying they can't afford the membership fee and we can tell them: don't worry.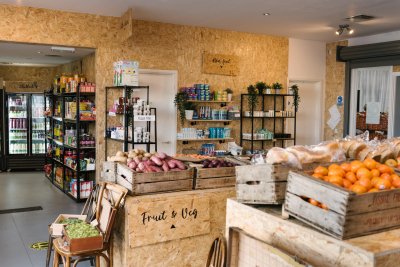 Then we sit them down and explain all the other support that is available to them; 15 different courses. They don't have to do any of it, but it's all set in a beautiful cafe environment that is full of hope and positivity.
People can then go into the shop and get a cart and can have five fresh fruit & veg items—for example, a bunch of bananas would be one fresh item—,seven canned/boxed items, and then items like bread, eggs, milk and frozen food; there is a list of things you can help yourself to. The food offering slightly changes every day depending on what we have, but members can fill up a cart with perhaps around £40 ($50) worth of food for £3 ($4). People can come three times a week and choose the items they want each time; there is a dignity to that. We offer food and non-food items like shampoo and washing detergent, but the food offer is our guarantee.
To open each grocery store we need money. We do get surplus food donated and provided through the U.K. government's FareShare program, but we want to make sure it's a healthy food offering, so we also subsidize every shop. We have to fundraise but we also have to have a local church site. The church helps run the courses and provide volunteers, and obviously they pray like mad for us, because we need lots of prayer as well!
To set up a Message Community Grocery costs about £50,000 ($66,000). That's the store fit out, the initial food offering, training the managers and then—although we have a lot of food donated—allowing for £2,000 ($2,600) a month in extra food. We've tried to make it feel like a farm shop and we have a cafe alongside it. I like to think of it as a community hub of transformation.
We provide a manager and an assistant manager who are full-time staff members employed by The Message Trust. We pay their salary and train them, not just to make it a great shop but also to be looking out to help people and point them in the right direction for the support they need. Then, for every grocery store we have maybe 20 or 30 volunteers who do shifts. Many of them are members, which we encourage and is great. Many members are unemployed, so if they can come in and be in this great environment with positivity and good people, that can be life changing.
Recently, we had a volunteer who first came to one of our grocery stores 12 months ago, utterly shattered. Her partner had died by suicide and she had been on the heart transplant register but had taken herself off because she didn't want to live anymore. She came along to the store as a really broken woman and then she met some great people. She's since committed her life to Christ and volunteers at one of our grocery stores. You couldn't see a bigger transformation; she's back on the heart transplant list and feels she has something to live for. She's full of joy and that's just priceless for us.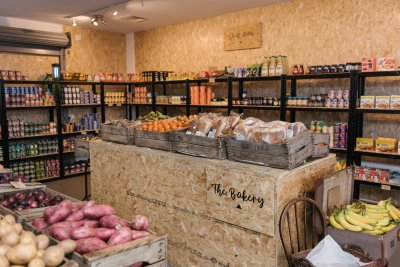 After the success of our first grocery store, we knew we were on to something, so we started talking to other partner churches around the U.K. who work in really deprived neighborhoods. Since then we have opened one around every six weeks and we now have 14 grocery stores across the country and nine more set to open.
The reason we've been able to accelerate so fast is because in 2020 we did our first online fundraiser. We shared the details of our first Message Community Groceries store, saying we had a dream of seeing them all over the country. We raised more than £1,000,000 ($1,300,000) that night. I could not believe it. We need to fundraise again now and find money for the next round, but it's been amazing.
I think the pandemic in particular has led to a huge division in society where poorer communities who were up to their neck in debt at the start of the pandemic are now seeing grocery and gas prices going through the roof and are in deep trouble. So we're going to keep going.
The vision is dozens and dozens of these grocery stores in the U.K. and beyond. We're considering opening stores in Germany and South Africa as we have hubs there. I can see it being a global thing because we work in countries all around the world.
Clearly there are hassles and disappointments, but it's just a blessing to be part of this. I used to run a fashion business 30 years ago, but there is no deal; no amount of money; nothing that could take me back to that. I often say that I'm the guy you can't poach. You couldn't offer me £1,000,000 a year to get me to be CEO of any other charity. Forget it. I wouldn't do anything else, for any amount of money. To be able to say that is a precious thing.
Andy Hawthorne is the founder and CEO of The Message Trust, a Christian charity based in Manchester, England. You can follow them on Twitter @MessageTrust.
All views expressed in this article are the author's own.
As told to Jenny Haward.