We Save Pit Bulls by Spaying Them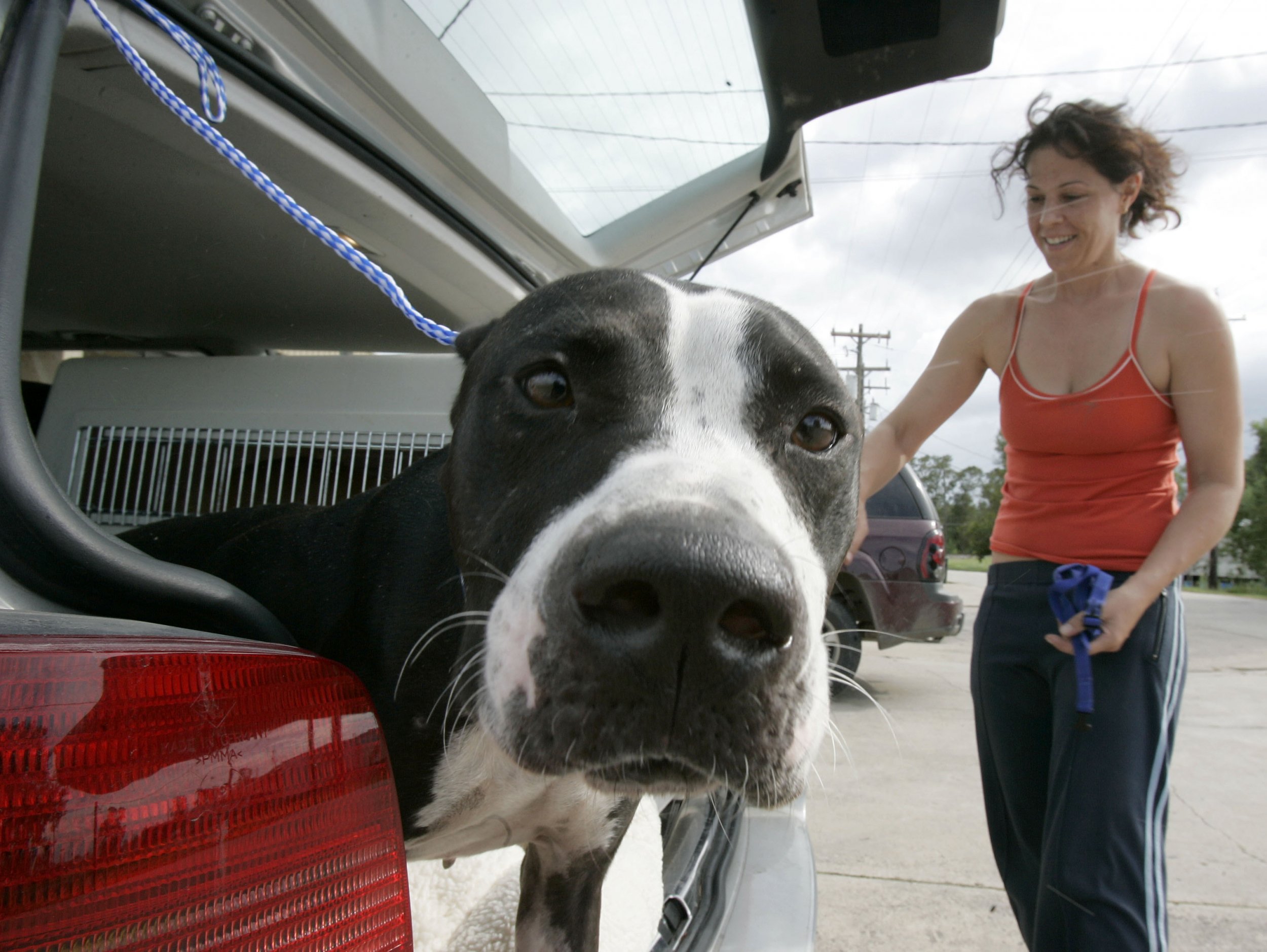 Montréal's pit-bull legislation, which is already being challenged in court, is admittedly far from perfect.
But once you wade through all the hysteria, it becomes apparent that this law has the potential to protect pit bulls by helping ensure that they will be well cared for and won't contribute to the homeless-dog crisis.
Pit bulls are the most abused dogs on the planet, hands down.
They are the breed most often found confined to a filthy patch of dirt on a heavy chain 24/7, made miserable by biting flies in the summer heat and shivering in leaky, plastic airline carriers (if they are lucky enough to have any shelter at all) during winter snowstorms.
They are beaten, starved and taunted to make them "mean" and thrown into dogfighting rings to rip each other to shreds. They are also among the top breeds admitted to animal shelters and tens of thousands of them are euthanized each year for lack of a good home.
PETA's team of fieldworkers goes out every day to provide food, fresh water, lightweight tie-outs (to replace heavy chains), flea treatment, straw bedding, doghouses, emergency veterinary care, spay/neuter surgeries and more to neglected "backyard dogs" in the areas surrounding our headquarters in southeastern Virginia.
They see neglected and abused pit bulls and pit bull mixes far more than any other breed, often suffering from horrific neglect, including untreated broken bones, infected wounds oozing with pus, massive tumors, disfiguring mange, starvation, ears eaten away by flies and frostbite and more.
They see dogs whose puppy collars were never adjusted and have become embedded in the flesh, reeking with decay. They once found a starving pit bull mix locked inside a carrier with the body of his dead sister.
Just a few days ago, our fieldworkers went to check on two pit bull mixes they've been helping for several years, Jody and Krystal. But when they pulled up to the house, they didn't see the dogs.
Alarmed, their worst fears were confirmed when they found Krystal dead at the end of her tether. A necropsy revealed nothing but grass in her stomach—she had apparently starved to death.
Jody was alive, but just barely—a veterinarian ranked him at 0.5 on the Purina body-condition scale (1.0 is emaciated, and 5.0 is healthy). Authorities confiscated Jody and two puppies who were also on the property and charged their owner with cruelty.
PETA had repeatedly offered to spay and neuter Jody and Krystal (we have a standing offer to spay and neuter all pit bulls for free at our mobile spay/neuter clinics), but their owner had refused: She wanted to breed them and sell the puppies.
Mandatory spay/neuter legislation, like that passed in Montréal, could have prevented this terrible suffering. Because even when spaying and neutering is offered for free, if owners don't want to sterilize their horribly neglected and abused animals, without a law requiring it, there's no way to force them to.
Preventing more pit bulls from ending up this way isn't breed-specific "discrimination"—it's breed-specific protection .
Cities that have passed legislation similar to Montréal's report a dramatic drop in the number of pit bulls entering shelters. In San Francisco, the number of pit bulls euthanized at the city's animal-control facility dropped by 24 percent just 18 months after it had passed a law requiring that pit bulls be sterilized.
In Ypsilanti, Michigan, the number of pit bulls surrendered to shelters was slashed in half within two years of the passage of a law that requires them to be spayed and neutered.
But there's an important footnote to this story that is not getting much attention.
The spay/neuter aspect of Montréal's law isn't really breed-specific at all: It requires all dogs to be spayed or neutered, licensed and microchipped by 2019. This is the very least that responsible guardians should do for their dogs.
Anyone who wants to stop the euthanasia of homeless animals should wholeheartedly support laws that prevent unwanted dogs from being born, in addition to helping reunite lost dogs with their guardians.
If we care about pit bulls—or any dogs—we should be fighting tooth and nail for more laws to protect them, including spay/neuter legislation, anti-chaining legislation and tougher anti-cruelty laws.
Krystal's owner has been charged with misdemeanors and could potentially face just a few weeks or months in jail if she is found guilty of letting her dog waste away on her tether, helpless to save herself.
That particular case of injustice to pit bulls hasn't gone viral, but it should. Maybe then people would understand just how badly these dogs need protection.
Daphna Nachminovitch is the Senior Vice President of Cruelty Investigations for People for the Ethical Treatment of Animals (PETA).