'We Search Our Souls For Answers': Fox News Host Shepard Smith Delivers Emotional Statement on Gun Violence
Fox News host Shepard Smith used the opening statement on his show Monday to deliver a heartfelt message to America and its lawmakers. On the first business day after a weekend of massacres from Texas to Ohio, Smith ripped politicians for doing nothing to stop the slaughter.
The first massacre happened Saturday (Aug. 3, 2019) at a Walmart in El Paso, Texas, when a gunman identified as Patrick Crusius, 21, opened fire inside the store and nearby parking lot, killing 22 people and injuring more. Crusius allegedly drove more than 600 miles from north of Dallas to the west Texas town to spray bullets into a highly-populated Hispanic area.
A second massacre went down a day later in Dayton, Ohio, when a masked gunman identified as Connor Betts shot and killed nine people — and injured others — during only a 30-second span in a popular downtown nightlife area.
Both gunmen used semi-automatic rifles in their slaughters.
Shepard Smith immediately addressed gun violence on Monday and attacked politicians for not passing more stringent gun laws and background checks.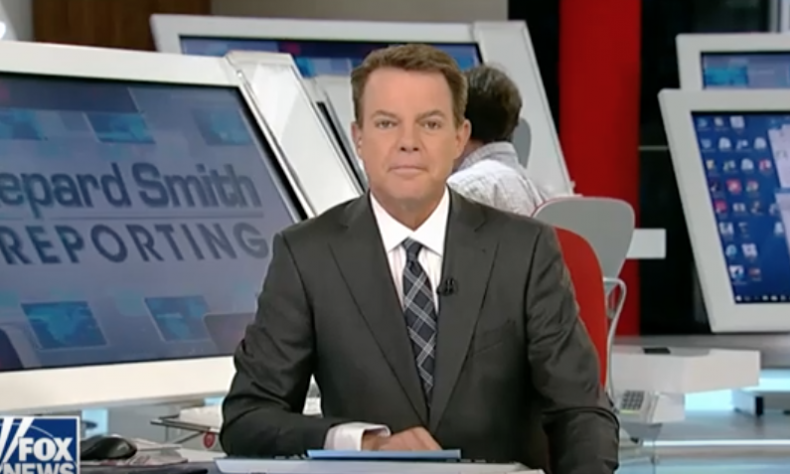 "Yet again in America," Smith started off. "Yet again in America, innocent families are slumped to their knees in grief, living the agonizing and unimaginable weight to retrieve the bullet-riddled bodies of their children and parents, slaughtered in senseless gun violence.
"Yet again in America we search our souls for answers, beg our leaders for solutions that thus far have not come."
Smith went on to say that Dayton was the 251st mass shooting in America in 2019, coming just 13 hours after the 250th in El Paso. He said the weekend shootings "represent only a small fraction of our nation's gun violence," and attacks like these are traumatizing because "after the fact, we can all put ourselves there."
He said people can relate to shopping for school supplies with children running around, or being at a bar late Saturday night and into Sunday morning.
"Now we know what it looks and sounds like, on the regular stops along our journeys," he said. "Yet again, in America."
Smith said events like these happen in crowded areas, and it causes fear in parents who must send their children to school. Smith named off schools where mass shootings have taken place over the last 20 years: Columbine, Newtown, Parkland, The University of Texas, Virginia Tech and others.
Smith drew on other examples, like the Pulse night club in Orlando, the Gilroy Garlic Festival in California, the Synagogue in Pittsburgh, the baptist church in Texas and the Bible study in Charleston.
"You may remember something of many, maybe, but likely not all 251 this year. But survivors will tell you you never forget," Smith said. "If you saw the killer up close, smelled the blood when it was over. Or buried your child. You can't forget. Ever. Each time we hear kids cry, parents pray and politicians promise. Then it happens yet again in America."
Smith said "gun laws, regulations, background checks, soft targets, body armor, death penalty, mental health, time for action, I promise, thoughts and prayers. We heard you last time, and the time before that."
"And we'll likely do it all soon, yet again in America."