We Should Focus on Protecting the Vulnerable from COVID Infection | Opinion
In the U.S. and around the world, lockdown strategies have led to many avoidable deaths among those at high risk from COVID-19 infections, while creating enormous collateral non-COVID health damage on everyone else. With age-wide lockdown measures—including restrictions on school, business and worship activities—we are protecting low-risk university students and young professionals such as bankers, lawyers, journalists and scientists who can work from home. Meanwhile, older and high-risk members of the working class are being exposed to the virus and risking their lives while generating the population immunity that will eventually protect us all.
The Great Barrington Declaration advocates a shift to a focused protection strategy that reduces COVID-19 mortality by better protecting the elderly and other high-risk groups. At the same time, children and low-risk adults—for whom lockdowns cause more physical and mental suffering than COVID risk does—are encouraged to live near-normal lives.
The Declaration has been met with great interest and a positive response across the globe, with more than 600,000 co-signers to date. Volunteers have translated it into more than 30 languages, including Cebuano and Faroese. This response makes sense when we consider the tragic consequences of ineffective lockdowns, including starvation for tens of millions of people in the developing world.
In the U.S., where lockdowns have inflicted damage on the inner-city working class, nursing home residents and children, the Declaration has met with considerable pushback from some academics. The main criticism is the difficulty of separating the old from the young. Contrary to this criticism, there are many creative ideas for protecting the vulnerable while permitting others to live engaging and stimulating lives. We must distinguish between different work and living situations.
How can we better protect nursing home residents? This is the most vulnerable population. Key protection measures include frequent testing of care home staff members who are not already immune and reducing staff rotation so that each resident interacts with fewer caretakers. Individuals infected with COVID-19 should never ever be sent to nursing homes, and all new residents should be tested before arrival. Separating infected residents from other residents is also critical. At the same time, providing residents the chance to spend quality time with family and friends is critically important for their well-being and mental health, and can be safely accomplished with same-day testing of all visitors.
How can we better protect older people living at home? During times when transmission is high, older people should be offered home delivery of groceries and other essentials. At those times, it is best to meet family and friends outdoors. We should make rapid testing available for visiting relatives. Free N95 masks and instructions on their appropriate use should be provided when potential exposure cannot be avoided.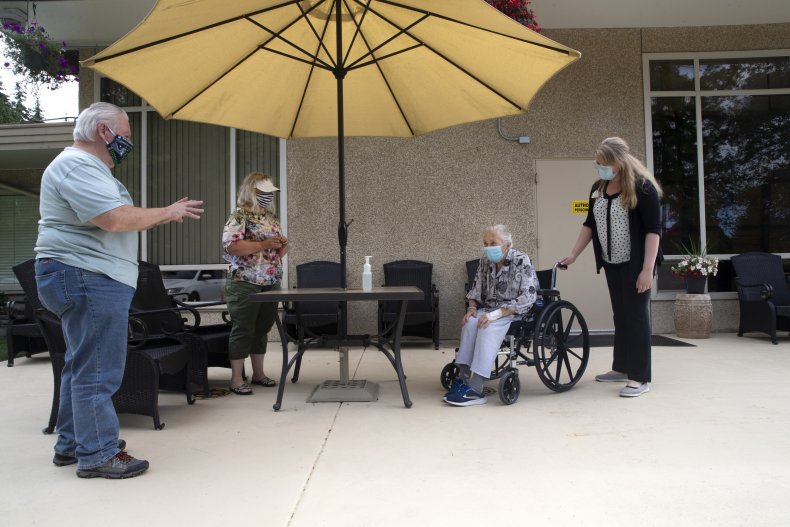 How can we better protect older people still in the workforce? People in their 60s are at moderate mortality risk from infection, and many are still in the workforce. If they cannot work from home, they should receive workplace accommodations from their employer, so they do not have to face exposure. Alternatively, Social Security should provide temporary funds for three-to-six-month sabbaticals until disease risk subsides, with legal job protection when older employees are ready to go back to work.
How can we better protect older people in multigenerational homes? This is the most formidable challenge, but the key is family-specific solutions. We know that older people living with working-age adults have a higher COVID-19 risk than older people living with other older people, while those living with children face no additional excess risk. If working-age household members can work from home, they can all isolate together. During high transmission periods, another option is for an older family member to live with an older friend or sibling temporarily. They can self-isolate together during the height of community transmission. As a last resort, alternative living arrangements such as empty hotel rooms could be offered for temporary housing.
Universities must stay open, as university closures and the economic displacement caused by lockdowns have led millions of young adults to move in with older parents, increasing regular close interactions across generations. Rather than testing students when they arrive on campus, universities should test students before they head home for Christmas or other holidays.
Though the most important predictor for COVID infection survival is age, comorbidities like diabetes and obesity can modestly decrease survival chances. Younger people with such risk factors should take the same precautions as somewhat older people without them. For everyone, young and old, it is essential to stay healthy, eat right and take advantage of opportunities to spend time outdoors, perhaps walking, bicycling or exercising in other ways.
When community transmission subsides, older people can resume normal life with minimal risks. How long that takes depends on the strategy used. If we continue to use unsuccessful age-wide lockdown measures to suppress the disease, unless we have an improbably safe and effective vaccine, it could take several years for the epidemic to come to an end. It is exceedingly unlikely that the measures available to protect older people could be maintained for that long. If focused protection is used, the pandemic would likely be over in three to six months.
Some have argued that it is impossible to separate older and younger generations. While 100 percent separation is impossible, with the current lockdown and contact tracing strategy, we have "successfully" shifted infection risk from the professional class to the working class. With the focused protection measures outlined above, it will prove no more difficult to shift infection risk away from high-risk older people.
Martin Kulldorff is a Professor of Medicine at Harvard Medical School. His research centers on developing new epidemiological and statistical methods for the early detection and monitoring of infectious disease outbreaks and for post-market drug and vaccine safety surveillance. Sunetra Gupta is a novelist and Professor of Theoretical Epidemiology at the University of Oxford with an interest in infectious disease agents that are responsible for malaria, HIV, influenza and bacterial meningitis. Jay Bhattacharya is a Professor of Medicine at Stanford University, research associate at the National Bureau of Economics Research, a senior fellow at the Stanford Institute for Economic Policy Research and at the Stanford Freeman Spogli Institute.
The views expressed in this article are the writers' own.