We Should Only Be Trading With Our Allies | Opinion
While cooling just a tad, inflation still galloping at an annual rate of 8.3 percent, presenting President Biden with a true political and economic inflation emergency. Despite the economic rebound from the pandemic-induced recession, U.S. voters are hyper-focused on spiking gas prices and grocery checkout tallies. After months of deflecting blame onto "Putin's price hike" and "do-nothing Republicans," President Biden has finally made tackling inflation his number one priority.
First on his list will need to be tackling the massive supply-chain disruptions driven first by COVID-19 and now by the West's sanctions against Russia over Ukraine. He will need to address the ships stacking up at ports for want of off-loaders and truck drivers and the cars piling up at factories for want of semiconductors. There are workers voluntarily quitting over-stressed manufacturing and warehouse workplaces for better-paying, less demanding job environments. Farmers can't find enough workers to get their fruits and vegetables picked. All of these things accelerate the spike in prices.
And it will take a multi-pronged solution to bring prices down, from opening the strategic petroleum reserve to the Fed tightening the spigot on the money supply. Perhaps most important of all, it will require leaning in to trade relationships with friends and allies we trust.
Put simply, it's time to deliberately rewire supply chains to source essential materials, goods, and services with countries who share our democratic values and commitment to an open, transparent, rules-based international economic and trade regime. Rather than going for the cheapest possible goods, we should begin sourcing from friends we can rely on without worrying about whether we are strengthening the economic and political hand or bankrolling the war machines of authoritarians.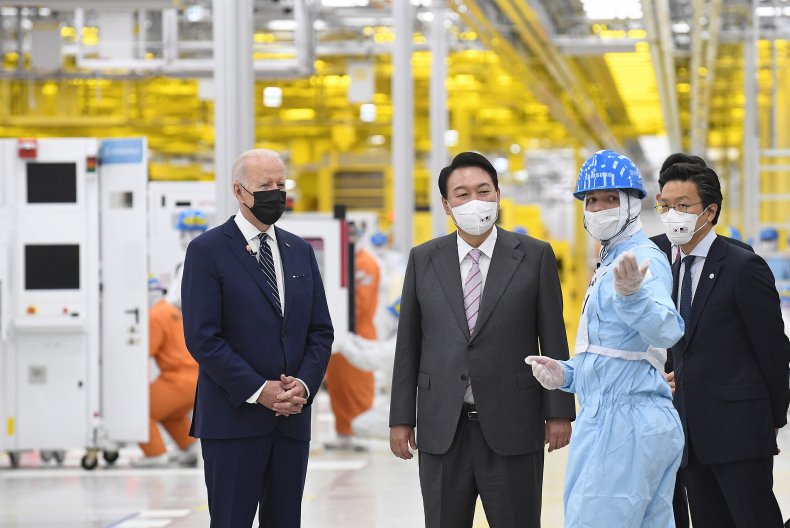 This reorientation is known as "ally-shoring," and it's particularly important that we look to lower cost suppliers and producers in the developing world that can help us keep the benefits of finely-machined, efficient and cost-competitive global supply chains. Ally-shoring also offers a real alternative to developing nations who would prefer to work with a democratic-led trade and economic development regime rather than China's corrupting Belt and Road Initiative, or Russia's dependency-inducing energy deals.
Not everyone agrees. There are loud calls to "onshore" manufacturing, to pull back scattered global supply chains in order to bring jobs back home. These calls are understandable and may make sense in certain areas, particularly supplies deemed vital to national security. But it would be unrealistic and incredibly costly and impractical to unwind our tightly knit and interdependent global economy. There is also the chance that it would make inflation even worse!
The better option is to ally-shore, knitting together the economic good of rebuilding our own and our allies' economies with the political goal of strengthening democracies as we unite to confront Putin and become better prepared to confront other authoritarians.
The U.S. and our allies should be co-investing with the private sector in reworked supply chains and production facilities, especially in the lower cost world of Africa, Asia, Latin and South America. We should be helping Chile, Argentina, and Bolivia get us more lithium for electric car batteries. We should be working to more sustainably and securely source rare earth metals needed in our electronics and aerospace from Africa and Mexico. We should be co-investing with countries from Canada to Morocco to the Congo to unlock the world's vast oil-shale reserves we can use to swap out other allies in Europe from Putin's energy gunpoint.
We should even be using this crisis to make big moves to improve our immigration policies—like a functional guest worker program and emergency visa program that would allow employers desperate for workers in key industries to get the help they need. This is vital in sectors like agriculture, where the labor shortage means food is being left on the ground, driving prices higher.
The U.S. must also address remaining dependencies in areas like advanced manufacturing, semiconductors, medical technologies and supplies, which create serious ongoing vulnerabilities and potential sources of conflict with authoritarians.
Shifting away from dependencies on Russia is currently adding to the inflation pain, but we won't see price pressure reduced until the genius of the private sector reworks the highly efficient global supply chains with, reliable, freedom-loving partners.
To whip both inflation at home and authoritarians abroad, we must lean into our relationships with those we trust.
Elaine Dezenski is a Senior Advisor at the Center on Economic and Financial Power at the Foundation for Defense of Democracies.
John Austin Directs the Michigan Economic Center and is a Nonresident Senior Fellow with the Brookings Institution and the Chicago Council on Global Affairs.
The views in this article are the writers' own.