We Should Plan Homes to Minimize the Threat of Wildfires
Americans have been settling the west for over one hundred and fifty years.
Today, we tame it one suburban development at a time.
According to the Wildland Urban Interface (WUI) measurement framework, the conversion rate from wildlands to urban development has grown to 4,000 acres per day or close to 2 million acres per year.
In recent decades, the U.S. has also seen a marked growth in wildfires. As the tragic events in California have revealed, wildfires and the WUI all too often prove a deadly mix.
The explosion in WUI development increasingly puts homeowners, firefighters and communities at risk of wildfire – a risk that is only growing across the United States as the globe warms and aridification worsens. Since the 1980s, large fires in Northern California have increased by 60 percent. Some forests in the Pacific Northwest have seen a 5,000 percent increase in annual burned land.
Already in 2017, 8.5 million acres have burned, a land area larger than the state of Maryland. At this rate, 2017 may well break the 2015 record of 10 million acres burned. As we have witnessed in recent days in the beloved wine country of Northern California, those wildfires come at a great cost to lives and property. Living in fire-prone wildlands requires us to do a better job building resilience to the increased threat.
We should start by learning which regions are most at risk. Many people assume that most WUI lands fall in the western states. The large eastern and southern states have the most land in the WUI. In 2016, Kansas and Oklahoma saw over a million acres burn – that's an area bigger than the state of Rhode Island.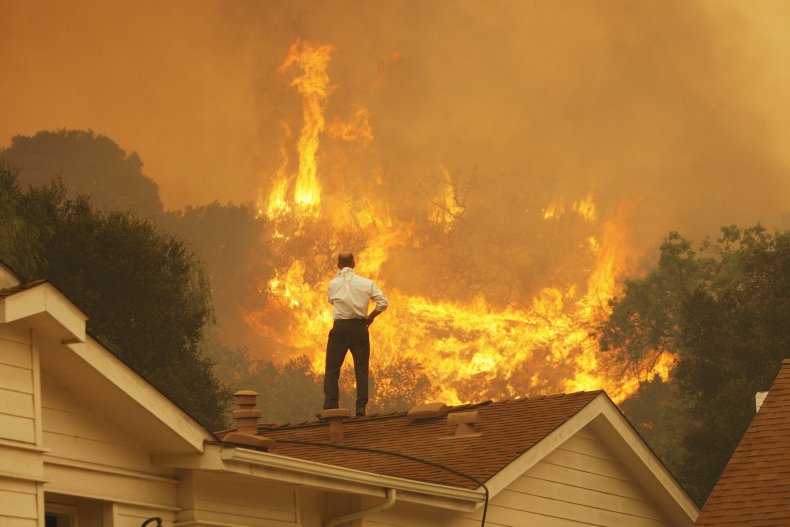 According to the 2017 Verisk Wildfire Risk Analysis, more than 2 million of the 4.5 million homes at high or extreme risk of wildfire are in California. But after California, Texas is considered the second most fire prone state.
We also need to heed what firefighters from across the country have observed: what used to be the "fire season" now stretches across many months, if not the entire year. Scientific research suggests that the fire season has expanded by approximately 78 days in the past several decades.
Just since 2000, climate change has been attributed to adding 9 additional days of high fire season.
This past summer, the world expressed outrage when they learned that the highly flammable façade of the Grenfell Tower in London led to its rapid incineration. Yet, many of our homes reflect a similar trade-off between cost and safety.
Take cedar shake and shingle roofs. They may be aesthetically pleasing, but, in the words of Peter Hendrickson, the fire captain of Burbank, California, they are "like having a pile of firewood on top of your house."
Over the past several decades, some communities have banned them. In 2012, the Waldo Canyon Fire in Colorado burned 450 homes in a little over 4 hours. Shake roofs again carried part of the blame . Despite the obvious risks they pose, these roof materials remain in fire-prone communities.
We already know how to build safer structures that offer greater degrees of fire resistance at marginal costs. And it's not just cedar shake and shingle roofs. The layout of neighborhoods can not only thwart the spread of structure fires, but also speed evacuations making firefighting safer.
Close study of the Waldo Canyon Fire revealed that communities in the WUI can take additional planning measures to increase protection. They can also require that builders adhere to the latest model building codes and ensure strong enforcement of those codes.
Isn't it time we start insisting on building practices that provide more protection?
In the face of devastation from natural disasters, other communities have rallied to make resilience part of their building requirements. After Hurricane Andrew's lethal winds destroyed 25,000 homes in 1992, the state of Florida revolutionized wind standards in their building codes.
In 1971, an earthquake in California led to a similar effort to impose new seismic standards in building codes. Over the decades, Los Angeles has adopted a series of seismic code improvements covering not only new construction but also requiring the retrofitting of certain buildings.
Should we put the lives of firefighters and ordinary Americans at-risk when we know that investments in resilience can lessen the destruction caused by fires in the WUI?
Firefighters understand the growing risks of wildfires in the WUI. The rest of the nation, including the homebuilding industry, needs to insist on fire resilience. Doing so will save firefighters' lives as they save ours.
Alice Hill is a Research Fellow at the Hoover Institution. She was Special Assistant to President Obama and Senior Director for Resilience Policy at the National Security Council.
Jesse M. Keenan is a Lecturer of Architecture and Director of Real Estate and the Built Environment, Harvard University Graduate School of Design.