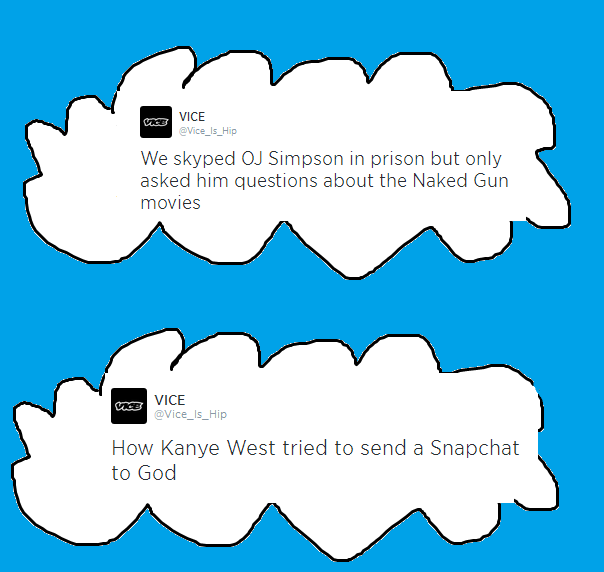 Imagine a social theory class composed entirely of popular conceptual Twitter accounts. The dude behind @Horse_eBooks lounges pompously near the professor, hawking his evening art exhibition and the New Yorker write-up it recently received. The recently terminated @everyword avoids eye contact entirely and buries his head in code, hard at work on a new Twitter bot that'll eventually amass 36 devoted followers. @GSElevator fidgets and eyes the room nervously, hoping no one realizes that he isn't actually a Goldman Sachs employee.
And somewhere in the back of the room, two Brits giggle while throwing spitballs and passing notes about pranking Morrissey and feeding Ketamine to interns.
They are Jimmy Avis and Matthew Clifton, the two Londoners who together provide the voice behind @Vice_Is_Hip, one of the media world's most weirdly enduring parody Twitters. As Vice Media continues its world takeover (a potential $2.2 billion deal and huge new Williamsburg office are just around the corner), @Vice_Is_Hip has followed closely behind, amassing well over 10 percent of @VICE's Twitter following since debuting in September and reportedly landing a job offer from VICE along the way. "It feels like they're trying to outdo us now," the duo said of the media company. "It definitely feels like the two have grown into each other." (Disclosure: I've contributed to Noisey, VICE's music blog.)
We reached out to Avis and Clifton, who claim to co-run the account despite hardly ever meeting up in person, and they agreed to answer our questions via email. No salvia was actually smoked in the Himalayas in the making of this interview.
The two of you run @Vice_Is_Hip. How do you know each other?
We met at school 20 years ago.
How did you conceive of the account? What was the impetus?
We just noticed that VICE was ripe for parody (we took drugs with this guy in this location) and somehow no one had done it, and the account was quickly born. I (Matt) said wouldn't it be funny to parody, and within minutes Jimmy had set it up. The media is just so ripe for piss-taking in general. It's not just VICE, but they were just there standing at the front. There's loads of celebrity jokes on the account that VICE would never do.
Are you active on Twitter outside of @Vice_Is_Hip?
Yes, we have about 30 other accounts between us. Some are very, very niche.
Describe your creative process. How much work goes into each tweet?
Sometimes almost no effort. Sometimes it takes a while to think them up. Sometimes we post and then delete because they don't seem good enough in hindsight and they don't get much pick up.
Do you two collaborate on every tweet?
No, we rarely collaborate, but we are very much in sync and sometimes separately post within seconds of each other.
How does running @Vice_Is_Hip factor into your personal or professional lives?
It's like an outlet for coping with stress. But it has almost destroyed our lives.
How did it grow to be so popular? Why do people seem to like it so much?
It's a good question. We don't know why it kicked off so fast. I guess VICE is very polarizing. If people hate VICE they like it, but if they love it they'll still retweet it. One thing we never predicted was the sheer volume of parodies of our parody that have appeared, the best of which is @Vice_Is_Bot.
Your favorite @Vice_Is_Hip tweets? Top three?
Hard to say as there have been a lot of tweets. Some of the most retweeted include Jay Z thinking Man City was a gay nightclub, Shaggy admitting it was him, and How Kanye West Tried to Send a Snapchat to God. None of those are really VICE-style tweets. They're more celebrity-bashing, which is interesting.
Which celebrities (or drugs) are most useful to integrate into tweets? Is there a secret formula you have somewhere?
We like recurring jokes and characters like Putin, Shia Labeouf, James Franco, Crystal Castles, and there are also obscure ones like Gaston from Beauty and the Beast. There are no rules, really.
VICE reportedly wanted to hire you. Did anything come of that?
No, they were Dutch.
Sometimes you actually just retweet VICE. Why?
Because their headlines are sometimes so ridiculous. It feels like they're trying to outdo us now. It definitely feels like the two have grown into each other. Theirs is getting sillier. It's like a sport.
Are you especially fond of any other media outlets?
Not particularly. Twitter, always.
Do you think you'll ever take a job in media?
Who knows? Maybe we already have.
What's your favorite actual VICE story (or headline) of all time?
The one where they pushed Morrissey in quicksand and then offered him a rope made of meat, making him sacrifice everything he believes will never be bettered. [Ed: Hmmm.]
Do you have any comment on the recent scuffle between Gawker and VICE, wherein Gawker blasted VICE for low pay and s****y work conditions
We have s****y work conditions and no pay, so we can't judge.
We introduced a remote Himalayan tribe to Crystal Castles and then mocked them for being 5 years out of date

— VICE (@Vice_Is_Hip) June 13, 2014
Any thoughts about VICE's massive new property in Williamsburg, possibly where 285 Kent used to be?
No, we don't know about that… but we've commissioned James Franco to write a short story about it.
Do you worry the account will ever get old or stop being funny?
All the time. Then we tweet again.
What else do you want to tell the world about @Vice_Is_Hip?
It's just a Twitter account, but if you want to send us your money, please do.