'We Turn Our Home into a Christmas Wonderland Every Year'
I will always remember that each year at Christmas, my mom would take a picture of me and my two brothers sitting by the fireplace. I was never once looking at the camera, because I was always looking up the chimney trying to find Santa. Christmas was always a really big deal in our family. My mom was old-fashioned, so we'd string popcorn and cranberries and put them on the tree, and my dad loves gift giving; it's definitely a love language for us. My husband Corey has married into a really crazy Christmas family!
Corey and I have two sons; Alex who is 23 and Jack,19, but when Alex was 2 years old, he became fascinated by Christmas lights. We ended up hanging them in his room and playroom all year long. We didn't have a lot of money back then, so our family would send us gift cards for Christmas and we would use them to buy clearance Christmas decorations for him because he loved it so much.
About a year later, we found out Alex was autistic and he remained fascinated by lights and anything electrical; by the age of 5 he could take my computer apart and put it together again. Our second son is also autistic and inherited the "electrical bug" too, so visiting Christmas lights became our thing, and as Alex got older he started wiring our family Christmas light displays.
We started our first homemade display in 2000; it was just a few lights, a tree and some handmade items. Over the years we'd add more and more, but money was tight. So many people helped us out and we always said that someday, when we could, we would give back to others.
In 2006, we moved to Utah to put our boys in an autism charter school. That's when we started doing more with our display. We had lights on our bushes, on every window, on the roofline and sometimes on the roof itself, depending on how much snow we had.
But it was when we moved to Texas in 2013 that the fun really began. We realized we weren't going to have snow at Christmas anymore and could put so much more on the lawn. Our first display in Texas made us the most decorated house on the block and in 2015 we moved into a new house and started getting involved in Christmas light decorating contests.
Our display was a good size that year; we had a lot of lights on the house and about 40 different characters and figurines on the lawn. We even put curtain lights on the garage so you couldn't really see it. We thought we were cool and that it looked really good! We lost by five votes.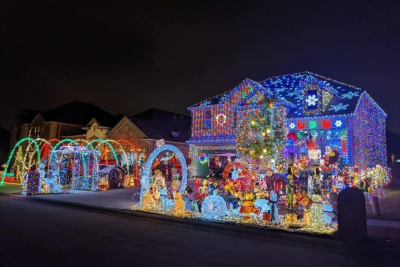 I think we found out mid-December 2015 that we had lost and immediately started planning the display for the following year. I call my father, my son Alex and I the "Crazy After Clearance Christmas Shoppers." It's a little wild, we even have radios. We are determined to get those deals.
That following year we added life-size gingerbread houses, covered our grass in lights and turned our garage into a magical Christmas village. I've always collected Christmas villages so we made a big train track so it looked like a toy store. We had a fire pit and a selfie station; a wreath with a big elf holding it. People loved it and it became our "elfie" station. We won the competition that year.
Now, we have around 75,000 lights and 90 percent are LED. We hot glue 10,000 lights to our house and it makes them look like gumdrops. My trade off with my husband is that if I do all the walls, he has to cover the roof with lights while my dad oversees and builds other items. People often ask how much our light bill is: we probably pay around $500 for six weeks. On our lawn, we have around 350 individual pieces, like figures and characters, and we have our big train village with more than 450 pieces. I also have 21 trees inside the house. It's a lot of work but we love it.
One side of the house is very "Texas"; we have cows the size of St. Bernard dogs leading up to a child's playhouse that I turned into a barnyard. It's decked out to look like a real barn with Texas flags and all types of animals around it.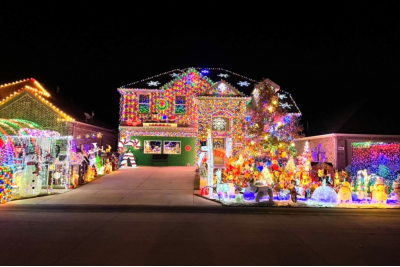 Each year we also pick a news show to poke fun at, and this year we have "Good Morning North Pole" as part of our display, but my favorite element is our "dog park." We have more than 40 different types of lit up dog figurines because I wanted people to come to my display and find something that reminds them of home. What better than their dog?
We have a north pole, with fake snow and north pole creatures around it and a life-size pink, gold and silver gingerbread house with a little kitchen in it and vanilla scented smoke that comes out of the chimney. I did that because it can be hard to play with the imagination of people who are on the autism spectrum. Instead, we try to appeal to their different senses where possible.
We have Disney characters and a Cinderella castle and our north pole even has a post office where kids can mail a letter to Santa. We respond to every single letter that has a return address on it. There have been days where I have written back to nearly 100 kids.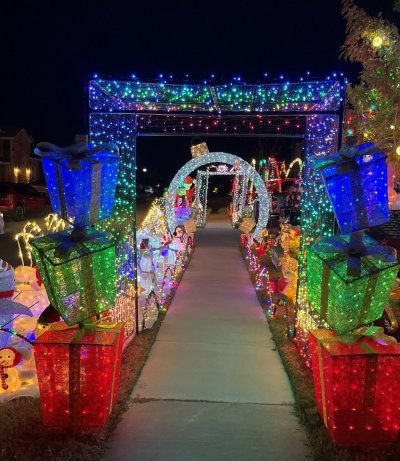 Visitors can walk through light arches on our lawn and inside our garage we have the Christmas village and train. My dad started that collection for me and he's still with me as I build on it. It has gone from 250 pieces to more than 450 this year.
My son Alex always calls to check we have wired everything correctly, and Jack helps with the coordination because we have about 20 volunteers helping each night. Every evening from the beginning of December, thousands of people come to see us. On the weekends we can see up to 9,000 people a night. Some drive by and some are on foot. It's wild.
The reactions people have are amazing. We see everyone from families to people on first and second dates and even couples taking engagement photos. We are on some Christmas light tours now, so there are tour buses that come and see us and we have visitors who return year after year. In 2022, I'm going to start a guest book, because every night we find people from other countries who have come to visit family in Texas. We also had somebody recently who drove eight hours from southern Texas to see us. That was incredible. On Christmas Eve 2020, people were coming well past midnight with their little ones and we had to tell them that Santa only visits when they go to bed. On Christmas Day, people start showing up right around 6pm.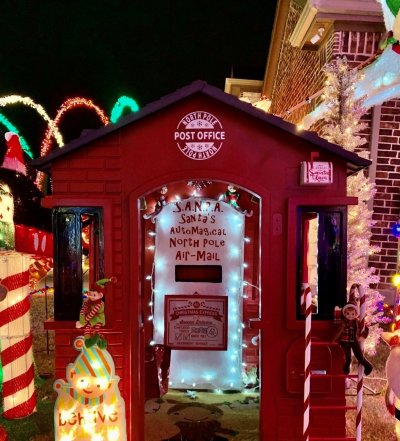 After that first huge year in 2016, people started trying to give us money to pay our light bill. We don't need the money, so we'd ask them to donate money or help out a family in need instead. We want to give back to people. So many people really supported us when we were a new family trying to figure out how to navigate autism and we decided we could really help some families in need who have little ones with a disability or illness. So, we started supporting a family each year and donating to other organizations too.
Often families visit us who have children with autism or other disabilities and have heard the story of our family. We actually try to reserve time from 5.30pm-6.30pm each night for children who are on the autism spectrum, those with disabilities and elderly people. It's a great time because it's not so busy.
Although we do not charge people to come to the display, we do accept donations and we sell some retail merchandise, and all the proceeds go to the families we support and charitable organizations. Our Christmas display has actually become so large that we have been able move towards starting our own foundation to give scholarship opportunities for individuals with autism.
Eventually we might have to have someone help us on the ladders and the roof but we do plan to keep going with our Christmas display. People laugh and say I'm running out of room. I am, but I keep adding platforms so I can build higher on my house!
It's amazing what we have been able to do for charities and we can see how important our display is to families, particularly those who can't afford to see Santa at the mall. We're part of a tradition now. I never thought putting up Christmas lights would achieve this. We are able to create amazing moments for families and friends and give back to our community. In my eyes it's giving back in honor of those who helped us.
Jennifer Burkman and her family run Burkman Holiday Home, their Christmas decoration and light display, each year at their home in Frisco, Texas. You can find out more about it on Facebook at Burkman Holiday Home or on Instagram @burkman_holiday_home.
All views expressed in this article are the author's own.
As told to Jenny Haward.