'We Were Shocked': Couple Won't Postpone Wedding For Pregnant Sister-In-Law
Internet commenters stood firmly behind one couple who explained why they refuse to postpone their upcoming wedding, despite significant pressure from a family member.
In a Reddit post published on r/AmITheA**hole, Redditor u/Recent-Employment636 explained that they are set to marry their fiancé in late July, but detailed their sister-in-law's strange request that heightened tensions surrounding the wedding. Titled, "AITA for not canceling my wedding because my [sister-in-law's] due date is close to our wedding date?," the post has received over 8,300 votes and 1,500 comments.
Explaining that the couple's scheduled wedding day is July 30, the Redditor said that they recently learned their sister-in-law's expected due date is August 6. Despite being excited for the pregnancy, u/Recent-Employment636 said that the expecting mother recently asked the couple to postpone their wedding day because it is too close to her due date.
"She said she wanted to sit me and [my fiancé] down and discuss the cancellation or postponement of our wedding because of her due date," they wrote. "We were shocked and surprised since we never discussed or even implied the wedding would be postponed."
After denying the couple's attempts to explain their plans to accommodate her pregnancy, the Redditor said their sister-in-law demanded they postpone the wedding, but to no avail.
"She said she won't accept not attending her brother's wedding, so we have to make it work and look for another date," they wrote. "We explained we can't do it...every other date will be booked and if we cancel or postpone the next wedding date available is after February 2023."
In the two years since COVID-19 arrived in the United States, quarantine protocols and capacity restrictions forced engaged couples across the country to postpone 2020 and 2021 wedding dates to 2022 and years beyond. According to data collected by wedding-planning website The Knot, 2.6 million couples will have weddings in 2022, a record high number. (The Knot data shows that 2.2 million couples held weddings in 2019.)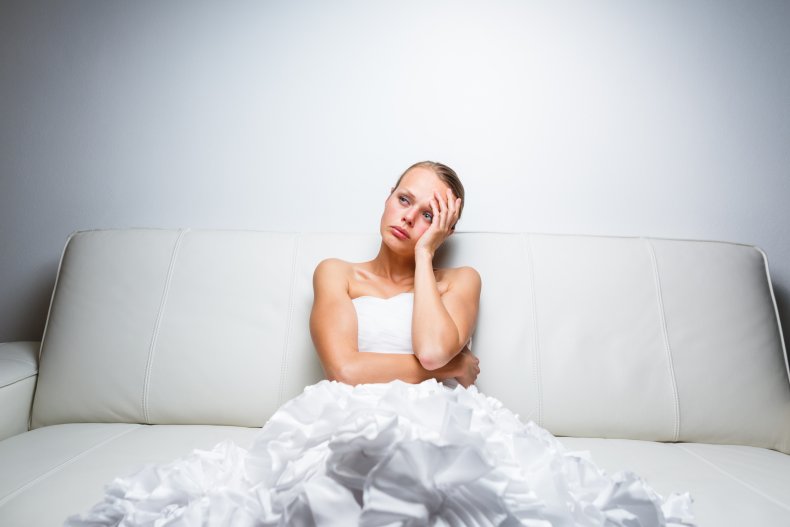 As couples move off Zoom and back into traditional, in-person wedding venues, The Wall Street Journal reported that supply-chain issues and reported labor shortages have driven wedding costs up. In 2021, the average wedding cost was $22,500. In 2022, costs are expected to increase to $24,300 and in 2023 — $24,900.
However, in spite of rising costs, engaged couples are back booking wedding dates and spending tens of thousands of dollars to make their dream days come true.
Last June, CNN reported that couples whose weddings were canceled or postponed due to COVID-19 related concerns or regulations are "panic booking" at increasingly high rates. With reserved dates all the way into 2024, many wedding venues are completely booked, and turning away newly-engaged couples at high rates, as well.
Recovering from a barren 2020, the wedding industry is experiencing an upswing in both costs and volume, making it difficult for couples to alter plans. Couples who were engaged in 2019 are just now scheduled to wed in 2022, and some couples who were engaged later face years-long wait times.
Still, u/Recent-Employment636 said their sister-in-law insists they attempt to move their wedding date.
"My fiancé and I were clear that we cannot and will not postpone. We have already prepaid some aspects of our vendors and we won't get all of our money back if we cancel," they wrote. "My fiancé and I have not changed our minds but my [sister-in-law] claims we are very selfish for not thinking about her feelings too and changing the date."
In the Reddit post's top comment, which has received nearly 13,000 votes, Redditor u/bexterlubz sarcastically said the original poster's sister-in-law should have been considerate of the wedding date and assured the couple that they are justified to stick to their plan.
"I'd have said 'Well why didn't you consider our wedding date when you conceived the baby?'" they wrote. "You're [not the a**hole]. Wedding is booked. I hope you both have a lovely day. Remember it's your special day. No one else's."
Redditor u/GroundbreakingPhoto4 was also sarcastic, writing: [Not the a**hole]. Sister in law is shocked to discover the world does not in fact revolve around her."
Receiving over 3,000 votes, Redditor u/keiko1984 offered a potential solution to u/Recent-Employment636 and applauded the couple for keeping their wedding date.
"It sucks she won't be able to attend but these things happen & she'll just have to accept it," they wrote. "Maybe someone can live stream for her if it's really necessary to keep the peace, perhaps?"
"Good on you for not backing down," they added.