Weak COP26 Forest Commitments Are Half Measures | Opinion
World governments representing 85 percent of global forests including the Amazon, the Boreal and the Congo Basin recently signed a pledge, said to be backed by $19 billion in public and private spending, to end deforestation by 2030. The pledge isn't perfect, it asks for another decade to end deforestation when frontline communities are clear that deforestation in places like the Amazon and Indonesia needs to end now before we pass critical, potentially irrevocable tipping points of destruction.
Ending deforestation is a much-needed step forward. But the pace, amount of resources allocated and the details on how actual implementation will be monitored and verified are seriously underwhelming in contrast to the urgent scale of what's clearly needed.
Even this imperfect pledge risks being utterly undermined by U.S. banks and brands that remain greedy and myopically focused on reaping record profits year after year in the face of a compounding climate crisis. Political action and global agreements are absolutely crucial, but the reality is that the world's largest multinational corporations wield power on these issues that is comparable or even in excess of most nation states. Political solutions alone are bound to fail without earnest buy-in from the private sector. Since the Paris climate agreement in 2015, commercial banks have provided more than $238 billion in credit to 300 companies linked to tropical deforestation globally. And worldwide, brands have contributed to a staggering 160 million acres of primary forests lost over the last decade alone.
What's horrifying is that the banks' current policies don't rule out funding for the very corporations responsible for this reckless deforestation and they have shown little motivation to change that any time soon. JPMorgan Chase––the one bank that now has "No Deforestation, No Peatland and No Exploitation (NDPE)" requirements in its policy—refused to apply the same standard to its clients responsible for palm oil trade and the massively destructive beef, soy and pulp and paper sectors. U.S. brands like Procter & Gamble and Mondelēz are also lagging behind their peers that have adopted cross-commodity NDPE policies. So no matter what Biden and other world leaders say, unless brands and banks follow up with new and improved no deforestation policies, ones that they will actually see through on the frontlines of logging and agricultural expansion, then they will make this lofty new initiative nearly impossible to realize.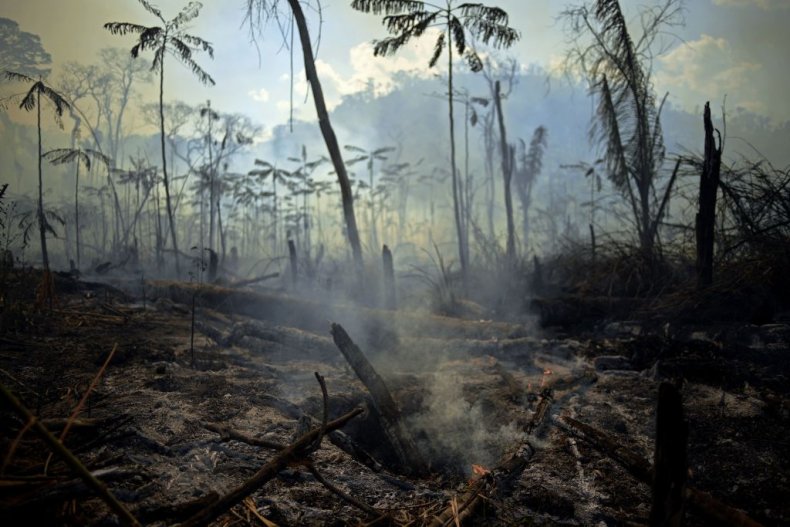 For this pledge to truly keep the world's remaining forests standing, a few other critical actions need to happen, and fast. Developed countries must deliver at least $100 billion a year in new and additional climate finance to support developing country mitigation and adaptation. For most developing countries, the delivery of international finance is both a necessity and a political precondition to deliver on their own mitigation efforts, including forest protection. Success depends on whether there are coherent policies in both producer and consumer countries regulating commodity supply chains and financing that continue to fuel industrial deforestation.
Forty percent of global deforestation is the result of commodity production—such as palm oil, pulp, paper, beef, soy, cocoa and timber products. Brands and banks that profit from forest-risk commodities must adopt and adhere to strict policies that not only halt deforestation but secure land rights for Indigenous peoples and respect for their rights. Preventing further expansion onto the customary lands of Indigenous peoples and local communities affected by logging, industrial agriculture and cattle ranching must be central to solving this global crisis.
To achieve the vision outlined in the new global forest pledge, governments must adopt robust supply chain and financial sector regulations that include clear requirements for corporate adoption of No Deforestation, No Peatland and No Exploitation policies. They must stop the conversion of land, and reform forest-risk commodity supply chains to align with NDPE practices to protect existing forests and carbon-rich peatlands.
Together, we all can be part of the solution. We can fight for a better future alongside communities all around the world. We deserve a future where forests are abundant, the global climate is stable and healthy communities thrive. That's why we must show up month after month, year after year—not just for what we can win together but also to show how we can live together. The struggle to keep forests standing is deeply tied to the struggles for racial, economic and environmental justice and that's just another reason why corporations and financial institutions need to put people and the planet above profit and change the way they do business so that we all have a chance to thrive.
Ginger Cassady is executive director of Rainforest Action Network.
The views expressed in this article are the writer's own.