Weak Job Numbers a Result of 'Paying People Not to Work,' U.S. Chamber of Commerce Says
After the nation gained just 226,000 jobs in April—a figure far lower than expected—the U.S. Chamber of Commerce has called for ending the $300 supplemental unemployment benefit that out-of-work Americans have been receiving during the coronavirus pandemic.
"The disappointing jobs report makes it clear that paying people not to work is dampening what should be a stronger jobs market," Neil Bradley, the chamber's executive vice president and chief policy officer, said in a Friday statement.
Bradley continued, "We need a comprehensive approach to dealing with our workforce issues and the very real threat unfilled positions pose to our economic recovery from the pandemic. One step policymakers should take now is ending the $300 weekly supplemental unemployment benefit."
He also pointed to a chamber analysis that found that the $300 payment resulted in "approximately one in four recipients taking home more in unemployment than they earned working."
The 226,000 jobs added to the U.S. economy last month were a sharp drop from the 770,000 jobs added in March. The unemployment rate also unexpectedly rose, to 6.1 percent, amid an escalating shortage of available workers.
Dow Jones estimated there were 1 million new jobs, with an unemployment rate of 5.8 percent.
President Joe Biden shrugged off any notion that he was disappointed by Friday's numbers and said the report showed his administration was "on the right track." He also pointed to the jobs report as evidence that more federal spending is needed to stimulate the economy.
"Some critics said we didn't need the American Rescue Plan, that this economy would just heal itself. Today's report just underscores, in my view, how vital the actions we are taking are," the president said. "Our efforts are starting to work, but the climb is steep, and we have a long way to go."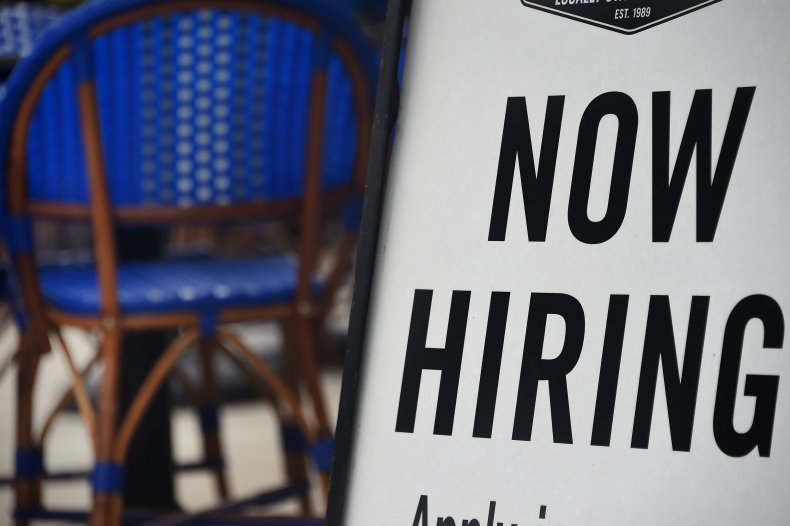 Since passage of the American Rescue Plan in March, Biden has outlined two other legislative packages: more than $2 trillion to rebuild the nation's infrastructure and $1.8 trillion for American families and children.
But Senate Republicans are already working to eliminate the enhanced federal unemployment benefits in the wake of Friday's report. Roger Marshall of Kansas said Friday he planned to introduce legislation to cut the payment when the Senate returned on Monday.
Marshall said he constantly hears about employers in his home state "struggling to find people for open jobs because folks are staying at home due to the rich unemployment benefits and the stimulus checks that Democrats continue to enhance."
Senator Steve Daines of Montana argued that the federal government should follow the example set by his home state, which will end the $300 payment in June.
"The rest of the country should follow Montana's lead. Thanks to the leadership of @GovGianforte, we're open for business, open for school, incentivizing getting back to work AND ending the extra unemployment payments. Be more like Montana," Daines tweeted.
Newsweek reached out to the White House for a response to the Chamber of Commerce's statement but did not receive a response before publication.