Weak oil sees Britain's FTSE fall to lowest level in five months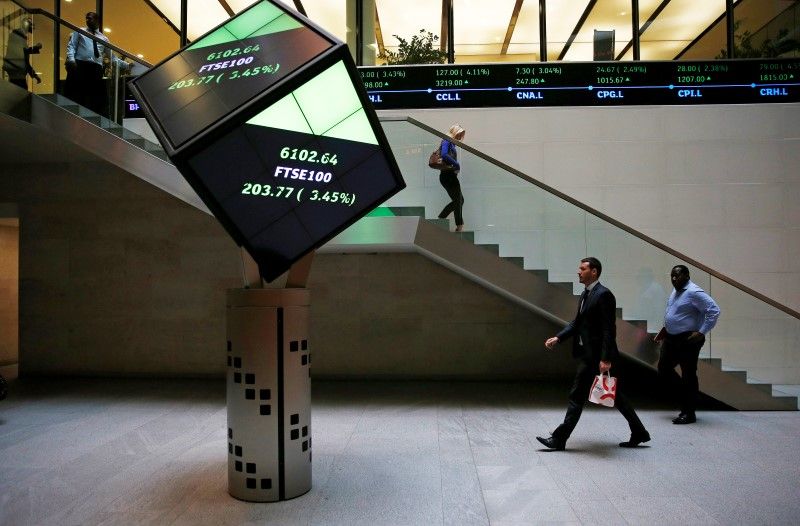 Britain's top share index fell to its lowest level in almost five months on Thursday as new weakness in the price of oil put pressure on world markets, though Tesco rose after the supermarket chain posted strong sales figures.
The blue-chip FTSE 100 index .FTSE was down 2 percent at 5,841.60 points in early trading—its lowest intraday level since late August 2015.
The FTSE 100 is down by about 6 percent since the start of this year and down nearly 20 percent from April 2015's record high of 7,122.74 points.
"This market is in contraction and I expect this contraction to continue for the next six months," Beaufort Securities' sales trader Basil Petrides said.
InterTrader's chief strategist Steve Ruffley was also cautious, saying that the FTSE could fall to 5,500 points this quarter.
Shares in oil majors BP and Royal Dutch Shell lost ground, with the price of Brent crude falling to a 12-year low on Thursday as the prospect of more supplies from Iran loomed, adding to the gloom over a world already awash with supply and concerns about global economic growth.
Leisure company Merlin Entertainments fell 5.5 percent after a downgrade from JP Morgan, but Tesco managed to climb higher despite the overall market weakness.
Tesco shares rose by about 4 percent after Britain's biggest supermarket chain posted better than expected sales over the key Christmas period. Tesco's solid numbers followed similarly robust results from peers Sainsbury and Morrisons.
"Tesco further underscores a good UK superstore festive season," Shore Capital analyst Clive Black said.