'The Weakest Link': Who is the New Host of the Game Show Revival?
The Weakest Link is back on NBC, just as its original contestants have got over the savage barbs they received from original host Anne Robinson. The "Queen of Mean" is not back for the new version, which starts on Tuesday, September 29 at 8 p.m. ET / 7 p.m. CT, but she has been replaced by a new host who is most famous for playing a TV villain.
For The Weakest Link revival, Robinson will be replaced by Jane Lynch, best known as the acid-tongued Sue Sylvester in Glee, in a role that won the actor a Golden Globe and an Emmy in 2011 and 2010 respectively.
Though best known as an actor, who has made memorable appearance in the improv movies of Christopher Guest, The Marvelous Mrs. Maisel and The Good Fight, Lynch is also experienced as a quiz show host. In 2014 and 2015, she won two Emmys for hosting Hollywood Game Night, which concluded its sixth season in July 2020 and so far has not been picked up for Season 7.
In an interview with Entertainment Weekly, Lynch revealed that her persona for The Weakest Link has been inspired by Robinson's run on the show, which means plenty of one-liners and catty comments.
She said: "There was a part of me that was like, 'I hope these people know that this is just my job,' but I got over that after the first episode. I say lots of cheeky things to people. I was inspired by Anne Robinson; she definitely has her own way and I wouldn't be foolish enough to try to imitate her, but it was really fun to watch her dish it out."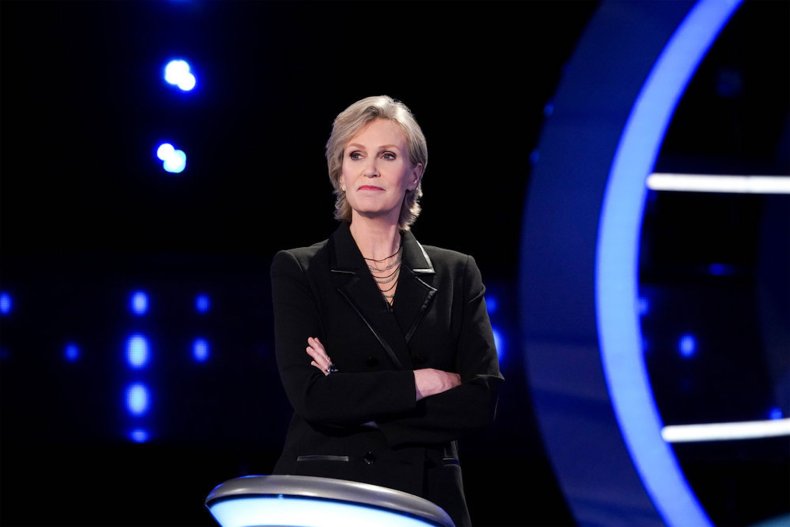 However, she also revealed that she would not quite be as mean as she was as Sue Sylvester, adding: "She would be relentless. She would not give up until everybody was crying. I stopped short of that."
Robinson hosted the show on NBC for a year from 2001 and 2002 before BBC made a £6 million deal ($8 million) with the host to keep her in the U.K., making the highest-paid female presenter in the country at the time.
Lynch, however, will have to face a problem that Robinson never had to: How to film a game show in a global pandemic. "We have these really strict rules about masking and about what area you are allowed in," the host told Us Weekly.
"We have this guy who is basically in a hazmat suit going around in the frequently touched areas like railings and doorknobs and stuff," she shares. "He's got his little spray thing going all the time. ... It's worked out perfectly."
The Weakest Link airs Tuesdays at 8 p.m. ET / 7 p.m. CT on NBC.