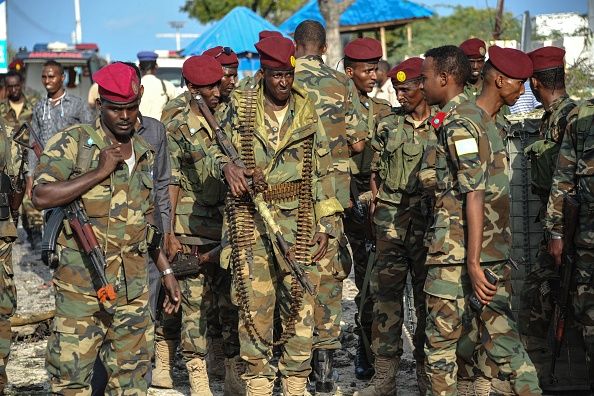 Hundreds of weapons were stolen over the past week from training facilities in Somalia's capital Mogadishu and re-sold on the city's black markets, sources told Reuters.
The theft is an unintended consequence of the ongoing diplomatic dispute between the Gulf States and Qatar. Both Saudi Arabia and its ally the United Arab Emirates have strong ties with Somalia's internationally recognized government in Mogadishu, which is fighting the Islamist militant group al-Shabab. Nevertheless, Somalia's government has refused to take a side in the ongoing diplomatic dispute because Qatar's ally Turkey is also investing in Somalia.
Somalia reportedly rejected a Saudi offer of $80 million to cut ties with Qatar last year. The country eventually received $50 million in aid from Riyadh.
But Mogadishu's stance has caused conflict with the UAE, leading to additional diplomatic fallout. The training facilities where the weapons had originally been located were run by the UAE, which had been training Somalia's military to fight Islamic terrorist groups. However, the UAE decided to end its assistance to Somalia on April 15 after security forces held an Emirati plane and seized millions of dollars. A UAE-run hospital was also shuttered.
Some experts said the Somali officials wanted to show that they were capable of standing up for themselves and exerting independence, according to Reuters citing the International Crisis Group.
Still, the events and the UAE's willingness to abandon Somalia in the face of difficulty have led to the looting of the military training facilities by UAE-trained Somali troops. Reuters reported that the weapons were being funneled directly to arms dealers.
Somalia's government is frequently besieged by violence from the terrorist group al-Shabab. Al-Shabab means "the Youth" in Arabic, and the group advocates a version of Islam that experts say originated in Saudi Arabia. The group is currently fighting Somalia's government for control of the country.