Wear Black, Speak Up: Hollywood Women Unite to Fight Sexism with Time's Up Movement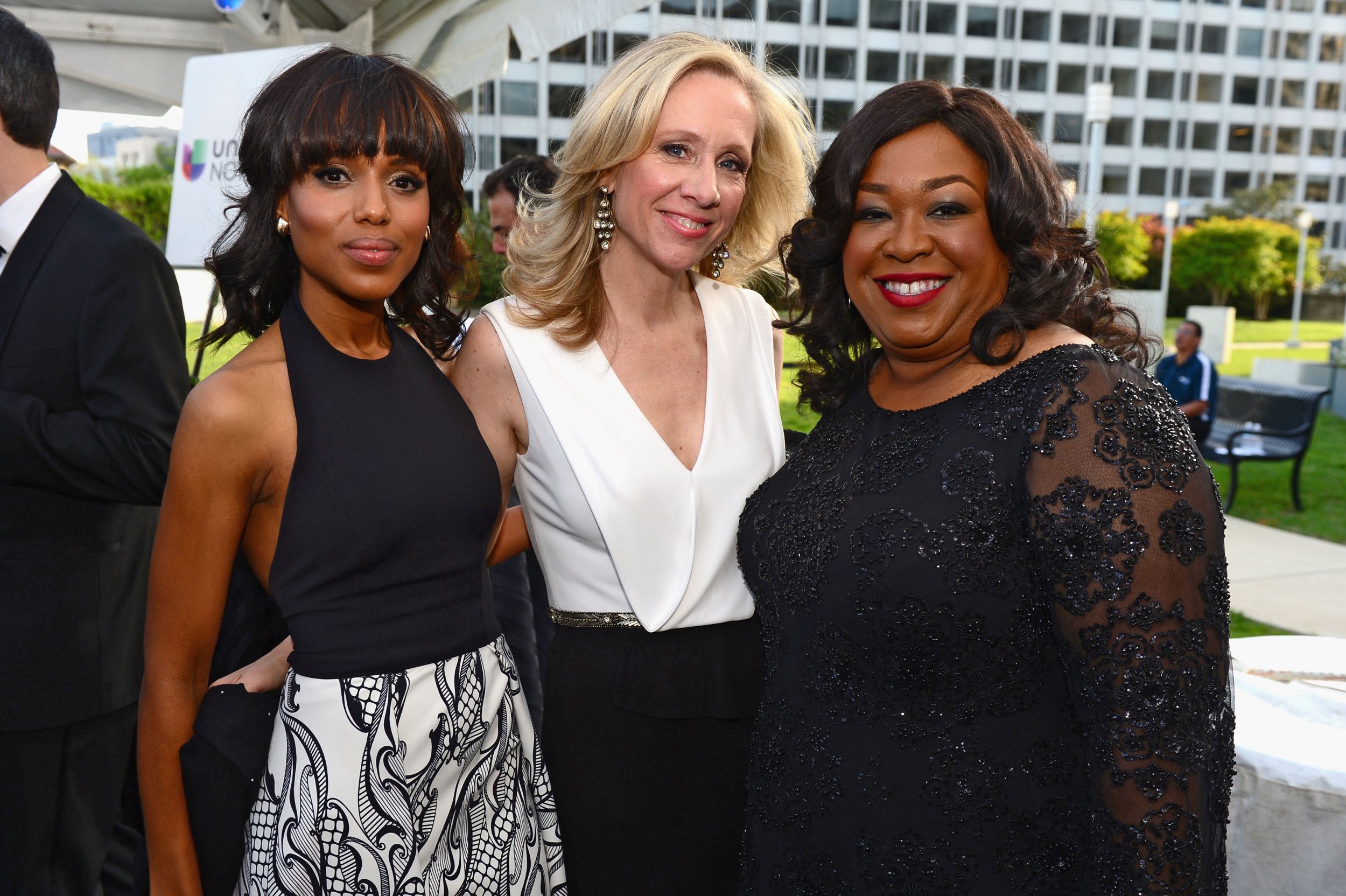 Updated | A new movement in Hollywood aims to fight sexual harassment in the entertainment industry and beyond, setting up a legal defense fund and issuing a call to action under the motto: Time's Up.
Women working as actors, agents, laywers, producers and writers came together in October in the wake of the Harvey Weinstein sexual assault allegations scandal and the powerful #MeToo online movement. They discussed how to enforce change in an industry that for decades had marginalized, if not actively silenced, women's voices as well as experiences of harassment and assault.
"Time's up on this impenetrable monopoly," read an open letter published in The New York Times on Monday and signed by 282 women writing on behalf of their colleagues, including producer, screenwriter, and author Shonda Rhimes, actor and producer Reese Witherspoon and activist Gloria Steinem.
The movement will champion a number of different initiatives, including inviting women walking the Golden Globe Awards red carpet this Sunday to wear black and use the platform to raise awareness about the initiative.
"This is a moment of solidarity, not a fashion moment," actress, producer, director and designer Eva Longoria told The Times, adding that a vast majority of the women attending the ceremony have pledged to support the initiative.
"For years, we've sold these awards shows as women, with our gowns and colors and our beautiful faces and our glamour," Longoria added. "This time the industry can't expect us to go up and twirl around. That's not what this moment is about."
The letter began with a heartfelt thank you to the 700,000 farmworker women of the Alianza Nacional de Campesinas (the National Farmworker Women's Alliance), who had sent Hollywood stars a letter of solidarity in November and have since responded to Time's Up letter, writing on Twitter: "We are grateful for their heartfelt words & leadership. We proudly stand with them."
The Time's Up signatories intend to use their privileged position to support those whose financial resources may not allow them to pursue justice in face of exploitation, asking the press to cover cases of sexual harassment and assault in all workplaces.
Members of the movement have pledged to seed into a legal fund available to survivors of sexual assault and harassment in any workplace who need support to seek justice against those who harmed them. The fund is open for additional donation on a crowdfunding platform and has received more than $13.7 million donations by 4,300 people in the past 12 days. Its goal is to raise $15 million.
The movement is also seeking an end to male-dominated workplace environments, demanding "equal representation, opportunities, benefits and pay for all women workers," as well as legislative changes to tackle how nondisclosure agreements silence survivors of sexual harassment and assault.
"Everyone's resolution for the year: No more accepting sexual harassment and inequality at work as normal. It's not normal" actress and Time's Up signatory Brie Larson, won multiple top awards in 2016 for the portrayal of a kidnapping and rape survivor in the 2015 drama Room, wrote on her Instagram account, one of several messages supporting the initiative.
A full list of the signatory is available below.
Abbi Jacobson
Adrienne Warren
Adrienne Houghton
Aimee Garcia
Aja Naomi King
Alex Martinez Kondracke
Alexandra Meneses
Alexandra Eitel
Alexandra Trustman
Alfre Woodard
Alia Shawkat
Alicia Vikander
Allison Jaslow
Alysia Reiner
Alyssa Milano
Amandla Stenberg
Amber Tamblyn
Amelia Clarke
Amelia Roper
America Ferrera
Amy Hobby
Amy Poehler
Amy Sherman- Palladino
Amy Schumer
Ana Ortiz
Ana Brenda Contreras
Andrea Navedo
Andrea Riseborough
Andrea Sperling
Angela Robinson
Angelique Cabral
Anjelah Johnson
Anjelica Houston
Anna Deveare Smith
Anna Rose Holmer
Annabella Sciorra
Anne Hubble
Anne Hathaway
Arianne Phillips
Ashley Judd
Ashley Nicole Black
Aubrey Plaza
Ava DuVernay
Barbara Muschietti
Bellamy Young
Betsy Beers
Blair Kohan
Blake Lively
Bozoma Saint John
Brie Larson
Callie Khouri
Carmen Cuba
Carol Burnett
Caroline Kaplan
Carrie Preston
Cate Blanchett
Caterina Scorsone
Celeste Den
Chandra Wilson
Charlize Theron
Chelsea Handler
Chloe Grace Moretz
Christy Haubegger
Claire Karpen
Constance Wu
Corrie Christopher-Martin
Courtney Kivowitz
Courtney Preiss
Cynthia Erivo
Dakota Johnson
Dana Belcastro
Dana Spector
Danai Gurira
Darby Stanchfield
Debbie Allen
Debra Messing
Dee Reese
Donna Langley
Dr. Stacy L. Smith
Edie Falco
Eisa Davis
Elizabeth Banks
Ellen Chenoweth
Ellen Lewis
Ellen Pompeo
Ellen Page
Ellen Barkin
Emilia Clarke
Emily Blunt
Emma Stone
Emma Watson
Emmy Rossum
Eryn Brown
Eva Longoria
Evan Rachel Wood
Evangeline Lily
Evelyn O'Neill
Felicity Huffman
Frankie Shaw
Gabourey Sidibe
Gabrielle Union
Geena Davis
Gina Gionfriddo
Gina Prince- Bythewood
Gina Welch
Gina Rodriguez
Gloria Calderon Kellett
Gloria Steinem
Goldie Hawn
Greta Gerwig
Gugu Mbatha-Raw
Gwenyth Paltrow
Halle Berry
Halley Pheiffer
Hannah Minghella
Hylda Queally
Ilana Glazer
Isabella Gomez
Izzy Thomas
Jaina Lee Ortiz
Jane Fonda
Janelle Monae
Janet McTeer
Jayne Lemons
Jeanne McCarthy
Jenn Lyon
Jennifer Salke
Jennifer Garner
Jennifer Newsom
Jennifer Lopez
Jennifer Connelly
Jennifer Lawrence
Jenny Slate
Jessica Capshaw
Jessica Brown- Findlay
Jessica Chastain
Jessica Knoll
Jordan Hamsberger
Joy Gorman Wettels
Judith Light
Julianne Moore
Julie Darmody
Juliet Rylance
Jurnee Smollett-Bell
Karen Gillan
Karen Pittman
Karla Souza
Kate Arrington
Kate Beckinsale
Kate Hudson
Kathleen Kennedy
Kathy Najimy
Katie Jacobs
Katie Lowes
Katie McGrath
Keira Knightley
Kellie Overbey
Kelly Marcel
Kelly McCreary
Kerry Washington
Kirsten Schaffer
Krista Smith
Kristen Anderson-Lopez
Kris-n Burr
Laura Prepon
Laura Rosenthal
Laura Harrier
Laura Lewis
Lauren Neustadter
Laverne Cox
Leah Fischman
Lena Waithe
Leslie Silva
Letitia Wright
Lisa Joy
Lisa Vidal
Liv Rooth
Liz Garcia
Lora Kennedy
Lorrie Bartlett
Maggie Gyllenhaal
Maha Dakhil Jackson
Margot Robbie
Maria Eitel
Marin Ireland
Marisa Tomei
Marissa Dishaw
Martha Plimpton
Mary Parent
Megan Mulally
Megan Colligan
Megan Diamondstein
Melina Matsoukas
Melissa McCarthy
Melissa Fumero
Meredith O'Sullivan Wasson
Meryl Streep
Mia Barron
Michelle Knudsen
Michelle Pfeiffer
Michelle Kydd Lee
Michelle Weiner
Michelle Williams
Mila Kunis
Mindy Kaling
Molly Wringwald
Nadia Quinn
Naomi Watts
Natalie Portman
Natalie Tran
Nicole Kidman
Niija Kuykendall
Nina Bongiovi
Nina Dobrev
Nina L. Shaw
Nora Lum
Octavia Spencer
Olga Segura
Olga Merediz
Olivia Wilde
Olivia Munn
Pam Wasserstein
Pamela Abdy
Penelope Cruz
Phillipa Soo
Piper Perabo
Pom Klementieff
Rachel Kropa
Racquel Bracken
Rashida Jones
Rebecca Goldman
Reese Witherspoon
Rena Ronson
Rosanna Arquette
Rosario Dawson
Rowan Blanchard
Roxane Gay
Ruth Negga
Sadie Mackay
Salma Hayek
Samantha Barks
Sara Fischer
Sarah Finn
Sarah Rothman
Sarah Drew
Sarah Jessica Parker
Sarayu Blue
Scarlett Johansson
Shani Rosenzweig
Shari Springer Berman
Sharon Horgan
Shonda Rhimes
Sienna Miller
Sophia Bush
Sophie Okonedo
Stephanie Beatriz
Susan Sarandon
Susan Sprung
Susannah Grant
Talitha Watkins
Tamara Tunie
Tammy Jo Dearen
Taraji P. Henson
Tess Rafferty
Tessa Thompson
Thandi Newton
Tina Tchen
Tonya Pinkins
Tracee Ellis Ross
Tracey Landon
Tracy Brennan
Uma Thurman
Uzo Aduba
Vera Farmiga
Veronica Falcon
Viola Davis
Wren Arthur
Zainab Jah
Zoe Saldana
Zoe Cassavettes
Zoe Kravitz
Zoey Deutch
This article was updated to correct the caption for the image of Kerry Washington, Betsy Beers and Shonda Rhimes. An earlier version stated that the Time's Up letter referenced in the story was published in The New York Times on January 1, 2017. In fact, it was January 1, 2018.