This FDA-Approved Wearable Says It Relieves Chronic Pain Without Any Drugs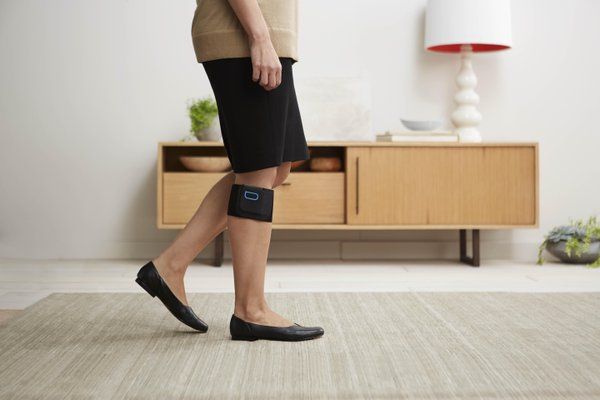 Wearables were everywhere in this year's CES, equipped for nearly all parts of the body. Most were watches or wristbands like the Apple Watch or Fitbit. A few were pendants hanging from the neck, like Swarovski's bedazzled fitness tracking necklace. But only one went under the belt, around the calf, and it may be one of the best—or at least one of the best-intentioned—wearables in the convention.
Quell is a medical wearable geared towards those suffering from chronic pain in any part of the body. According to the National Institutes of Health, about 100 million adults in the United States suffered from chronic pain, making for an extremely large and untapped consumer base. What Quell does is it stimulates the nerves in the calf which send neural signals to the brain to produce natural pain-relieving opioids like enkephalin—providing a natural alternative to chronic pain by subscription pills.
Quell has been approved by the Federal Drug Administration. It is currently available on Amazon for $250.
"We are hacking the central nervous system," says Quell spokesman Frank McGillin, as he repeatedly rolled the legs of his trousers up to show his own Quell wearable. The wearable, which comes with a legband and a flat, rectangular stimulator, did not look bulky or oversized.
As with most health-oriented wearables, Quell tracks sleeping activity—but for good reason. Sleep quality and chronic pain are inversely related, so a good sleep can help reduce chronic pain as a whole. Sleep history could be seen in the companion smartphone app, which looks rudimentary and offers features similar to other wearable apps.
When starting out, the legband will calibrate the strength of the stimulation by zapping in different intensities. "The device is trying to detect the person's sensory threshold," says McGillin.
The battery life of Quell is also impressive, lasting for 30 hours. Since Quell runs on an hour-on, hour-off schedule to rest the central nervous system from producing too much opioids, the battery can last up to four days with one full charge.