Electronic 'Tattoo' Powered by Smartphone Monitors Wearer's Health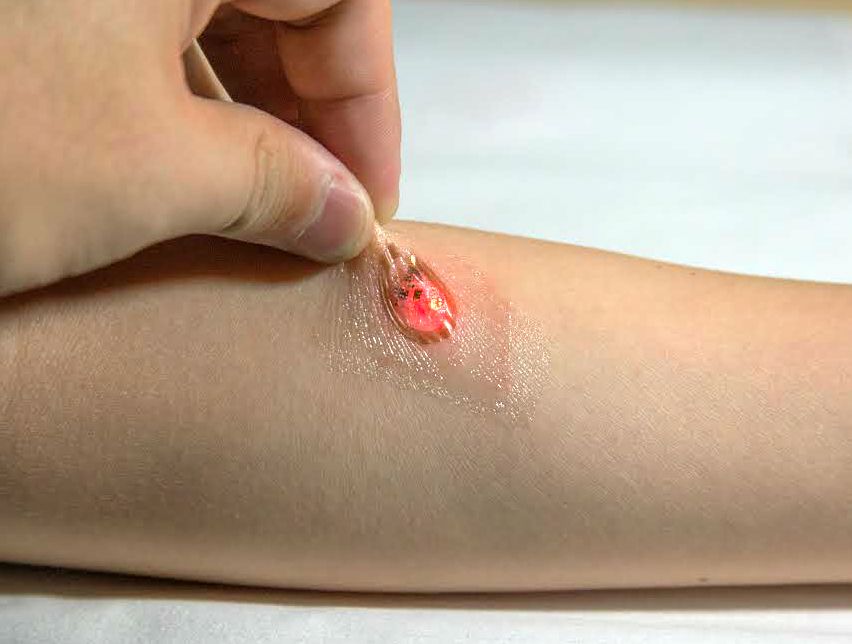 An electronic sticker has been developed by researchers that monitors a wearer's health using power transmitted from their smartphone or tablet.
The "optoelectronics system" is described in the latest issue of the journal Science Advances, and is the latest in a series of skin-patch electronics developed by researchers at the University of Illinois.
The device resembles a temporary tattoo and uses tiny sensors to measure sun exposure, a person's blood oxygenation and heart rate. Information is displayed as a flashing light and is wirelessly transmitted back to the wearer's device.
Unlike previous iterations, the device takes power from near-field communications (NFC) signals emitted from a phone rather than its own embedded battery.
"The technology is a thin, skin-like platform of wireless, battery-free electronics," John Rogers, the head of the lab that created the stretchy skin patch, tells Newsweek. "The system receives power wirelessly and transmits data wirelessly back to the device."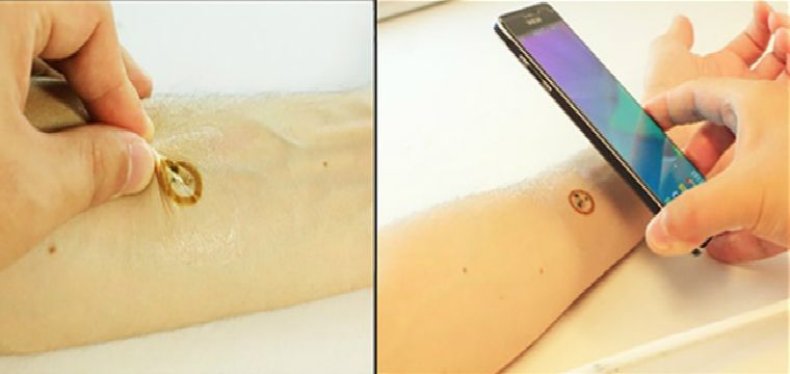 Rogers adds: "We are focused on health monitoring applications, where the intimate skin interface allows accurate, clinically relevant measurement modes, with data that correlates to clinical gold standards.
A skin patch developed by Rogers' lab in the past was picked up by cosmetics giant L'Oreal and marketed as a device to help people educate themselves about sun protection.
The My UV Patch was shown off at this year's Consumer Electronics Show in Las Vegas this January, though is yet to be released to the public.
Rogers and his team are at the forefront of "epidermal electronics" research, with other labs around the world also developing wearable tech that can be stuck to people's skin.
They include a graphene "tattoo" that tests the wearer's glucose levels through electrochemical sensors and delivers drugs through micro-needles, and an electronic patch that transforms skin into an LED screen.