Women Are Now Celebrating Their Divorces With Rings: 'My Commitment to Me'
When a relationship breaks down, deciding to officially end a marriage is never an easy option, so people are creating their own unique ways to find light in the darkness of divorce.
Rising in popularity is the decision among women to wear a divorce ring. When their marriage is over and they take off the wedding ring that was supposed to symbolize an everlasting union, they put on a different piece of jewelry instead.
"A divorce marks the beginning of a new chapter," life coach Beverly Price told Newsweek, as she discussed the growing trend in divorce rings.
'I Wanted To Symbolize My Commitment To Me'
A divorce ring could be a physical symbol of closure, emblematic of the strength and resilience it took to rebuild, while others might simply feel a bit naked without any jewelry.
Just like an engagement band, divorce rings come in various styles and there's no set amount to spend on them. For some people, it might be less about the price tag and just about the act of buying something for themselves.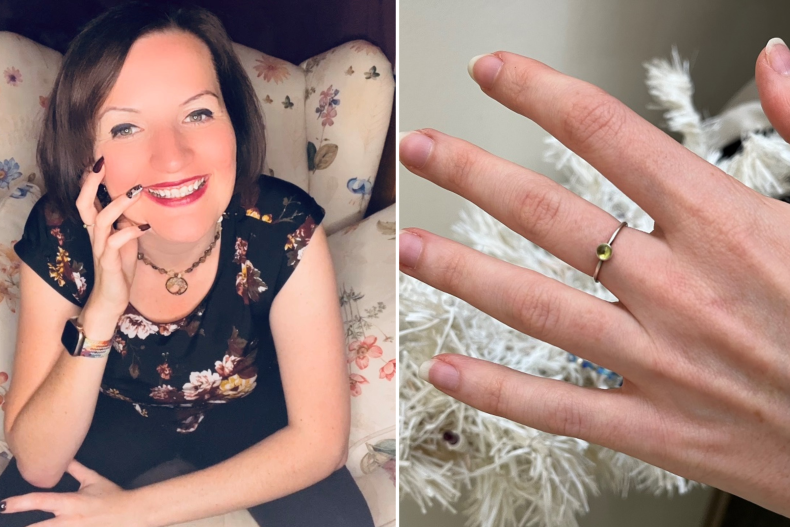 On her third wedding anniversary, Carissa Snedden, 32, of Pennsylvania, went out for dinner with herself for company and felt inspired to buy herself some jewelry to mark the feeling of liberation.
"I took myself out for dinner on my third wedding anniversary and I purchased some jewelry for myself that night. My ex was against women wearing jewelry other than modest adornments, so when I got home from dinner I went online," she told Newsweek.
"I believe it was $27, it's a mini-stone of peridot set in nickel-free silver. It's also the stone of August, the month I was divorced, and a stone that's supposed to heal broken hearts."
For Snedden, the divorce ring was a positive symbol and a reminder to be true to herself from then on.
"Women wear rings to symbolize their fidelity to a spouse and I wanted to symbolize my commitment to me. I had betrayed myself in that marriage and the ring reminds me to stay true to who I am. It reminds me to love myself," Snedden added.
The graduate assistant hopes to destigmatize the idea of divorce and show people that it doesn't have to be regarded as a failure.
'The Purchase of the Ring Can Be Symbolic'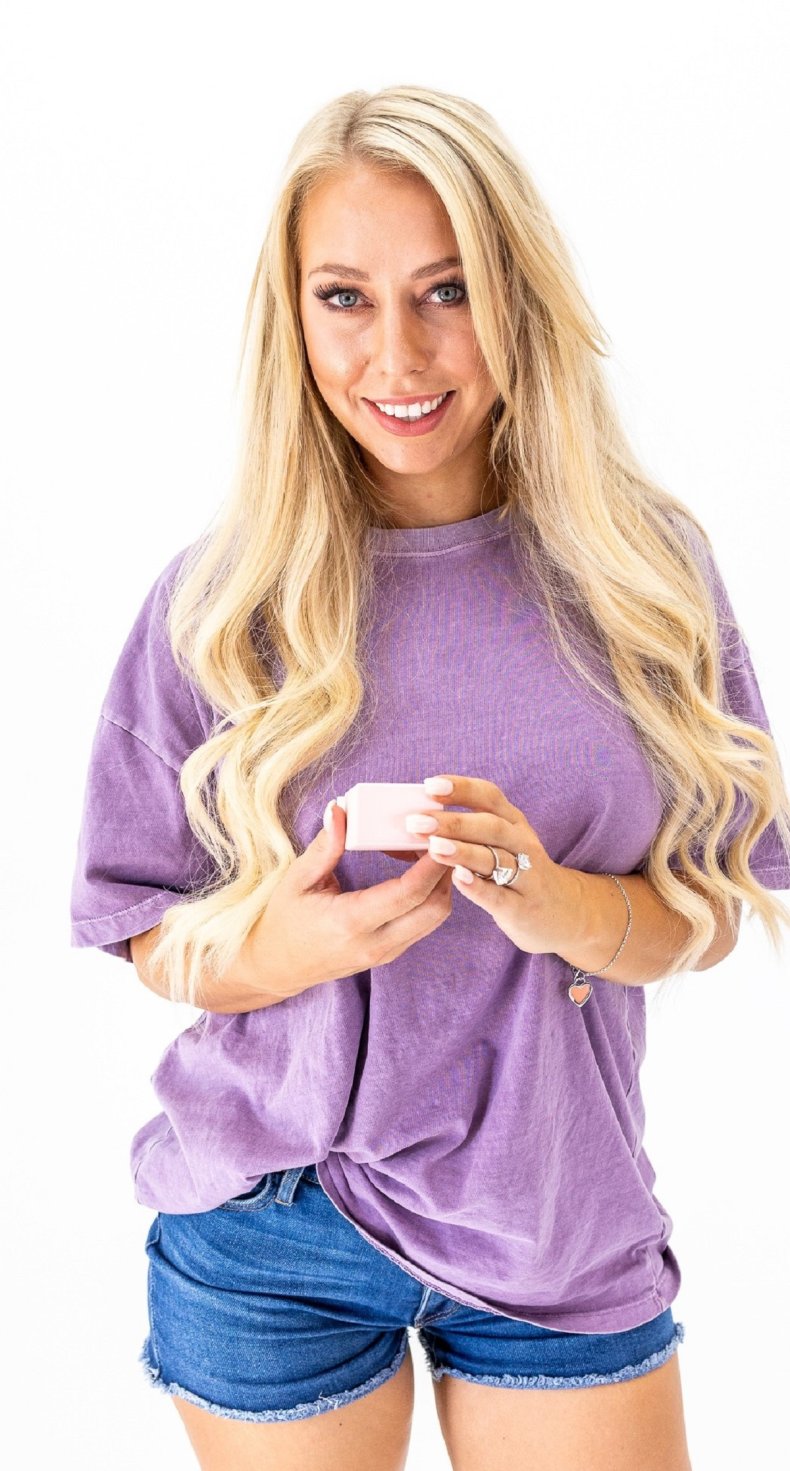 A divorce ring doesn't just have to be a symbol of what happened in the past, it can also be a reminder for the future. For Olivia Starling, 32, wearing a divorce ring is a way of reminding herself of what she's learned about herself and what she wants in a partner.
Colorado-based Starling, who owns an engagement ring company, bought a ring from her business for $200 and used it as a way to represent the self-worth she had come to understand.
"I didn't know who I was when I got divorced, because my whole life I was a wife and a mother. I had to rediscover who I was without him," Starling told Newsweek.
"When I first decided to start dating, I bought myself the ring. I wrote my own vows to myself and I made these promises that I was going to keep and honor.
"They were promises about how I would respect and treat myself, and the values that if anyone were to join me, then they would also have to uphold."
As she now wears the ring during dates, it is a reminder for Starling that she never wants "to settle" and she wants to continue feeling empowered by it.
"I know a lot of divorced women get hit financially, so it doesn't have to be a real diamond. I want to let people know that the purchase of the ring can be symbolic, but they don't need to spend a fortune on it. They can get a beautiful ring that isn't real," she added.
'It Was So Empowering To Be Able To Buy the Ring for Myself'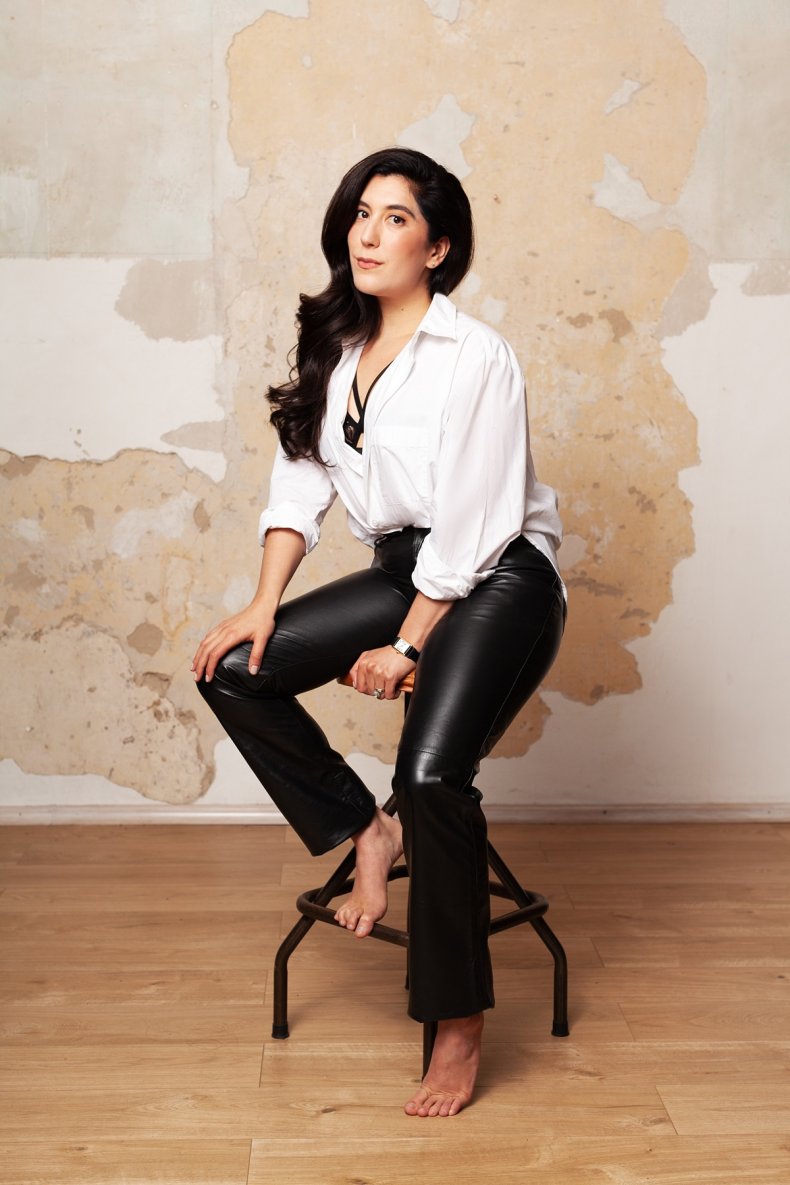 The idea of divorce is often viewed like a failure. In 2021, there were more than 689,000 divorces across 45 states, according to the Centers for Disease Control and Prevention. That's roughly 2.5 divorces for every 1,000 people, so despite the negativity, it's still a regularity that many people experience.
Most people see divorce as a terrible thing to go through, but opera singer Sara Duchovnay said she wanted people to see her divorce as something she "was celebrating, not grieving."
For Duchovnay from Berlin, getting divorced in 2016 felt like her "life was beginning," and she was filled with this power and independence which had been lacking for the five years of marriage.
One year into her separation, Duchovnay came across the antique dinner ring, which she now refers to as her divorce ring, and spent $2,000 on the vintage piece. Not only did she miss wearing a diamond accessory, but purchasing this for herself was a sign of her emotional and financial independence.
Duchovnay told Newsweek: "I've always been obsessed with antique jewelry and I spent years admiring it and researching it for fun, but had never been able to purchase a piece for myself. When I saw this antique diamond ring, it felt like falling in love.
"It was so empowering to realize that I could just buy it for myself without needing any reason or permission. It symbolizes my strength, independence, personal style, and the beginning of a beautiful time in my life."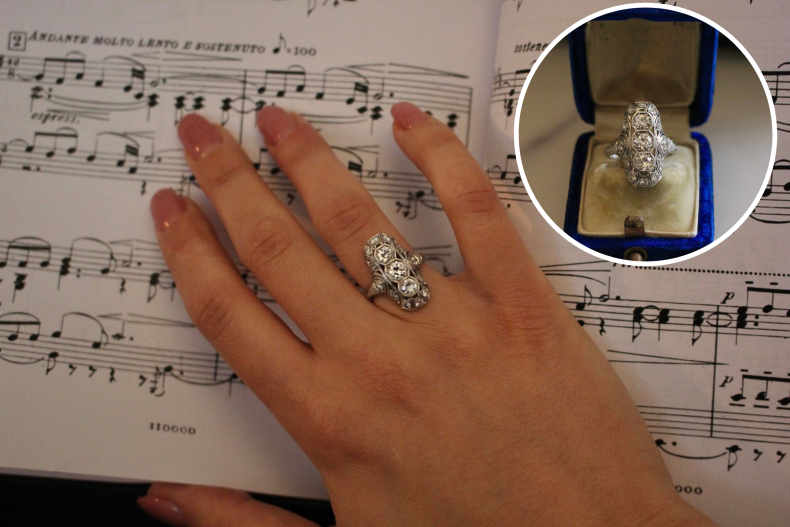 The antique dinner ring is considered late Edwardian, with approximately 1.5 carat total weight in diamonds.
All three women have faced struggles in their marriages, but as time passed they came to see that they aren't defined by their marital status. Wearing a divorce ring symbolizes the start of a healthy new chapter for each of them, reminding them that their strength and happiness is within them, not given to them by a partner.
What Finger Do Divorcees Put Their Ring On?
The practice of wearing a divorce ring is something that life coach Beverly Price views as an empowering tool for men and women, as she encourages people to embrace the new trend.
Price told Newsweek: "While some women may have an easier time getting over the end of a relationship, other women may experience a longer process of pain and grief. Regardless, a divorce marks the beginning of a new chapter.
"Divorce rings can serve as a reminder of the wearer's newfound independence, strength, and courage as a woman comes into her own with her new identity, authenticity, voice and spirit. They represent leaving a previous relationship behind and taking the first steps towards embracing a new freedom."
Price, who also hosts a podcast titled Her Empowered Divorce, added that there is no right or wrong finger to wear a divorce ring on as it's all down to the individual—adding to the liberating and fun nature of the trend.
As it's still a novel concept, Price admits that the idea might not be for everyone, but she hopes that it can continue to be a positive way for women to heal and find power within themselves.
"This jewelry provides a tangible outward reminder of progress towards a new life and a fresh start. While the idea of divorce rings may not resonate with everyone, for some women, it can be a meaningful way to mark the end of a chapter and the beginning of a new one."
Have you noticed any red flags that made you end a relationship? Let us know via life@newsweek.com. We can ask experts for advice, and your story could be featured on Newsweek.