Wears Valley, Tennessee, Wildfire Burns Homes, Prompts More Evacuations
Parts of Wears Valley, Tennessee, have been placed under mandatory evacuation orders while responders work to contain a wildfire in the area that has reportedly destroyed several homes and cabins.
People in the Hatcher Mountain, Shagbark/Preserve and Little Valley areas, as well as people living near those areas, have been ordered by the Sevier County Emergency Management Agency (EMA) to evacuate, WBIR reported.
One shelter has already been opened at the Pigeon Forge Community Center, and more may be established if they are needed, according to the county's EMA.
The Sevier County EMA initially ordered people in the immediate area around Hatcher Mountain Road and Indigo Lane, where the fire broke out, to evacuate. In keeping with its origin, authorities officially named the blaze the "Hatcher Mountain Road/Indigo Lane Fire," according to the agency.
The agency said in a tweet Wednesday afternoon, citing the Tennessee Division of Forestry, that the fire area covered about 250 acres and is 0 percent contained. One injury has been reported so far.
The National Weather Service said on Twitter that the smoke plume can be seen on its radar.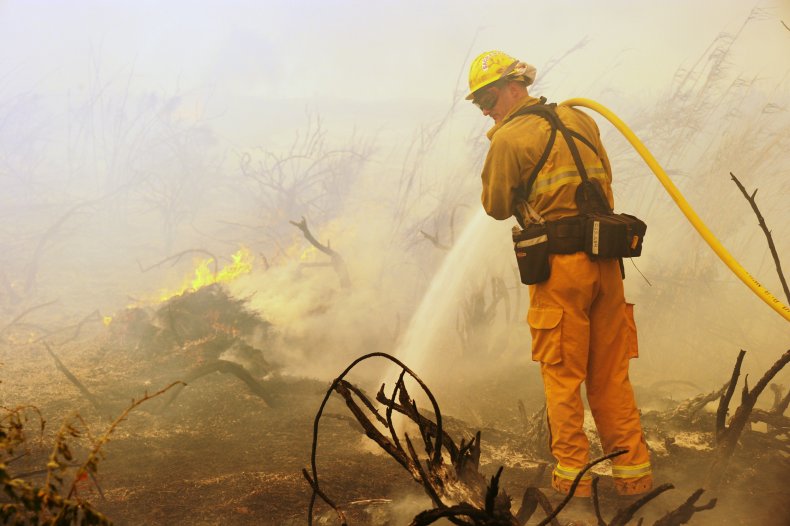 A video posted on TikTok by the user @smallmouthmessiah showed plumes of gray and white smoke billowing from the scene of the fire. The user said the burning areas contained homes that were on fire.
WBIR also reported that multiple homes and cabins were on fire Wednesday afternoon. One photo posted on Twitter by a WBIR reporter showed a couple watching from afar as their house reportedly burned in the blaze.
Wearwood Elementary, which is part of Sevier County Schools and is near the Wears Valley fire, was evacuating remaining students Wednesday afternoon. Tong Ogle, a spokesperson for the school district, said that about 70 students out of the 200 total enrolled at the school were being bused over to the Pigeon Forge Community Center, WBIR reported.
Parents of the evacuated students were instructed to pick them up at the center.
Several state agencies are already helping or preparing to help with response efforts for the fire. The Tennessee Division of Forestry, Great Smoky Mountains National Park, Sevier County Fire Department and Seymour Volunteer Fire Department were among those that had sent officials to the scene, according to WBIR.
Authorities have closed down Wears Valley Road, or Highway 321, between Pigeon Forge and Townsend, and travel from Pigeon Forge into Wears Valley is being restricted for the time being.
This fire follows several others in the past week that have received national attention, including a fatal crash on a Pennsylvania interstate that left a truck on fire and a fire at a potato plant in Maine that caused area residents to have to shelter in place. Colorado's Empower Field at Mile High, the home of the Denver Broncos, briefly caught fire last Friday before it was contained by the Denver Fire Department.
Update 03/30/22, 5:45 p.m. ET: This story was updated with additional information and background.