Wears Valley Wildfire Still Burning, Over 100 Structures Destroyed
The East Tennessee wildfire that placed parts of the town of Wears Valley under mandatory evacuation continues to burn.
The Hatcher Mountain Road wildfire is only 5 percent contained, according to the Tennessee National Guard. Two helicopters took off from the McGhee Tyson Air National Guard Base with hundreds of gallons of water in order to contain the fire. However, over 100 structures have already been destroyed by the destructive fire, which has grown to around 3,700 acres. Five fire agency vehicles have also been destroyed.
Mandatory evacuations are currently in place for the areas of Sky Harbor, Dupont, Wears Valley, and Walden's Creek. Gatlinburg rescinded its mandatory evacuation status early Thursday morning.
"I know folks want to go home," said Sevier County Mayor Larry Waters during a press conference on Thursday. "We are going to work as fast and diligently as we can so folks can go home and check on property."
The fire is similar to the one that occurred throughout the city of Gatlinburg in 2016. The Great Smoky Mountains wildfires eventually spanned more than 10,000 acres and destroyed around 2,000 structures. At least 14 people died in the 2016 fires.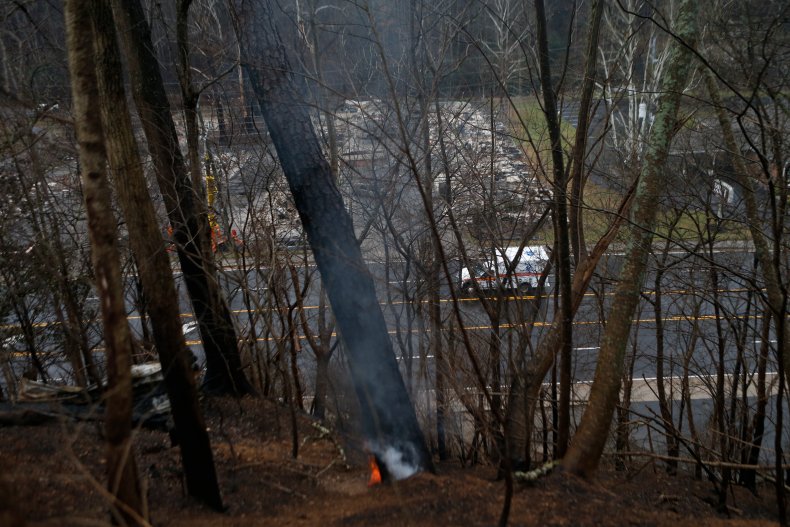 No deaths have been reported in conjunction with the Hatcher Mountain Road fire. The Great Smoky Mountains fire reportedly helped fire officials better prepare for the Hatcher Mountain Road fire, according to local news station WVLT.
"Everybody took it very seriously because of what happened [with the Great Smoky Mountains fire]," said Waters during his press conference.
However, significant injuries have been reported as a result of the wildfire. The Pigeon Forge Fire Department announced that two of their firefighters were injured after they attempted to protect an inn that caught fire. No civilians have been reported to have been injured as a result of the fires.
"The entrapment came up on Hatcher Mountain," said Pigeon Forge Fire Department Chief Tony Watson. "They were up there trying to protect Von Bryan [Estate] and they were making one heck of a stand. And the road got blocked so they had to abandon their vehicles and go back into the black as the fire blew over the top of them. Hopefully, they're all alright."
Meanwhile, the communities affected by the Hatcher Mountain Road wildfire are coming together to help each other and the responders trying to extinguish the fire. The Sevier County Volunteer Fire Department recently put out a call for donations of water, eye drops, and food.
"We have crews in the valley fighting these fires with the fire departments and we sure would appreciate you," said the department.
Newsweek has reached out to the Sevier County Fire Department for comment.
Update 3/31/22, 12:00 p.m. ET: This story has been updated to include background information.