Giant Hailstones Smash Windows as Severe Thunderstorm Pelts Texas
Photos of giant hailstones and the damage they are causing are being posted by social media users across Texas as winter storms pelt the state.
The National Weather Service (NWS) warned of severe thunderstorms in Texas on Wednesday night and Thursday morning.
The NWS office for Austin and San Antonio has issued an alert on Twitter for a destructive storm with "softball sized hail" in Pearsall, Pleasanton and Jourdanton.
Other parts of Texas will see hail the size of tennis balls, golf balls or quarters, according to the NWS office.
Chris Suchan, chief meteorologist at NBC affiliate WOAI News 4 in San Antonio, has posted several images on Twitter showing hailstones and the damage they've done.
One picture of six hailstones, photographed next to an iPhone for scale and credited to Roy Hindes, was captioned: "Giant hail in southwest Atascosa County in Hindes. This is south of town of Charlotte."
Suchan also posted a picture showing the smashed windshield of a car. This photo, credited to Evangelina Garza, was captioned: "Lots of hail damage around Dilley in Frio County. This is in Hilltop area."
The NWS is forecasting more intense weather for southern Texas as a winter storm warning is still in place. Southwestern Texas has been issued a high wind warning.
Severe thunderstorms are also expected in Arkansas and Louisiana.
In a short-range forecast report, the NWS said: "The Storm Prediction Center maintained its moderate risk of severe thunderstorms over the ArkLaTex region with a broader enhanced risk area spread out across inland portions of the Southern Plains and Lower Mississippi Valley."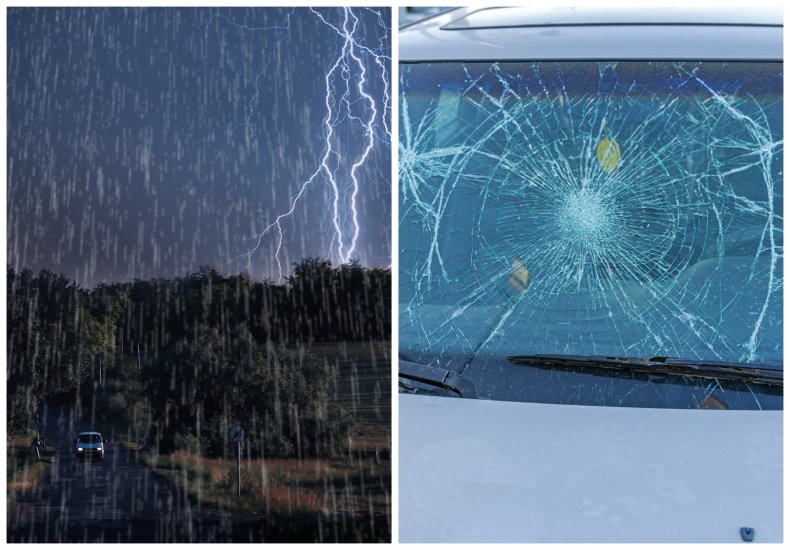 The NWS added: "Substantial moisture and instability from the Gulf of Mexico will flow into the aforementioned regions as well as the Mid-South and Midwest leading to excessive rainfall and flash flooding concerns over the next couple of days.
"There is a slight risk of excessive rainfall for portions of the Southern Plains and Mid-South today, where a swath of 2-4 inches of rainfall is possible.
"High rain rates and already saturated soils contribute to the flash flooding risk over any susceptible/vulnerable areas."
These heavy rains could be followed by a higher risk of fire, according to the NWS. It said: "Very dry and windy conditions on the backside of this system will support the Critical Fire Weather outlook issued by the Storm Prediction Center for portions of the Big Bend region of Texas."