Winter Cyclone Blasting New England May Mix Fire And Ice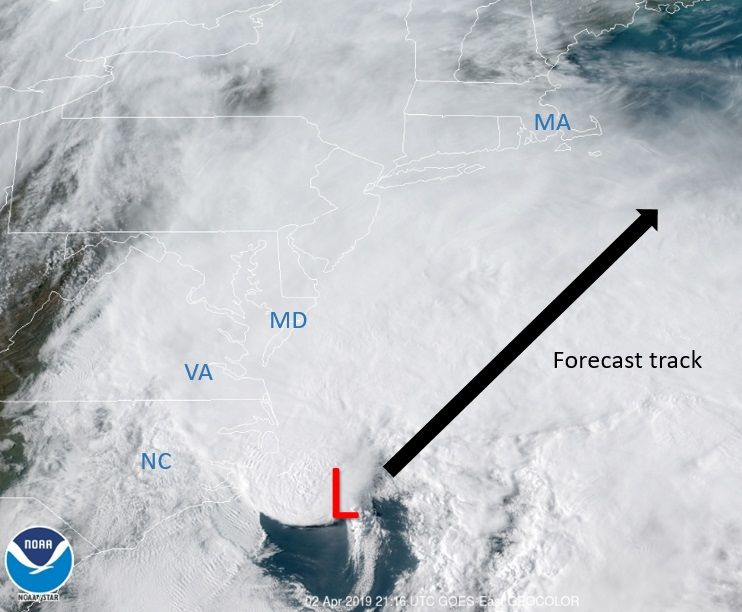 While some areas along the East Coast would see warm spring temperatures on Wednesday, other parts, especially in New England were cleaning up snow. Winter was holding on tightly in some areas where several inches of snow fell Tuesday night into Wednesday but was soon expected to melt.
There was a strong low-pressure system moving north in the Atlantic on Wednesday off the coast of the United States bringing rain and snow to parts of New England as it head for Canada, according to the National Weather Service.
While the snow accumulation was small in most areas it was still late-season April snow, arriving as people were hoping for spring weather.
"In our area, the precipitation has ended with most areas receiving less than an inch which should all melt this afternoon as temperatures quickly rebound into the 40s to lower 50s. This storm was too far offshore for our area to produce much in the way of snow," Hendricus Lulofs with the NWS office that covers New Hampshire and western Maine, told Newsweek.
The cyclone was also expected to bring strong winds to the areas along the coast causing red flag warnings to be issued in the areas where conditions were dry. A red flag warning is issued in conjunction with the land management agencies, according to the NWS. Those warnings indicate "an ongoing or imminent critical fire weather pattern." Those red flag warnings were issued for parts of Pennsylvania, New Jersey, Deleware and New York Wednesday.
The winds were more of a threat than the snow was in terms of safety on Wednesday. "The bigger impact will be strong winds coming in behind the storm later this afternoon and tonight. There are wind advisories in effect for southern New Hampshire and southwest Maine for wind gusts to 50 mph," Lulofs told Newsweek.
In New York, Connecticut, Massachusetts and parts of New Hampshire and Vermont there was a wind advisory. A wind advisory is issued when there are sustained winds of 31 to 39 miles per hour expected or when there are gusts between 46 and 57 miles per hour expected, according to the NWS.
Those winds were expected to be strong enough to knock down tree limbs and power lines and also cause some power outages in the areas where the wind was strongest on Wednesday.