'Weathering With You,' the Latest Anime From 'Your Name' Director, Will Screen Early for U.S. Fans
Anime fans will be delighted to learn that the much-anticipated feature film Weathering With You is heading to U.S. movie theaters two days ahead of its scheduled 2020 release date.
The animated movie—a "runaway hit" which has earned $125 million since its Japanese release in July—will be shown by alternative content distributor Fathom Events in "nationwide fan preview screenings" on January 15 and 16, 2020. New York-based company GKids will oversee the film's broader theatrical release on January 17, 2020.
Part whimsical romance and part commentary on climate change, the story centers around two teens: Hodaka and Hina. During the summer of his freshman year of high school,16-year-old Hodaka runs away from home and heads to Tokyo during one rainiest seasons the city has ever seen. Facing loneliness and failure, he runs into Hina, a girl with the magical ability to bring sunshine to Hodaka's life, both literally and figuratively.
Weathering With You is the work of writer and director Makoto Shinkai, who garnered critical acclaim in 2016 with another teen fantasy drama feature, Your Name. It is also an entry for the International Film category at the Oscars—the first anime Japan has submitted for the award since Hayao Miyazaki's Princess Mononoke in 1997, according to Indie Wire.
"I really had just two themes that I wanted to explore, one is, of course, about climate change, you know, because lately there's just been so many disasters and we see it everyday on the news and it's directly related to our lives," Shinkai said in an interview with Polygon earlier this month.
He continued: "There are people actually dying and there's buildings crumbling and it was just something that moved me so much. It's something I worry about so I wanted to incorporate that into my film, but also have the individual wishes of a boy contrasted with the wishes or the good of the community, and the conflict between that."
"With breathtaking visuals and emotionally resonant story, 'Weathering With You' has quickly become one of the most anticipated films of the year," said GKids President David Jesteadt in a statement. "We are pleased to partner with our friends at Fathom Events on two days of fan preview screenings, giving Makoto Shinkai's fans the very first opportunity to see the film in theaters nationwide before its release."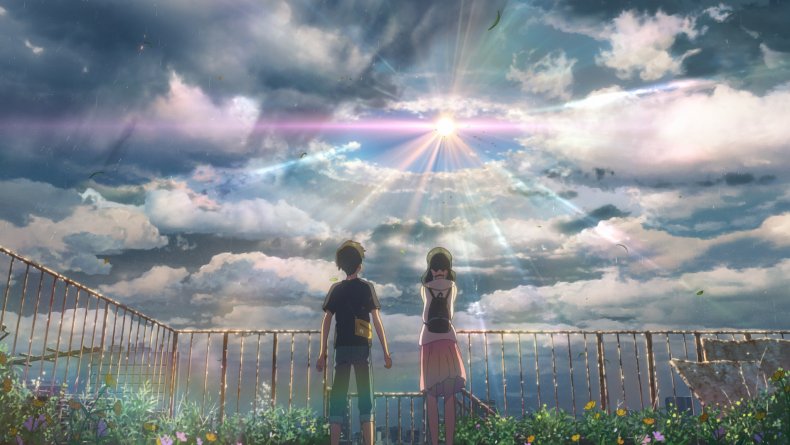 The movie made its North American debut last month at the Toronto International Film Festival before going on to a packed screening at Animation Film Festival in Los Angeles over the weekend.
Tickets for the early showings will be available to purchase starting November 15 on both the movie's official website and from Fathom Events.