Hilarious Moment Weatherman Panics as Broadcast Fails to Cut Resurfaces
A TV weatherman has found viral fame after an hilarious incident from a broadcast first aired in Britain 18 years ago resurfaced on social media.
Mistakes are a part of life, especially in the world of live broadcasting.
There was once a time when such errors would have been lost in the sands of time. However, the internet, social media and the proliferation of smartphones has given many of these blunders an extended shelf-life.
That's certainly proven the case for U.K.-based meteorologist and weather forecaster Alex Deakin, who works for the national weather service the Met Office but was, in the early 2000s, a weatherman for the BBC.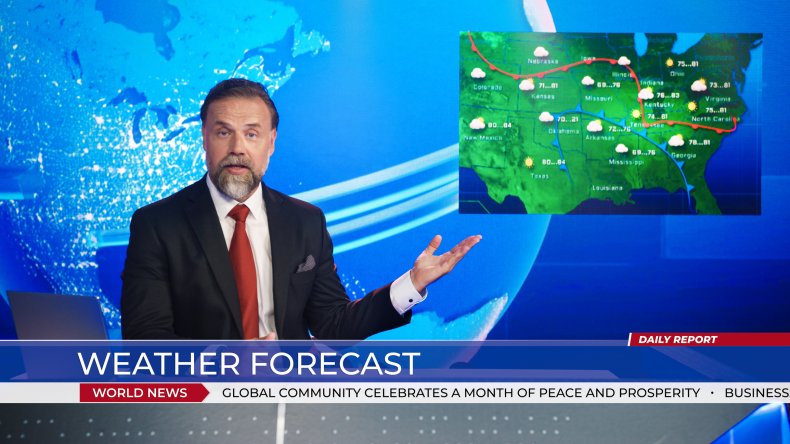 There's no precise science to explain why a video goes viral. The Harvard Business Review has reported that marketing technology company Unruly conducted an analysis of around 430 billion video views and 100,000 consumer data points to try to identify the key drivers behind viral success.
The report concluded that a video's success is driven by our "psychological response" as in how it makes you feel and "social motivation" or why you want to share it.
Having finished his forecast and wished viewers a good night, Deakin found himself frozen, smiling down the lens, while the broadcast failed to cut away.
The camera remained on Deakin for nearly 30 seconds, with the forecaster remaining stock still, save for the occasional blink.
During this time, Deakin's fixed smile begins to fade and as the clip progresses, he can even be seen looking off to his right, evidently confused as to why he has yet to go off air.
The BBC broadcast does eventually cut away to a title card explaining: "We are sorry for the break in this programme and are trying to correct the fault."
As nightmare-inducing as it might have been for Deakin, the incident had been largely consigned to history, having occurred nearly two decades ago.
However, that all changed when comedian and writer Christian Jegard decided to share a clip of the incident to TikTok. Since then it's been viewed more than 1 million times.
"The panic in his eyes grows by the second," an evidently amused TikToker called Bemma1991 wrote. Bluebird agreed, commenting: "The way the smile gradually turned to a look of sheer terror."
Sheevpalps8 posted: "His stare was so powerful he interrupted the signal," with zrwek adding: "I thought this was a still image until he blinked."
Lucy The Angry Pug couldn't resist a pun: "He weathered that out," while LatinxSwede commented: "He was so committed he couldn't uncommit."
Word of the video's popularity eventually reached Deakin himself, and thankfully, the meteorologist saw the funny side in it all, sharing a video to his Instagram, recreating the video "18 years later" with the same suit and tie.
Newsweek has contacted Alex Deakin and Christian Jegard for comment.