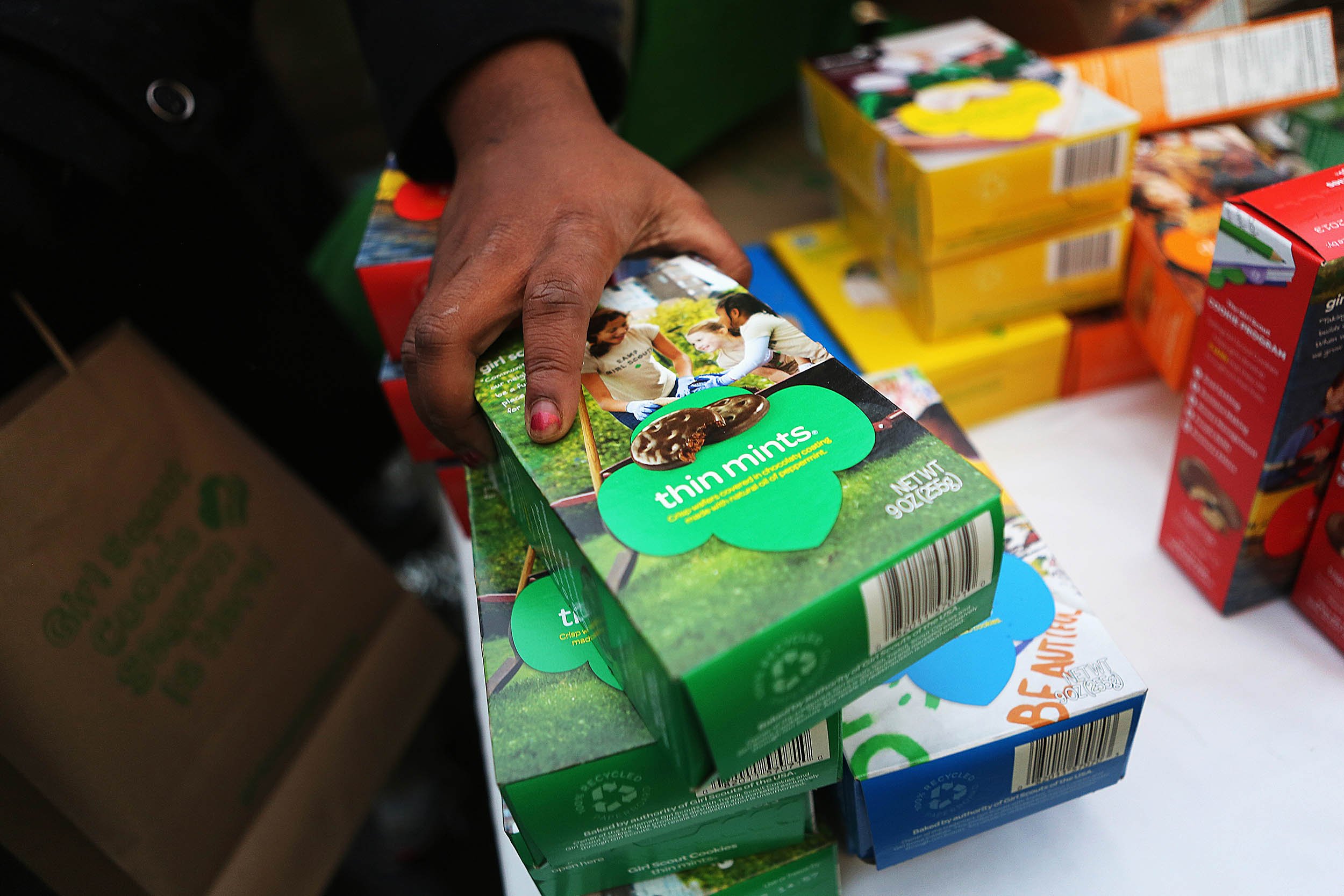 A dedicated-sales website has been established to help sell the cookies that a young Girl Scout in Indianapolis was on her way to pick up when she was shot earlier this week.
Sinai Miller, 9, was leaving her apartment with her mother and sisters on Tuesday afternoon to pick up boxes of cookies when a stray bullet hit her leg. She was transported to Riley Hospital for Children at IU Health in a stable condition, emergency medical crews said, and has returned home to recover from her wound.
With cookie booths set to open in Indiana on Friday, the Girl Scout council set up a "Cookies for Sinai" website to sell cookies in Miller's name while she recovers. According to The Indianapolis Star, more than 2,000 boxes had already been sold as of Thursday.
"The Girl Scout movement is deeply saddened to hear this news about one of our Girl Scouts. Our thoughts and prayers are with her and her family," reads a statement emailed to Newsweek from Girl Scouts of the USA. "Unfortunately, 1 in 7 school-aged girls has experienced violence in her own neighborhood. As a society, we need to do better and ensure the safety of all children in all communities."
Girl Scouts of the USA did not provide further comment on the number of boxes sold when reached by email Friday. Girl Scouts of Central Indiana could not immediately be reached for comment.
"We cannot complete our mission to build girls of courage, confidence and character who make the world a better place when they are afraid to play in their own neighborhoods," Deborah Hearn Smith, chief executive of Girl Scouts of Central Indiana, said Thursday.
According to several outlets, police are looking for the SUV from which a shooter fired indiscriminately, as witnesses described the shooting.
In an opinion column for the Star, Tim Swarens posed a challenge to the city of Indianapolis: "Let's buy Girl Scout Cookies. In a big way," he wrote Thursday.
"It's a simple act, yes, but it's not just symbolic. The money raised through cookie sales helps pay for life-affirming experiences such as camp for girls like Sinai," Swarens wrote. "So let's step up and push back against the violence around us. Let's turn something ugly into something sweet. Let's send a we're mad as hell and we're not going to take it message."