Retiring Mississippi Sheriff Hit With Embezzlement, Inmate Sex, Weapons and Drug Charges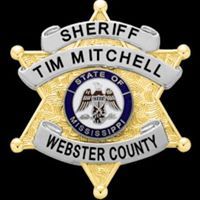 When the top Mississippi sheriff announced he would turn in his badge, he likely thought he was going to collect a pension and ride off quietly into the sunset.
That's not going to happen.
On Wednesday, the state's Department of Public Safety announced the arrest of Webster County Sheriff Timothy Mitchell for allegedly committing a dozen felonies, including embezzlement, stolen arms trafficking, sex with an inmate and retaliation against a witness, according to a public release.
It's unclear if the sheriff, who remains in custody pending an arraignment, has retained an attorney.
A dispatcher at the Webster County Sheriff's Department would only identify herself as "the jailer" -- refused to answer any questions and hung-up multiple times.
"I can't give any information at this time," the unidentified jailer said. "There are people here right now."
What's more, Mitchell is believed to be jailed by the Lafayette County Sheriff's Department, however, when Newsweek reached out to the agency, a person who answered the phone claimed that the lawman wasn't in their custody.
"We don't have him here," said a woman who also refused to give her name, before dropping the line.
Two weeks ago Mitchell officially bowed out as the Sheriff of Webster County.
Citing murky health issues, the 53-year-old top cop tendered his resignation to the board of supervisors and was ready to forego riding out the rest of his second term.
On Dec. 6, when he announced his retirement, Mitchell waffled and was considering staying on, according to a WTVA report.
Mitchell stated that he was consulting with his doctors and was a week or two out from being able to know for certain if he could stay on.
Law enforcement officers made that decision for him today.
The Europa, Mississippi man now must answer for a smorgasbord of offenses — some of which involving the attempted sex and/or sexual acts with an inmate as well as permitting narcotic sales in jail and multiple counts of furnishing an inmate with weapons, a mobile phone and dope, the Mississippi Department of Public Safety release states.