'WeCrashed' Release Date, Cast, Trailer, Plot—All We Know About Apple's WeWork Series
WeCrashed is a financial drama coming soon to Apple TV+. It stars Oscar winners Jared Leto and Anne Hathaway as WeWork's power couple, Adam and Rebekah Neumann, and follows the rise of their empire—and its calamitous fall over the space of one year.
Newsweek has everything you need to know about WeCrashed on Apple TV+ including release date, cast, trailer, plot and more.
When Is 'WeCrashed' on Apple TV+?
The highly anticipated series will premiere on March 18 on Apple TV+. The first three episodes of WeCrashed will be available on that day. The remaining five episodes will be released on the next five Fridays.
To watch WeCrashed, you can sign up to Apple TV+ for $4.99 per month.
What Is 'WeCrashed' on Apple TV+ About?
WeCrashed is an adaptation of the Wondery podcast WeCrashed: The Rise and Fall of WeWork. Both tell the mindblowing true story of WeWork, the global co-working start-up.
In less than a decade, WeWork grew from a single office to a global empire. At one point, the brand was worth $47 billion with sites in 120 cities. In the space of a year, however, it began to fall apart.
WeWork was founded by Adam Neumann and Miguel McKelvey in 2010. The show will also explore the relationship between Adam Neumann and his wife Rebekah and its impact on the company.
In 2019 Adam Neumann stepped down as CEO of WeWork after reports surfaced of misconduct and mistreatment of employees and his financial decisions were called into question. WeWork later had to accept a bailout from SoftBank, reports Variety.
Speaking to Entertainment Weekly, co-showrunner Lee Eisenberg said: "What separates [WeCrashed] from other things we've seen in this genre is that we watch the story through the prism of this couple. We see this cult of personality within the business story, and then come home with them at night.
"We as a society get swept up in unicorns and this idea that you can get rich quick. I mean, Adam Neumann unironically said that he wanted to be a trillionaire. That's just wild."
Who Stars in 'WeCrashed' on Apple TV+?
Hollywood stars Jared Leto and Anne Hathaway lead the cast of WeCrashed on AppleTV+. They also serve as executive producers.
Leto, who recently appeared in House of Gucci, portrays Adam Neumann, the co-founder of WeWork.
Interstellar's Anne Hathaway plays Adam's wife, Rebekah Neumann, who served as the chief brand and impact officer at WeWork.
The Climb's Kyle Marvin appears as Miguel McKelvey, the company's co-founder.
The cast also includes America Ferrera, star of Ugly Betty and Superstore, as entrepreneur Elishia Kennedy. O-T Fagbenle, best known as Luke in The Handmaid's Tale, plays investor Cameron Lautner.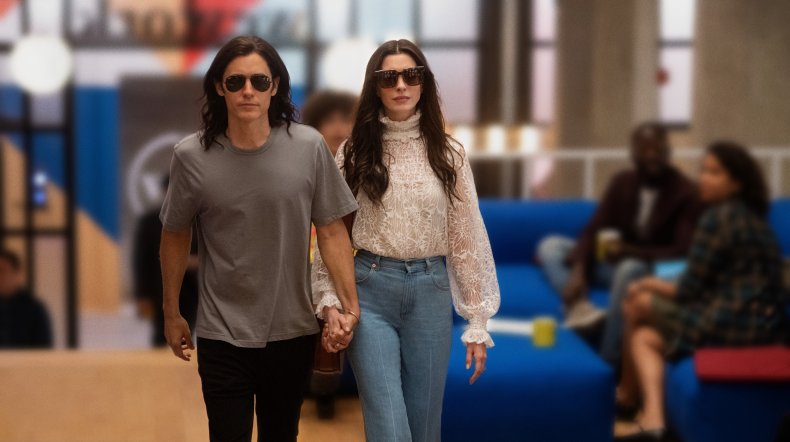 Is There a Trailer For 'WeCrashed'?
Yes, there is a short teaser trailer for Apple TV+'s WeCrashed—and you can watch it at the top of this page.
The trailer introduces Adam Neumann and his wife Rebekah—and the couple's big dreams for the co-working space.
Jared Leto as Adam can be heard saying: "This isn't a place for people to punch in and out." This is followed by Anne Hathaway's Rebekah declaring: "WeWork's role is to elevate the world's consciousness."
As the trailer shows WeWork's employees looking happier than ever, Adam tells a colleague: "WeWork isn't just a company, it's a movement."
But there are also hints that trouble is coming.
At the end of the trailer, Adam's co-founder Miguel McKelvey remarks: "You know you're not God, right?" To which Adam replies: "You have to admit, I do look a little bit like him."
WeCrashed premieres Friday, March 18, on Apple TV+.