The Wedding That Became a Funeral: U.S. Still Silent One Year on From Deadly Yemen Drone Strike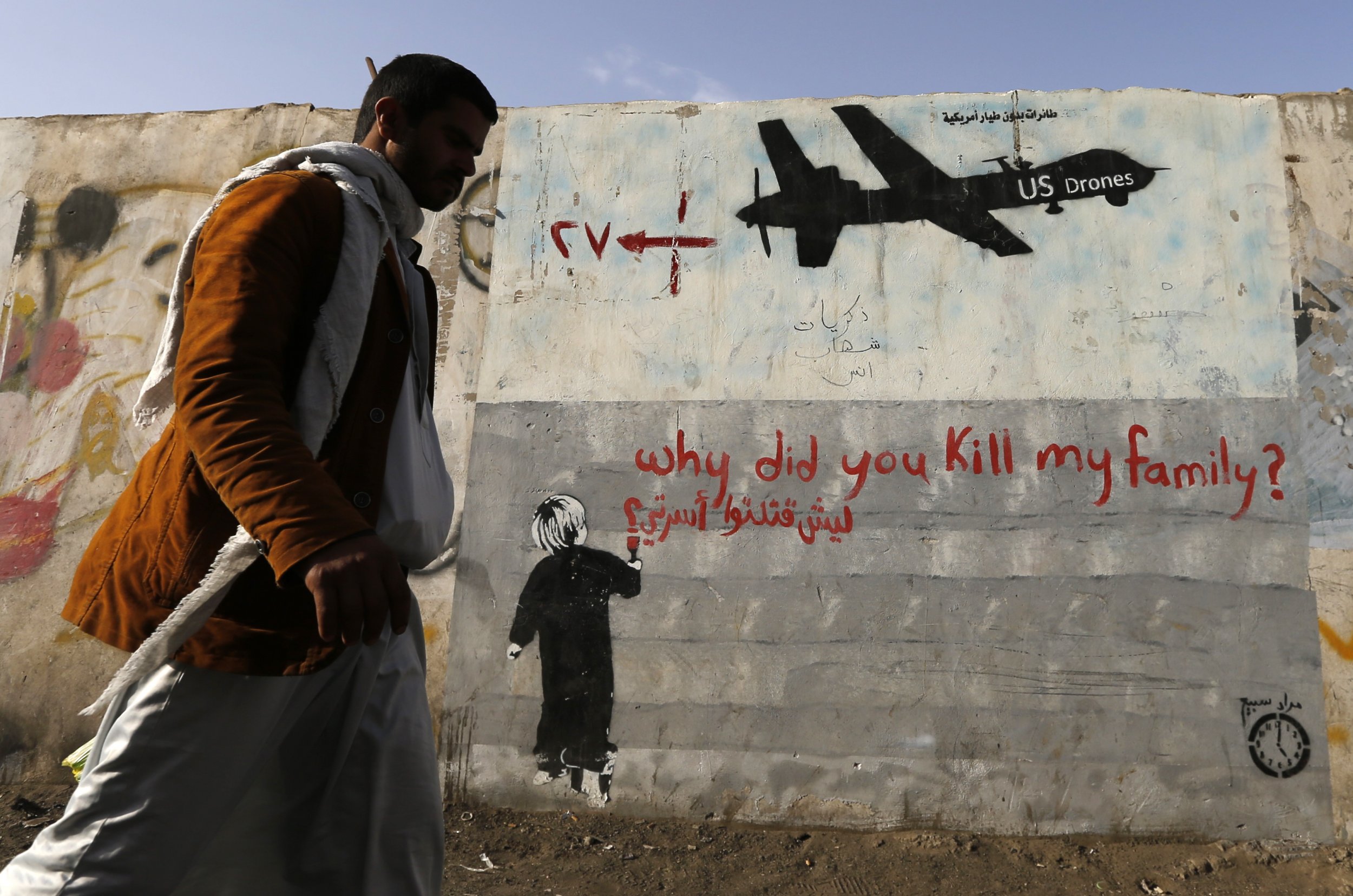 A year on from a U.S. drone strike in Yemen that hit a wedding convoy, killing 12, the United States government have refused to formally recognise the attack, or publicly acknowledge that unarmed civilians died as a result of the strike. However, recent investigations have found that they have secretly paid a record sum of over $1 million in compensation to the families of the victims.
According to the victims, on 12th December 2013, Abdallah Mabkhut al-Ameri, his new wife and about 60 of their friends and family, were travelling in a wedding procession outside the city of Rada'a when four Hellfire missiles hit the convoy, resulting in the deaths of more than 10 people, including the groom's son from a previous marriage, and injury of 24 more.
Al-Ameri recalled the events, in an interview with human rights organisation Reprieve: "That day, we had lunch, ate and drank water and headed to pick up the bride. We were around 60-70 people and around 12 cars. The mood was joyful and I was so pleased. I was surrounded with friends and family. I was so happy. It was my wedding party. Then we were hit."
Tawfiq Mohsen Ali al-Muflahi, an emergency doctor at the Rada'a Specialist International Hospital, was working on 12th December last year: "We dealt with the cases, injuries from an air strike, and called the relevant specialists," he told Namir Shabibi, an investigator for Reprieve. "Their injuries suggested that they were victims of an explosion, with multiple shrapnel wounds: 15-20 shrapnel wounds per person, lacerations, fractures, fractures in the skull and shrapnel in the eyes etcetera."
Despite having dealt with injuries resulting from drone strikes in the past, al-Muflahi recalled that this case was different: "The difference is in the number of [injured] people we received and the type of injuries, and the injuries from this strike were rapidly infecting. The shrapnel in the wounds caused rapid infections of the wounds."
The hospital did not have the resources to deal with such an emergency, he said, and one patient, who later lost an eye, had to be transferred to the capital Sana'a.
Washington refused to comment on the attack until a week after it happened. On 20th December they announced that the target of the strike was Shawqi Ali Ahmad al-Badani, a member of al-Qaeda in the Arabian Peninsula (AQAP) and the suspected ringleader of a plot that resulted in the U.S. closing more than 20 diplomatic posts in Africa and the Middle East in the summer of 2013.
U.S. officials went on to report that while al-Badani had been wounded and escaped, between nine and 12 'militants' had been killed. They said there were no known civilian casualties.
What has followed is a year of denials, investigations and finger pointing by various U.S. officials. But while the U.S. has never officially acknowledged the actual events of 12th December, the Central Intelligence Agency (CIA) and the National Security Council (NSC) have made decisions and concessions that indicate they are well aware of the civilian casualties that occurred that day.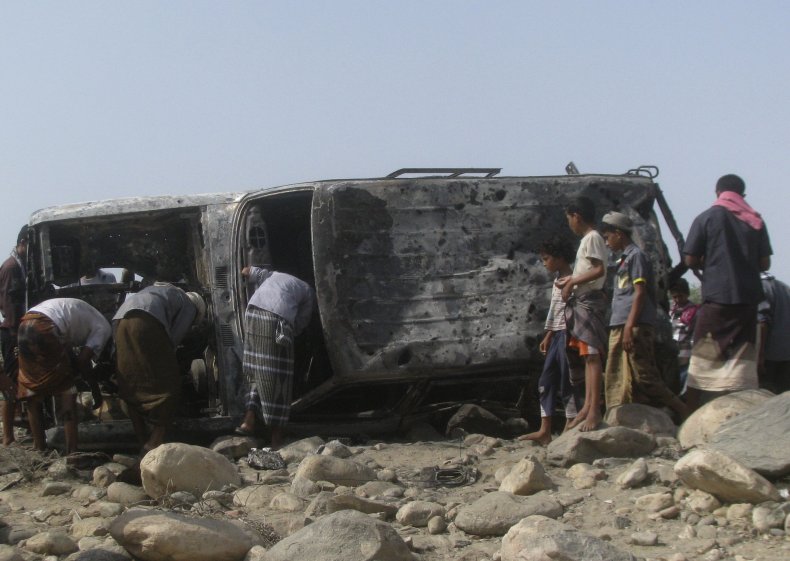 In January 2014, the NSC responded to an investigation put together by Reprieve, in which local villagers claimed that the strike had resulted in civilian deaths, and opened an internal review. However, according to the organisation, the NSC ignored Reprieve's offer to provide evidence or help to facilitate interviews with witnesses.
Another report, published by Human Rights Watch in February 2014 and entitled "A Wedding That Became a Funeral", also claimed that the strike had killed up to 12 civilians, and warned the U.S. government that "the attack may have violated the laws of war by failing to discriminate between combatants and civilians, or by causing civilian loss disproportionate to the expected military advantage". They recommended that the government "conduct prompt, thorough, and impartial investigations into the air strike".
Despite the evidence gathered by the two organisations, the U.S. government concluded after two internal investigations that only members of al-Qaeda had been killed, but refused to publish the details of their reports due to a policy of not revealing details of specific strikes.
Yet a growing disagreement began to develop between the Pentagon and the CIA as they squabbled over proposals that the military should eventually be handed complete control of drones and targeted killings. The CIA used the Yemen strike – carried out by the Pentagon's Joint Special Operations Command (JSOC) – as evidence this was an unwise decision. While JSOC continued to insist that only militants died in the strike, CIA analysts argued that civilians were killed.
Indeed, the Yemeni government temporarily banned JSOC drone strikes in the country, but allowed the ones led by the CIA to continue. A congressional aide was quoted as saying that:
"The amount of time that goes into a strike package at CIA is longer and more detailed than a strike package put together [by JSOC]... Their standards of who is a combatant are different. Standards for collateral damage are different."
However, the clearest evidence that the U.S. government is aware of the civilian deaths caused by 12th December strike is the compensation said to have been paid to the families of the relatives killed or injured in the strike, according to Reprieve. Although America has a policy of providing compensation for civilian victims in Afghanistan and Iraq, it does not extend to Yemen or Syria.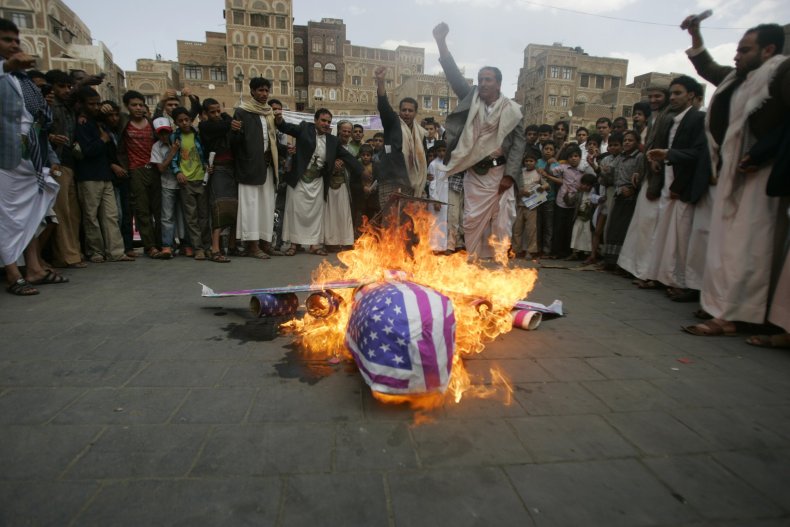 But another Reprieve investigation uncovered documents that showed that more than $1 million was paid by the Yemeni government to the families of those killed and injured on 12th December.
As Letta Tayler, the author of the initial HRW report about the strike, puts it: "A payment of this size declares as loudly as a neon sign that the strike killed innocent civilians. Moreover, it's highly unlikely the impoverished and embattled Yemeni government made such a sumptuous payment on its own, meaning that it the cash may have come from the U.S. - a further admission of guilt. Whoever paid this sum, it's back-door blood-money, not redress."
Reprieve's head of communications, Donald Campbell, says a second investigation lead to a Yemeni presidential source admitting that this money did not come from the government in the country and that the U.S. had indeed funded this huge payout of compensation.
In a recent interview with Yahoo News, Faisal bin Ali Jaber, whose brother-in-law and nephew were killed in another U.S. drone strike in Yemen in August 2012, described how he was summoned to Yemen's National Security Bureau in July and handed a blue plastic bag of cash. According to Jaber, inside was $100,000 of "freshly minted" $100 bills. "The money was almost brand-new. The serial numbers were sequential," he told Yahoo's chief correspondent Michael Isikoff. Less than a week later, a further $100,000 was wired to another member of Jaber's family.
However, Jaber decried the nature in which the compensation was given. "How can it be that money is given in this way, without any paperwork and in this secretive manner? The U.S. believes it can silence the families of the victims with money" rather than with "an apology [for the drone strike] and an explanation," he said.
The CIA declined to comment when Newsweek contacted them to ask about these payments.
For the survivors, the memory of the day lives on. Al-Ameri describes how the impact of the strike continues to affect him and his family. "My wife is depressed. She gets nightmares of that day. They make her scared and jumpy. My son's widow is depressed. She gets dizzy sometimes for up to 30 minutes. His mother hasn't been able to accept her loss. We had to give her medicine for her dizziness and depression.
"The mood in our village was one of shock. And we're still fearful: when will we be hit next? Our wedding was turned into a funeral."
Dr al-Muflahi highlights the long-lasting effects that the 12th December will have on the victims. "Such attacks have a psychological impact on the patient and on civilians in general. Even the doctor himself, when he sees someone burnt or psychologically affected by it. When you see an innocent human killed like this it's not easy, anyone would be affected."
"An injured victim of the strike revisited me later for treatment. He told me that "[after the strike] I get terrified at night, any noise that I hear terrifies me... I seldom travel from the area [al-Yakla] which was hit because I'm afraid [of being hit in another strike]." He told me that the noise of the strike was so terrifying. So certainly, one can say that there is a psychological impact, if not on all, then at least some."
Sheikh Abdallah al-Taisi, who was also travelling in the wedding party and lost his son that day, is in no doubt as to who is responsible: "A year ago, a U.S. drone killed my son, who was at the prime of his youth. To this day, I still feel a sense of injustice, pain and great sadness."
"No one has been able to put that day behind them. We lost the best of our young men for no reason. Our fellow countrymen know us well for being peaceful people. We were at a wedding but the U.S. bombing turned it into a funeral. Nobody can forget the cruel contrast between our delight at the occasion and the sight of charred body parts."
"Did you know that the wives of some of the men killed were pregnant at the time and later gave birth? Try to imagine what it's like when a child is born but will never see his father because he'd been taken away by a needless act of horror."
"Our government and America ignored us. They never asked about the effects of the strike on our lives. I want to ask President Obama. Have you got children? Do you love them? Of course you do. And we love our children as much as you love yours. But your government killed them. So why won't you recognise our pain?"
"We want an apology and to see those responsible to be held accountable. Doesn't the US tell the world that it is a just and law-abiding country? We want to hear more than slogans. We won't rest until we see justice."