Wedding Guests Reveal Most Important Thing To Them–And It's Not The Couple
A bride-to-be got more responses that she bargained for when she took to Mumsnet to do some research for her wedding. Asking, 'what do wedding guests care about most?' user @Scarfmisuseissues was bombarded with 29 pages of comments from other site users.
The original post began "Might regret this knowing how anti-wedding MN can be but here goes!" User @Scarfmisuseissues went on to explain that she's in the early stages of planning her wedding and is keen to spend her budget on "things that will actually make our guests day more enjoyable." She wrote that she recognizes the cost and effort involved in attending a wedding and really wants to include "details/gestures etc [that] are actually important to you."
The responses primarily involved three points, which user @Br1ll1ant summed up, writing: "Food and drink. Not being left without any thought for ages for photos."
Many others agreed. @YorkshireTerri wrote: "Enough food at appropriate times. Warmth. Booze. Seats." Likewise, @plasmodesmata commented My family need feeding. We get hungry and grumpy if there is no food."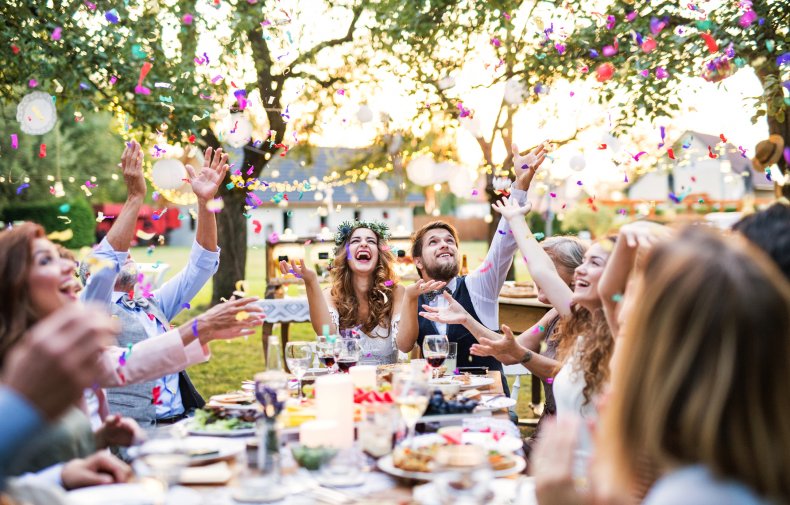 Numerous users gave @Scarfmisuseissues a hard truth that engaged couples probably need to hear: "No long gaps for things like photos," wrote @littlepeas. Similarly, @MadameFantabulosa pointed out that at weddings where couples "spend forever having photos taken," guests should receive food, beverages, and somewhere to sit "with seats."
"We don't want to sit on the floor or on stairs," they noted.
Interestingly, the line on party favors was a near-unanimous 'no.'
"Ditch the favours!" wrote user @Magicshoppingtrolley.
"Couldn't give a monkeys about favours!" added @Purplecatshopaholic, before asking "Does anyone really?"
These responses were corroborated by the findings of The Knot's 2021 Real Weddings Study, which found that a majority of couples believe that food and beverages are the most important aspects of a wedding to focus on.
The survey also revealed that weddings are trending smaller, but pricier. The average number of wedding guests in 2021 was 105; while that's an increase from 2020's pandemic-influenced average of 66 guests, it's a drop from 2019's average of 131 guests. In 2021, couples spent an average of $266 on each guest, a jump up from $214 in 2019.
User @toastofthetown noted that she and her partner opted out of party favors for their wedding, adding "My experience working in the wedding industry was that if they weren't immediately consumable then well over half were wasted, however thoughtful they were."
Even more controversially, other users suggested eschewing a wedding cake, the traditional speeches, and even the formal dress code for the event.
"In terms of saving money... cakes seem a waste too. Seem to be good for a picture but people rarely eat them ?" @BrownStripePJ wrote, adding "Keep the speeches short. They're rarely good or funny."