Wedding Horse Carrying Groom Flees Ceremony in Video Viewed Over 75K Times
During a recent wedding ceremony, a startled horse decided to flee the scene—and took the groom along for the ride. A video, found here, captured the hilarious incident and has since gone viral online.
The incident reportedly took place in the state of Rajasthan, in northern India, right in the middle of the baraat—the groom's wedding procession.
As wedding planner Devika Narain explained in Brides Magazine, a baraat is meant "to bring the groom to the wedding venue with much pomp and fervor"—typically via horseback.
"The groom, decked in traditional Indian finery, is usually seated on a ceremonial horse [or an elephant, chariot, or vintage car] as his guests lead the way, dancing," he said. He added the custom has roots in northern India, from the time "when people would go from one town to another to get married."
He added "the baraat is one of the key highlights of the main wedding day and takes place before the traditional vow exchange." According to Narain, they can feature live music, dancing, drums, DJ sets, and more in order to fiercely celebrate the occasion.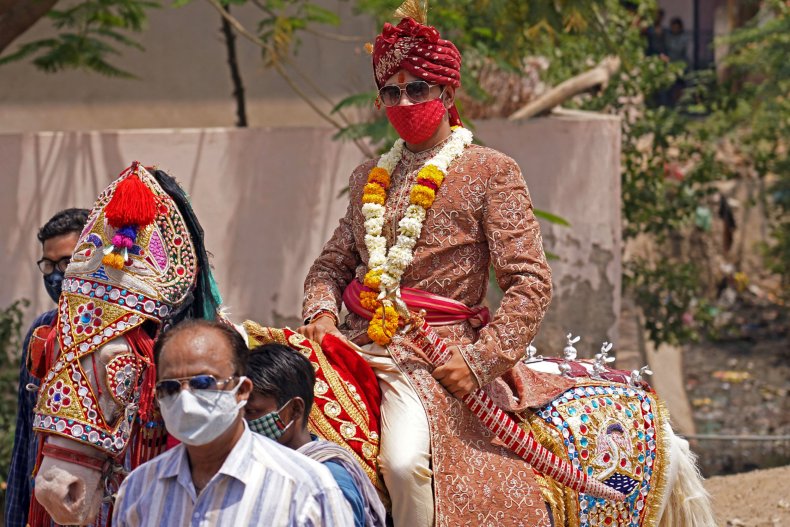 However, it appears all that commotion was a bit too much for the horse tasked with carrying the groom in the recent Rajasthan wedding. At this particular baraat, trouble began after guests reportedly started setting off celebratory firecrackers, reported The Indian Express.
According to the news outlet, the wedding party was ready for the procession at the time of the ordeal, and the ritual feeding of the horse was underway. However, things went awry when someone set off a firecracker too close to the animal: it bolted from the scene, taking the groom on an impromptu ride.
Footage of the ordeal shows a puff of smoke erupting near the animal, along with a booming sound. The horse quickly pivots and gallops away from the gathering, while a guest chases after them.
The horse carried the groom approximately 4 kilometers from the ceremony site—nearly 2.5 miles—before they were rescued by his family members.
Luckily, neither the horse nor the groom were injured in the incident, and they reportedly continued with the baraat upon their return.
A clip of the horse's departure, posted on YouTube last week, has since gone viral on the platform, racking up over 75,800 views.
Horses are known to be deeply sensitive creatures—and one contributing factor is their acute sense of sound. According to Horse & Hound, horses can detect noises "as far as 4 km away." They can also hear a wider range of frequencies than humans, "from 14 hertz up to 35 kilohertz." Because they are prey animals, they will flee if they hear a threatening sound or are unable to locate its source, explained the magazine—just as did the horse during the baraat.