Wedding Photo Taken as Photographer Falls Sparks Wave of Wedding Fail Tales
A picture taken by a wedding photographer in mid-fall is going viral and inspiring social media users to share their own funny wedding photo fails.
The black and white photo, which showed the wedding party looking shocked as they watch the fall, was taken by Chase Richardson of Followell Fotography at a wedding at Mcclain Lodge in Mississippi on June 21, 2014.
It first went viral in 2015 when it was featured by Jimmy Fallon in a segment on wedding fails on The Tonight Show.
At the time, Richardson told Peta Pixel the story behind the viral photo and said: "It had been raining all morning so I ended up photographing the wedding party under this covered slab of concrete basically.
"There were puddles everywhere, and when I took a step back to get ready for the photo I just... slipped and fell. Pretty embarrassing."
Richardson told photography news outlet Peta Pixel that he broke his camera lens and cut his finger open during the fall. He also said that he didn't realize he had taken the now-viral snap until he uploaded the wedding photos to his computer.
Newsweek has contacted Richardson for comment.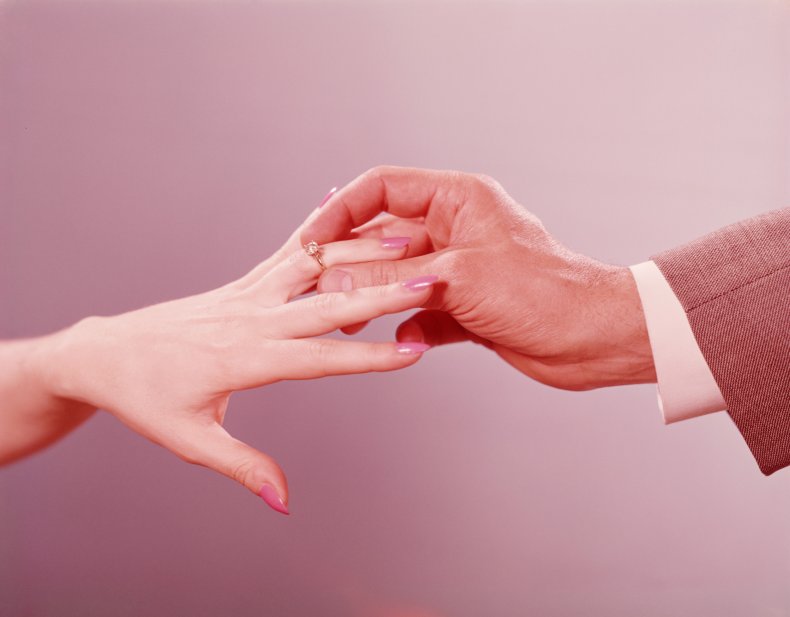 The image is now receiving widespread attention nearly six years after it first went viral, after being shared by Simon London, who said: "I love this. It's a picture taken by a wedding photographer who fell over as he was taking it..."
London's tweet has been liked more than 17,000 times since Friday, and the photo has also amassed more than 50,000 upvotes on Reddit since being shared on Sunday.
The photo has inspired Twitter users to share their own funny wedding photo fails, like David Sim, who said: "Three years ago, two of my best friends got married. The photographer called a group of us over for a photo and captured our reaction as Kevin—one of the grooms—slipped on the polished floor.
"Spot Andy—the other groom—hanging his head in shame."
Robert Pastore said: "This is from my wedding... taken by my friend who wasn't the official photographer (who can be seen standing next to the painting at the back) everyone is in the moment of hysterics as my wife threw the flowers into the chandelier"
Finally, Twitter user @ViciDoesStuff said: "We had some confetti left so a good friend had a plan... The wind had other ideas," and shared a photo of the bride being hit in the face by a whole box of confetti.