Wedding Photographer Removes Sister's Boyfriend From Photos 'Just in Case'
A photographer has revealed how he always takes a "safety shot" when working at weddings.
In a video on TikTok, photographer Adam Lowndes from Staffordshire, U.K., sparked conversation when he asked a man to move out of a photograph.
In the text overlay on the video that has been viewed more than 5.8 million times, the photographer explained that he was removing the sister's partner "just in case."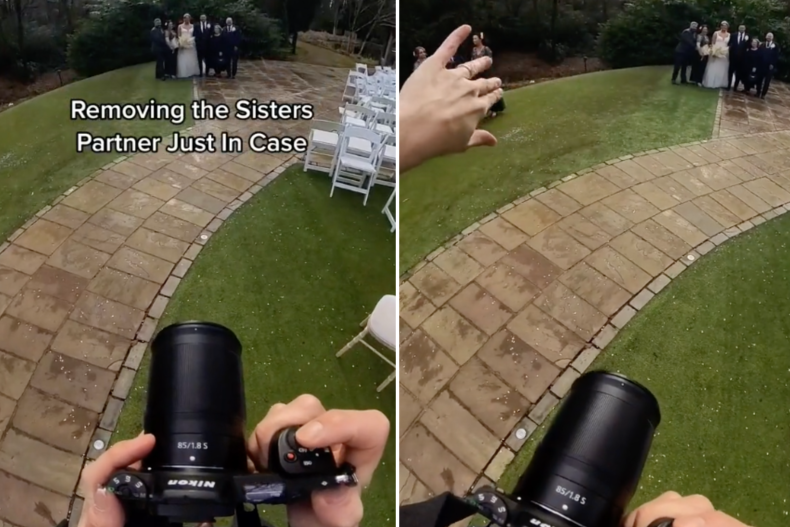 Dubbed the "safety shot," Lowndes explained how he always takes a family photograph at weddings without family members' partners—just in case they break up in the future.
"Through experience, I've learnt that it's often important to take a wedding family photograph without the siblings' partners whether they are married, engaged or just dating," Lowndes told Newsweek. "This then went on to be dubbed 'The Safety Shot' whenever I needed to add comedy to a day. It's important to keep the family portraits moving and to also keep everyone smiling and looking great."
A photographer for 13 years, Lowndes said that he first asked partners to move out of the shot at a wedding where a bride had a large close family, made even larger by the siblings' partners.
"For one shot, I asked the siblings' partners to step off and the bride thanked me for taking this as the next day one of her brothers had broken up with his girlfriend. I've also found over the years that parents like the more condensed family portraits with fewer people and more of the original setup plus the new addition marrying in," he explained. "Nothing I take is definitively the better shot when it comes to family portraits, I'm just trying to cover all basis and future-proof the photographs for as long as possible."
Wedding photographers capture the biggest day of most people's lives, and getting these pictures right is hugely important to couples.
Alexa Logan and Colin Tapp tied the knot back on August 18, 2022 and were left in shock when they were presented with disappointing photographs despite paying $1,500 for a photographer.
"The majority of the photos were blurry or too dark, or looked like he had put an Instagram filter on them," Logan told Newsweek. "Immediately both our hearts broke."
After Lowndes shared how he ensures his couple's photographs will be future-proofed despite any break-ups and shake-ups in the family, thousands of TikTok users shared their thoughts and reactions in the comments.
"This should honestly be a normal practice," said one reply. "I like the way you handled it."
While another agreed: "Had this happen to me. I completely understand it," and one viewer said: "Wish we had a few like this."
But not everyone understood the idea of the "safety shot," and some shared how they would feel offended or hurt by being asked to move out of the photo.
"I would cry," said one commenter, while another wrote: "Adding one at a time would be a much more professional way to do this and avoid making it awkward."
But Lowndes explained that nobody has ever been offended by his request for a safety shot. "I like to think I'm a very good judge of character and would only make it jovial and comedic if I already had some rapport with the person beforehand," he said. "From the small glimpse into the wedding day which the video gives you you don't quite see everything else I've been doing all day and how hands-on I am with all the guests. I've not just gone straight in with banter the moment I met this individual to gain some kind of higher social stand against them."
Frequently sharing the best bits of wedding shoots with fans on TikTok, Lowndes hopes that his videos shot with a 360 camera can help people see how he works.
"I love photography and weddings but when it comes to selling myself as a wedding photographer it's hard to explain exactly what makes me me because you can't clearly see this in the photographs," he explained. "It's a whole experience so if the couple needs me to do up their dress, clean their shoes, delint their jacket, fetch them the last canapes, put a brides veil back in, lend the groom my belt, or build up some buzz for the dancefloor—all these have happened—then I'll do it. Nothing is too much."
After gaining viral attention, the divisive topic of the "safety shot" shocked the photographer. "Everyone who comments seems to feel like they have a definitive understanding of the situation and thus want to share this experience," he said. "I haven't counted but if I had to guess I would say more people are leaning in favor of the technique. Those who're against it though I don't mind. Everyone is entitled to their own opinion and everyone is on their own journey with love."
"I for one fully understand that for a lot of people love may only be for a season and not for life and that's ok," he explained.
Has a wedding come between your relationship with a loved one? Let us know via life@newsweek.com. We can ask experts for advice, and your story could be featured on Newsweek.