Shayla Herrington is an Arkansas-based wedding photographer—which means she's encountered her fair share of newlyweds. In a recent TikTok video, Herrington described three signs that, when observed on a couple's big day, indicate that a marriage may not last. The video has gone viral on the platform in the three days since it was posted, racking up over 105,000 views and 20,000 likes.
While a far cry from the joys of one's wedding day, the issue of divorce continues to be a pressing one for many Americans. According to a fact sheet compiled by family law firm Wilkinson & Finkbeiner, "almost 50 percent of all marriages in the United States will end in divorce or separation." For first marriages specifically, approximately 41 percent end in divorce—but that number increases for second and third marriages, respectively.
But it's not all bad news. In 2020, the U.S. Census noted that between 2009 and 2019, the "divorce rate fell from 9.7 new divorces per 1,000 women age 15 and over in 2009 to 7.6 in 2019." However, the marriage rate was also on the decline.
In her video, Herrington clued in viewers on some subtle hints about relationships that are built to last.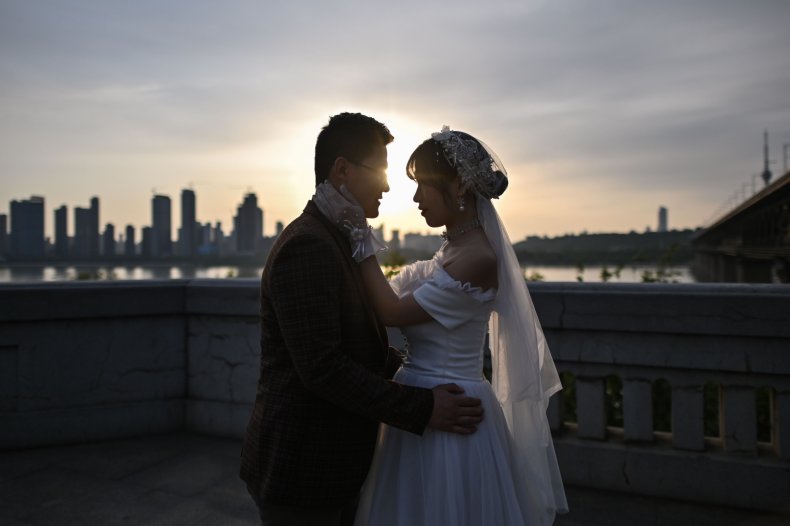 "One time I was shooting under this wedding photographer and they told me they can always tell if a couple will last or not, based on three things," she begins. "Mind you, this photographer has been in the industry for 10 or 15 years, so I was really interested to hear their theory on this."
"The first indicator is [that] one of the spouses will take...more than three family photos without the other spouse," she said. "This one kind of makes sense to me.... You might get a few alone with your mom and dad, but to kick them out of more than three photos just seems a little suspicious."
She continued, "The second indicator is the bridesmaids and the groomsmen will avoid talking about the spouse when they're getting ready or doing toasts."
She explained, "That's typical, because they don't like them."
Finally, Herrington said, "the last indicator is [if] one of the spouses will spend more time with friends or family at the reception, rather than their spouse."
While Herrington told Newsweek she's "seen every single sign" of a future breakup throughout her four-year career, only one of the couples she's photographed have split up.
"I didn't notice any of these signs at their wedding," she explained. "I think the signs I mentioned are indicators of an obvious breakup ahead."
She stands by the notion that these "indicators" are, at the very least, red flags. "I did have one wedding in particular last year where the groom allowed his mother to kick the bride out of quite a few family photos," she recalled. Meanwhile, "the bride stayed silent the entire time."
Herrington said she was hesitant to post the clip because of the possible feedback. But "the comments are overwhelmingly in agreement."
"I've seen a few commenters say they disagree about one of the points and then explain why," she noted. "I've even had fellow photographers comment and say they agree 100 percent with each sign."
Some viewers, meanwhile, provided their own wedding red flags. "I honestly think a big indicator is a huge, expensive wedding," wrote @julrsb4440.
Other commenters even shared anecdotes from their own lives that helped prove (or disprove) Herrington's theories.
"I...found a lot of recently divorced women open up to me in the comments mentioning that their wedding with their ex fell into all three categories," Herrington said.
"Yup!! My ex husband wanted to spend time with this brother on our wedding night and not me," wrote @taramurphy080.
"All three occurred at mine," countered @sgttxtazsgirl. "20 yrs and still good."
Update 11/15/21, 10:39 a.m. ET: This story was updated with comments from Shayla Herrington.