Metal Detector Finds Wedding Ring Missing for Almost 50 Years
"I was really thrilled. I didn't think I'd ever see it no more," said Florene Bush, 94. "It's very special."
A Tennessee woman has been reunited with the wedding ring she lost nearly a half-century ago.
Florene Bush, 94, was gardening near her home in Leoma in the early 1970s when the gold band slipped off. Today Florene lives in a nursing home, but she's always regretted losing that cherished keepsake
"Throughout the years she always mentioned her gold band and how she missed it," Florene's son Frank told KHON Channel 2.
Wesley White, whose mother lives at the same home as Florene, was visiting one day and overheard her talking about the ring. White, who is retired, owns a metal detector and thought he might be of some assistance.
"I'm retired so i go every chance I get," he said. "Normally what I hunt for is coins."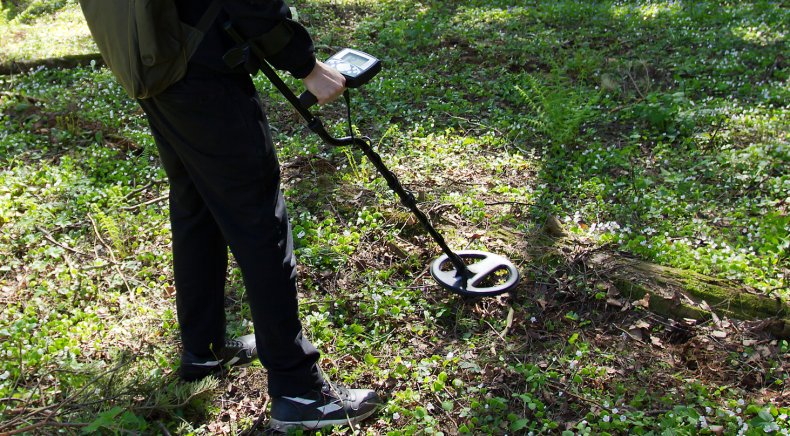 This time, though, he set his sites on the ring. And within 90 minutes of searching, he said, White and his friend Jeff Howell found it.
"I turned around and he was walking towards me and he had it on his little finger," White said. "He asked, 'do you think this is it?' and I said that is absolutely it."
White says the ring was under about five inches of dirt, but didn't have a scratch on it. Frank Bush couldn't believe their luck in finding his mom's wedding band.
"They come knocking on the door saying, 'We found it, we found it!'"
The men cleaned up the ring and, for the first time in almost 50 yeas, Florene was able to put it on her finger again. "I was really thrilled, I didn't think I'd ever see it no more," she said. "It's very special, yeah it is."
Frank hopes his mom's ring can now be passed down as a family heirloom to future generations.
It's not the first time good fortune has shone down: In late 2018, a 93-year-old Iowa man finally recovered the wedding ring he lost in 1974.
"I had never dreamed of ever seeing that ring again," Ray Schmuecker told ABC News. "[My wife] was kind of broken about me losing it, so she [went] right into the town and [came] home with another wedding ring with several diamonds in it exactly like the one I lost."
Last summer, Schmuecker sold his 1972 Oldsmobile to Will Frye, a car lover who hoped to salvage the motor after the one in his 1969 Oldsmobile quit working. It was while working on the vintage car that Frye made a startling discovery.
"I was kind of chipping away at it, I had blew it all off with the air hose, and I could hear, you know, nuts and bolts and stuff hitting the ground, but it was just one big grease ball on the floor," Frye told KCRG in January. "It kind of looked like a donut hole, but it had a little shine to it, and I picked it up just to see what it was, and here I got chipping through it, it was a ring."
Schmuecker, who lost his wife to breast cancer, didn't know how the ring got into the motor. He's just thrilled to have it back. "I really treasured it."