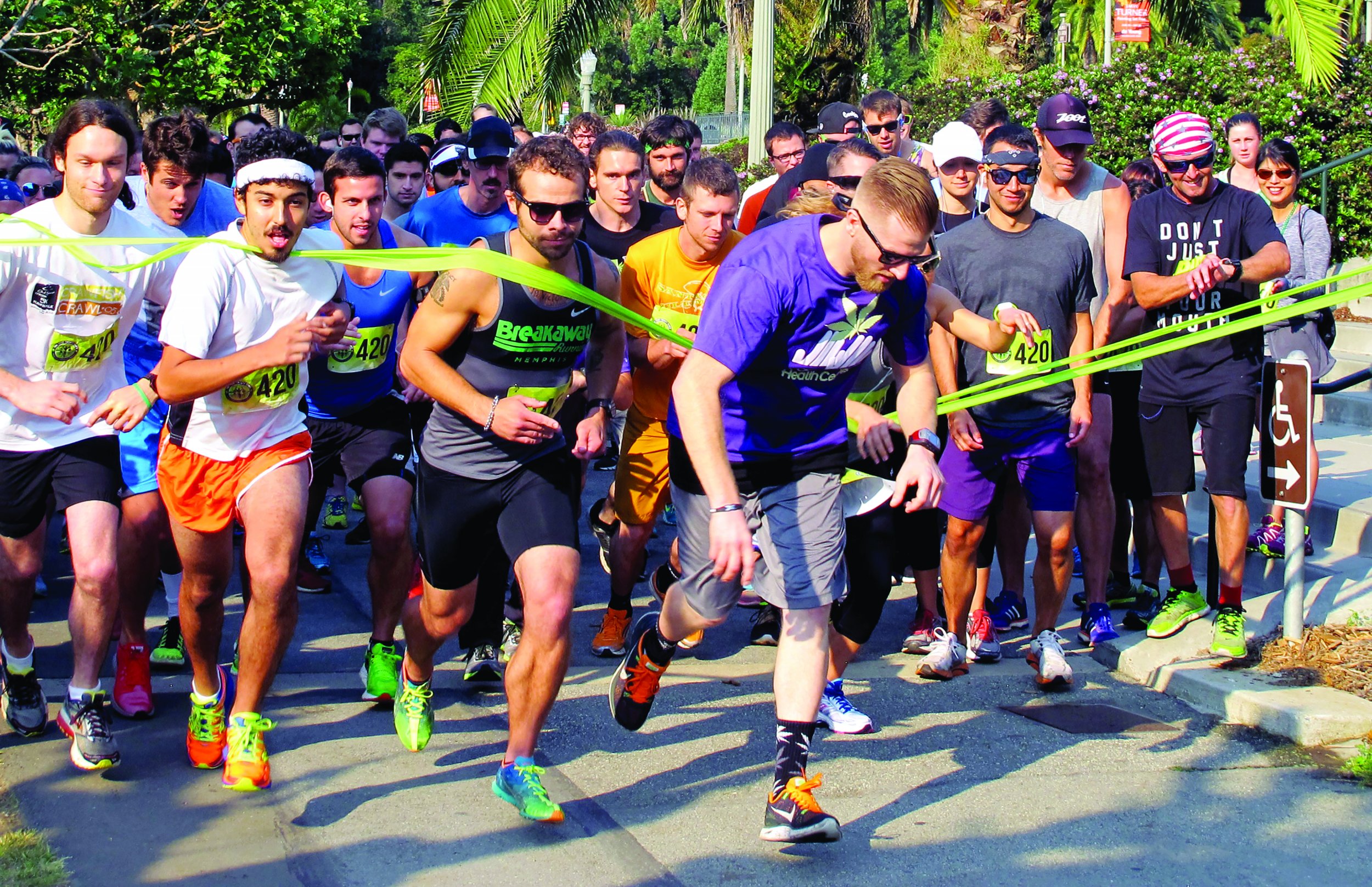 This article, written by Associate Editor Tim Baker, was excerpted from Newsweek's Special Edition, Weed 2016: The Beginning of the End for Pot Prohibition.
San Francisco's Golden Gate Park is one of the most expansive and widely used public spaces in the country, so when on August 15, 2015, a competitive long-distance run was held featuring among its festivities a Lagunitas-sponsored beer garden and a live concert, it was just another Saturday in the park. But this wasn't any old fun-run: It was an event of the 420 Games, an organization that hopes to illustrate that "cannabis users are not lazy, unmotivated or 'stoners' and to de-stigmatize the millions who use cannabis in a healthy and responsible lifestyle."
As if to drive home the point that using cannabis is far from the athletic impairment most people assume it to be, the athletes gathered in Golden Gate Park looked like just that: athletes. Not slackers, not potheads, just athletes gearing up for a big race. There is one big difference, though. Many of these athletes had discretely toked up or popped an edible before making their way to the starting line. Many more would do so to help them finish the race, and even more would partake afterward to aid in their recovery. For some, cannabis is a strong source of motivation, an unparalleled recovery aid and a rare source of relaxation—in short, a performance-enhancing drug.
"My whole life I've been an athlete, and I thought, 'Everyone is preaching [their own opinions about cannabis] and there are so many words going back and forth that people tend to tune it all out,'" says Jim McAlpine, mastermind of the 420 Games. "I thought, why not use sheer athleticism to speak instead of more words? To say 'Look, we're not lazy, we're not stoners. We're out here [competing], and you're not. And we're finishing faster than you.'" According to McAlpine and his like-minded cadre of athletes—ranging from retired NFL players to long distance swimmers like McAlpine himself to marathon runners to former MMA standouts—it's because of, not in spite of, cannabis that they are able to continue competing.
"[I went from being] the young guy, the extreme skier, the starting soccer player freshman year and all that, to now: My body's broken down and I have a bad back and I can't run—all those things," admits McAlpine. "As I become more of an old guy, cannabis has helped me keep my mind on the exercise—kind of the 'Eye of the Tiger' thing. When I use a little bit of cannabis I can definitely train or stay in the water for about three times as long."
Kyle Kingsbury, a 33-year-old veteran of 18 professional mixed martial arts bouts, former cast member on The Ultimate Fighter and now an enthusiastic participant in the 420 Games, also finds cannabis to be an invaluable tool in his athletic arsenal. "I used to take 4–5 ibuprofen at a time to deal with knee and shoulder pain," Kingsbury says. "Now I can use cannabis in the form of CBD, and I also have an all-natural, plant-based, non-psychoactive anti-inflammatory. So basically I'm getting the same benefits without all of the side effects of the pharmaceuticals."
Kingsbury's advocacy for cannabis is especially poignant given UFC's marijuana policy, draconian even among professional sports leagues. In September 2015, UFC shocked the sports world by handing out a five-year suspension to 26-9 fan favorite Nick Diaz for using cannabis. The suspension would be a long one in any sport, but for fighters, five years could mean the difference between being in peak fighting shape and being far past their prime to compete. And UFC isn't alone. All major American sports leagues ban cannabis as a narcotic despite its potential as a recovery aid. The NBA is notorious for its unpaid five-game suspensions like the one recently given to Al Jefferson of the Charlotte Hornets. The NFL refuses to update its policy to include medical cannabis and continues to tacitly advocate its players becoming hooked on actual narcotics. Major League Baseball takes its cues from the outdated Schedule system, which puts cannabis on par with cocaine, morphine and heroin.
All of these policies fail to take into account that, especially in sports where impact is high and residual pain is an ever-present issue, cannabis is a useful recovery tool that has none of the negative side effects of powerful (and prescribable in all 50 states) opioid pain-killers. "As fighters, we experience many of the issues most adults experience but on a much higher level," explains Kingsbury. "For example, quite a few people have chronic back pain and/or arthritis in addition to mental stressors from their work or family life." According to Kingsbury, both the physical and mental health of athletes can be treated with cannabis, and a 2011 study published in the American Journal of Sports Medicine confirmed as much, stating, "Smoked cannabis can decrease anxiety, fear, depression and tension…. Furthermore, cannabinoids play a major role in the extinction of fear memories by interfering with learned adversive behaviors. Athletes who experienced traumatic events in their career could benefit from such an effect."
The same properties in cannabis that dull the pain for athletes like Kingsbury after a fight also make it ideal for endurance athletes, according to distance swimmer McAlpine. "Cannabis is an amazing thing to open up channels of your mind that you wouldn't otherwise be able to open," he says. "If you're at mile 68 [of an ultramarathon] and you're feeling really hurt and your mind's not in the right place to finish, take a little pause for whatever it is that you medicate with and it turns your mind back to finishing. I believe although they are amazing athletes, the strongest muscles in endurance athletes are their brains, and I believe that the biggest reason they use cannabis is to supplement their brain because that's what pushes their other muscles to the final stages."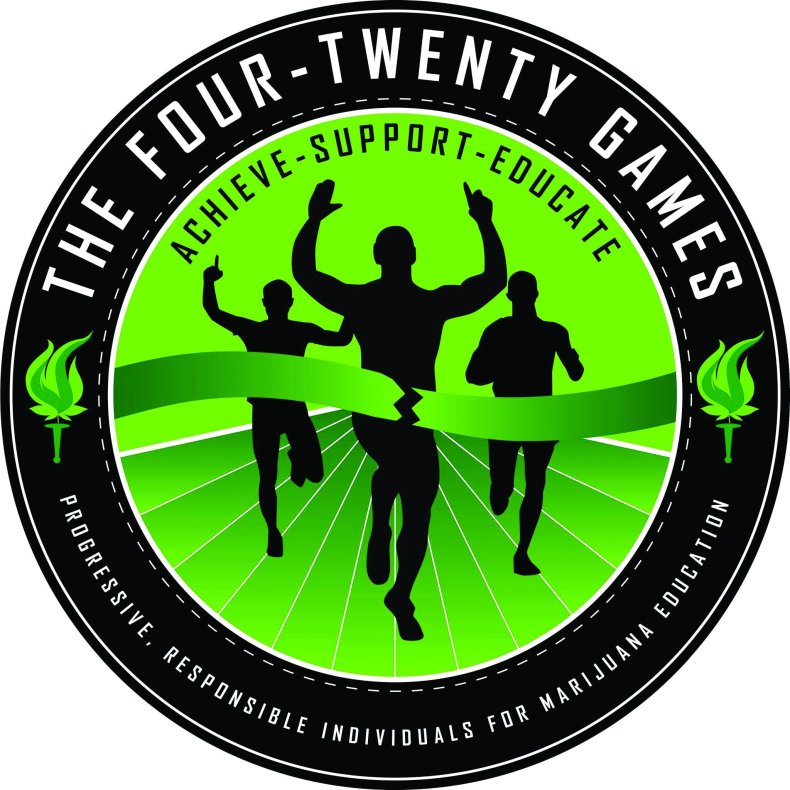 It's athletes beginning to unlock the potential of cannabis that leads Kingsbury to think the plant's place in sports is poised for a dramatic change as the last generations raised on anti-weed propaganda begin to give way to a younger crop of athletes for whom cannabis has no stigma: "I'm confident that the more they research the many benefits of cannabis, the more it will look like a performance enhancing drug to observers. That said, many natural substances are PEDs, from sweet potatoes to MCT oil to coconuts to protein powder." The future of cannabis in sports may be a bit hazy, but some things will be certain if men like McAlpine and Kingsbury have anything to say about it: Cannabis will no longer be the butt of jokes about laziness. It will no longer be treated as anathema to athleticism. In a perfect world, it will be respected.
This was excerpted from Newsweek's Special Edition, Weed 2016: The Beginning of the End for Pot Prohibition, by Issue Editor James Ellis. For more on Marijuana in 2016, pick up your copy today.