Week 6 of the NFL is here and, at least on the surface, the marquee matchup appears to be Sunday's showdown between the Kansas City Chiefs and the New England Patriots.
After a somewhat slow start to the season, New England is back in the driver's seat in the AFC East, while Kansas City has gotten off to a perfect 5-0 start. Chiefs quarterback Patrick Mahomes has set the NFL on fire in his first season as the team's starter. He's impressed fans, teammates and coaches—offensive coordinator Eric Bieniemy told ESPN that Mahomes has an amazing mind for the game and play retention that sounds quite a bit like LeBron James's famous ability to rattle off plays from games.
"The recall that he has is crazy," Bieniemy told ESPN. "You can go through maybe 12-15 plays during a seven-on-seven period. Then later, you sit back and ask him exactly what happened on, say, Play 3. He can recall exactly what happened, who he threw it to. He can tell you exactly what coverage they were playing, right off the top of his head. That's one of the most impressive things about him. That tells you he sees everything and absorbs it, what a lot of guys don't."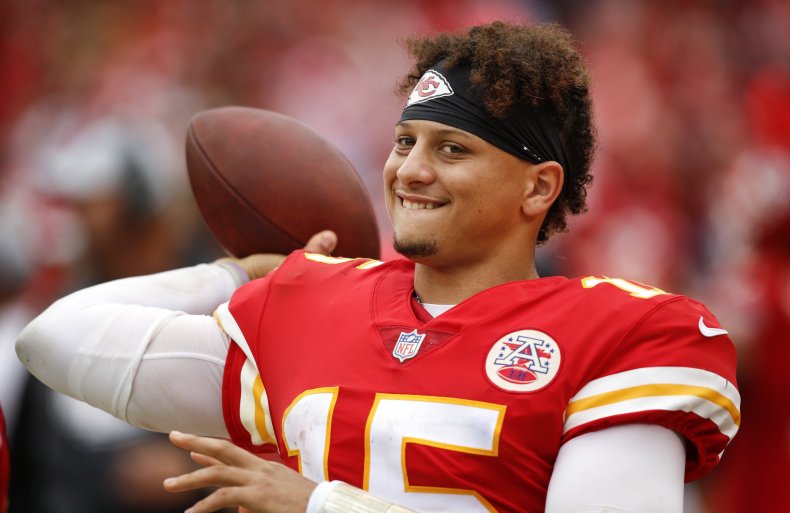 Of course, memory is nice, but it also doesn't hurt that Mahomes has a canon for an arm and stellar athleticism.
The Patriots, meanwhile, have ascended back to the top of their division with a 3-2 record. There have been promising signs from rookie running back Sony Michel, who seems to now be coming into his own after missing the preseason and struggling a bit in the first few weeks.
"He's a guy who's willing to learn," Patriots running back James White said at a press conference this week, via USA Today. "He's working extremely hard... He missed preseason so he missed those live reps but I've been saying the more he gets out there, the more confident he'll be and the more comfortable he'll be out there learning the plays, getting the feel for how defenses are going to play him and what not."
Here is all the betting info you need for Patriots vs. Chiefs as well as every other NFL game this week—Odds are via Odds Shark (and Bovada if lines have moved) while predictions came from the CBS Sports's Pete Prisco and ESPN's expoerts. Note: picks are for outright winners, not against the spread.
Thursday, October 11
Philadelphia Eagles at New York Giants: Philadelphia -3; CBS picked the Giants. Ten ESPN experts were split, 5 experts picking each team.
Sunday, October 14
Arizona Cardinals at Minnesota Vikings: Minnesota -10.5; CBS as well as all 10 ESPN experts picked the Vikings.
Buffalo Bills at Houston Texans: Houston -10; CBS picked Houston as did all 10 ESPN experts.
Tampa Bay Buccaneers at Atlanta Falcons: Atlanta -3.5; CBS and all 10 ESPN experts picked the Falcons.
Carolina Panthers at Washington: Washington -1; CBS picked Washington. ESPN was split, eight experts to two, for Carolina.
Indianapolis Colts at New York Jets: New York -2.5; CBS picked New York. ESPN experts were split evenly, 5-5.
Pittsburgh Steelers at Cincinnati Bengals: Cincinnati -2.5; CBS picked the Pittsburgh. ESPN experts were split 5-5.
Los Angeles Chargers at Cleveland Browns: Los Angeles -1; CBS picked the Chargers. ESPN was split, eight experts to two, in favor of L.A.
Chicago Bears at Miami Dolphins: Chicago -3; CBS picked Miami. Nine of ten ESPN experts picked the Bears.
Seattle Seahawks at Oakland Raiders: Seattle -3; CBS picked Seattle. Nine of ten ESPN experts picked the Seahawks.
Los Angeles Rams at Denver Broncos: L.A. -7; CBS picked the Rams as did every ESPN expert.
Baltimore Ravens at Tennessee Titans: Baltimore -3; CBS picked Baltimore as did seven of 10 ESPN experts.
Jacksonville Jaguars at Dallas Cowboys: Jacksonville -3; CBS picked the Jags. Seven of 10 ESPN picked Jacksonville.
Kansas City Chiefs at New England Patriots: New England -3; CBS picked the Pats. ESPN experts were split down the middle, five experts picking the Chiefs and five experts picking New England.
Monday, October 15
San Francisco 49ers at Green Bay Packers: Green Bay -9.5; CBS and all 10 ESPN experts picked Green Bay.
About the writer
Reporter, covering a bit of everything.