The Week in Pictures, March 11-17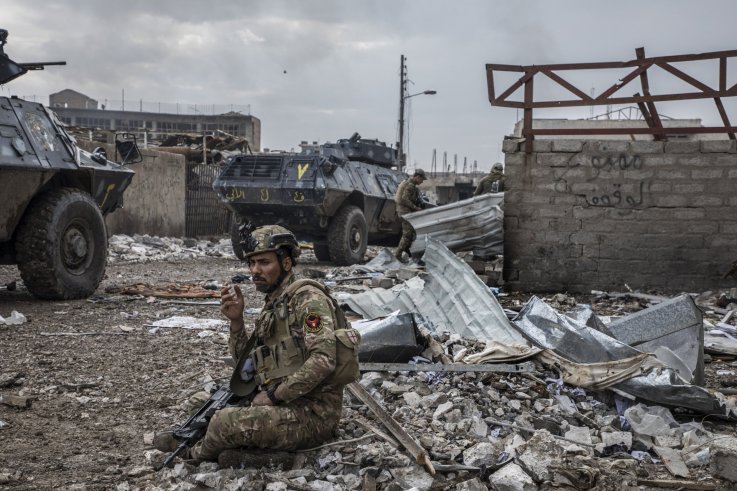 From a soldier in Iraq taking a moment to smoke a cigarette; to the continued fight against the Islamic State militant group in Iraq; to school children in Japan practicing what to do in the event of another North Korean missile test; this is the week in pictures.
This week began with people cheering in the streets as news broke on the impeachment of South Korean president Park Geun-hye. South Korea's Constitutional Court upheld the impeachment of Geun-hye, removing her from office over a graft scandal that has gripped the country for months. Park, 65, became the country's first democratically elected leader to be ousted from office. A presidential election will be held in 60 days, according to the constitution.
The upheaval also rasied tensions in the regon due to recent rhetoric and missile testing performed by North Korea, prompting Secretary of State Rex Tillerson to head to South Korea in a show of solidarity against North Korea.
Back in the United States, the northeastern corridor was hit by a major late season snow storm while the west coast welcomed back its first wildflower blooms after nearly five years of drought.
It was also a wild week for President Trump, who was hounded to provide proof for his wiretapping claims, had his revised travel ban blocked by two federal judges and is struggling to draw the conservative wing of the Republican party into the fold with a new budget proposal and health care reform.
Across the Atlantic, the UK's exit from the European Union may be moving forward without Scotland if First Minister Nicola Sturgeon gets her way. Sturgeon is attempting to hold a second Scottish independence referendum in the wake of the Brexit results.