Syria Strikes, Stockholm Attack: The Week In Pictures, April 1-7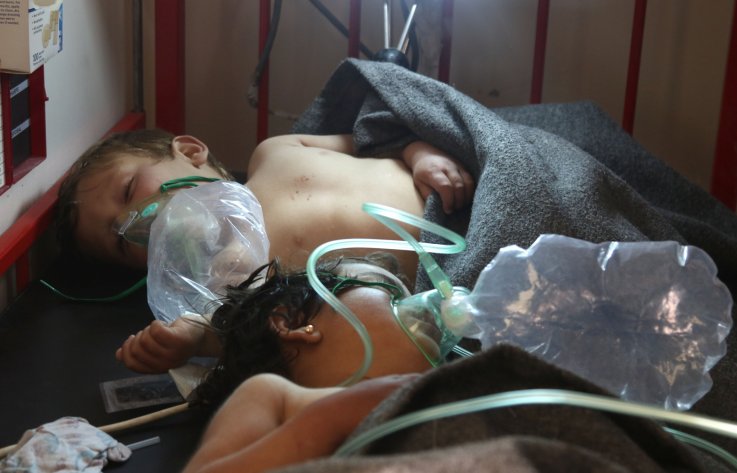 From the toxic gas attack in Syria; to the retaliatory missile attack by the United States; to the conscription of transgender women in Thailand; this is the week in pictures.
Warplanes carried out a suspected toxic gas attack that killed at least 58 people in Syria, according to a war monitoring group, in the country's worst chemical attack in years. The Syrian Observatory for Human Rights said that dozens more suffered respiratory problems and other symptoms. European Union officials, Middle Eastern leaders and the Syrian opposition held the regime of Syrian President Bashar al-Assad responsible for the attack.
In retaliation, President Donald Trump ordered a "targeted military strike" against a Syrian air base that he said was the location for the launch of the chemical attack. The order signaled the first direct Western military action against the government of Syrian President Bashar al-Assad, on the 100th anniversary of America's entry into World War I. The Pentagon said the U.S. fired 59 Tomahawk cruise missiles from two U.S. Navy warships.
In Stockholm, a truck plowed into a department store in a busy pedestrian area, killing and injuring several people on April 7. "Sweden has been attacked," Swedish prime minister Stefan Löfven said during a press conference. "This indicates that it is an act of terror." The suspect is still at large.
And in Thailand, men—and transgender women—who turn 21 are being conscripted into the army. Rights groups are calling for an investigation into the death of a Thai army conscript from apparent torture last week, and an end to corporal punishment in Thailand's armed forces. Transgender women, who are at even greater risk of abuse, are still forced to join the army if a physical examination determines that they have not performed sex changes.