The Week In Pictures, March 18-24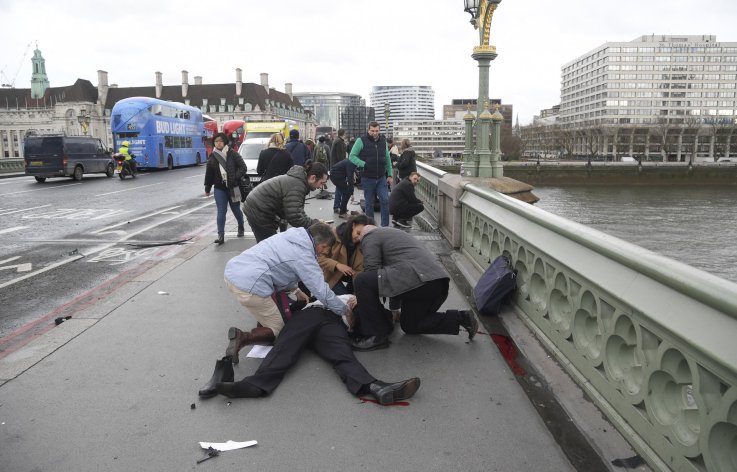 From the terrorist attack in London; to the expired meat scandal in Brazil; to the salvage operation for South Korea's sunken Sewol ferry; this is the week in pictures.
British Prime Minister Theresa May called the March 22 attack on Westminster Bridge and at Parliament "an act of terrorism" that aimed to "silence our democracy." Four people died, including the assailant, and at least 20 more were injured after a car plowed down people on Westminster Bridge before crashing into the railings near Parliament. The attacker, British-born Khalid Masood, 52, was shot and killed by police after fatally stabbing an officer within the parliamentary complex.
The attack occurred on the one-year anniversary of the Brussels terrorist attacks which left 32 people dead and 320 injured.
Back in New York, white Army veteran James Harris Jackson surrendered himself to police after he randomly stabbed and killed a 66-year-old black man on March 20. He was later charged with murder as a hate crime, as he told police he had traveled to New York City from Baltimore to make a statement by attacking black men.
In South Korea, workers raised the sunken Sewol ferry during a salvage operation on March 23. The 6,800-ton vessel emerged from the water nearly three years after it capsized and sank into violent seas off the country's southwestern coast. It was an emotional moment for a country that continues to search for closure to one of its deadliest ever disasters.
Hong Kong, one of the top consumers of Brazilian meat, joined China and the European Union in suspending imports of frozen and chilled meat and poultry from Brazil on March 21. The ban comes in response to investigators' charges that health inspectors were bribed to overlook the sale of spoiled meats for years. Brazilian police launched a major operation in several Brazilian states with search and arrest warrants for directors of the country's main meat-producing companies. Thirty-three employees of Brazil's Ministry of Agriculture were removed from office for their alleged involvement in the scandal, which Brazil's president called an "economic embarrassment."