The Week In Pictures, March 25-31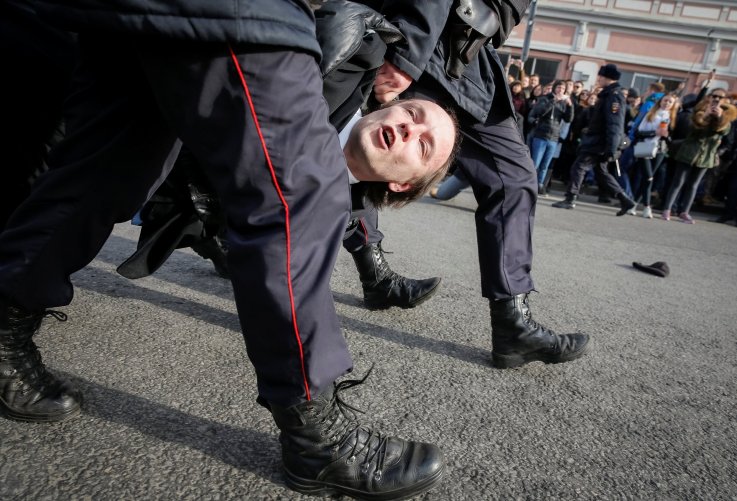 Tens of thousands of Russians unsatisfied with Vladimir Putin's government took to the streets last weekend, resulting in thousands of arrests while the Kremlin dismissed the demonstrations as the work of a few unsavory agitators.
Opposition leader Alexei Navalny urged supporters to demand the resignation of Prime Minister Dmitry Medvedev, who is accused of stealing from public coffers. Navalny, who plans to run against Putin, was arrested and given a 15-day prison sentence for his role in the protests. Moscow dismissed the demonstrations as an illegal provocation and rejected U.S. and European Union calls to free detainees.
Among the protesters' grievances was alleged government corruption and a demand for the resignation of Prime Minister Dmitry Medvedev, who is accused of stealing from public coffers. "We can't agree with these calls," Kremlin spokesman Dmitry Peskov told reporters on a conference call, saying the police had been professional and properly enforced Russian law.
The United Kingdom took one step closer toward an exit from the European Union when Prime Minster Theresa May signed the official letter to European Council President Donald Tusk invoking Article 50 on March 28. The signing brings May one step closer to a promised swift exit following a referendum vote in June 2016.
Back in the States, protesters took to Trump Tower in New York City to express displeasure with the president's second attempt at a travel ban; signed on March 6 in a bid to overcome legal problems with a January executive order that caused chaos at airports and sparked mass protests, the executive order was blocked from taking effect by a federal judge in Hawaii.
On March 29, U.S. District Judge Derrick Watson turned an earlier temporary restraining order into a preliminary injunction in a lawsuit brought by the state of Hawaii challenging Trump's travel directive as unconstitutional religious discrimination. The change of status indefinitely extended an order blocking enforcement of Trump's revised ban on travel to the United States from six predominantly Muslim countries.