Leighton Meester on 'The Weekend Away's' "Incredibly Tragic" Alternative Ending
Leighton Meester leads the cast of Netflix's brand new thriller, The Weekend Away. Based on the novel of the same name by Sarah Alderson, Meester stars as Beth, a married mom who has recently just given birth to her first child, reluctantly heading for a girls' weekend away with her best friend Kate (played by Christina Wolfe).
After months of planning, they have finally managed to make time for a fun girls' trip to Croatia for the weekend, but things go horribly wrong when Kate is murdered in the early hours of the morning—but by who?
If you are a fan of Gone Girl and Brazen, you won't want to miss The Weekend Away, with twists and turns at every moment, Beth is determined to find out who killed her best friend, and unfortunately, she is dealt a devastating blow.
Meester spoke to Newsweek all about Beth's journey and the movie's jaw-dropping ending, which revealed that her husband Rob (Luke Norris) had been the killer all along.
Did Meester see it coming? Sort of. "The thing that drives the movie so beautifully is how many red herrings there are," the Gossip Girl alum told Newsweek.
Meester continued: "I think that the script, and as I was reading it for the first time, it did a really good job of redirecting you and the thing that I think gives the twists such weight, or all the twists such a weight is nobody is all good or bad. Everyone in the movie has a dark side but then you question what were their intentions and why.
"Even Beth herself lies to the police a few times, which is a big no-no, but she is a good person, and she is just trying to figure out what the hell happened so you [watching] can understand where she's coming from.
"I think that the fun of the script, as I was reading it was really the guessing game and then I watched the film, obviously, having known beat for beat what happens at every turn, and having been part of it and I think that it was really fun watching it even knowing the reveal [at the end]. There are maybe clues here and there that you can, that you can sort of check-in on upon a second or third viewing."
Towards the end of the movie, audiences, Beth, and the Czech police have assumed sleazy Croatian police officer Pavic (Amar Buckvic) was the killer. After all, he was the last person to be seen with Kate when she was alive. Unfortunately, his untimely death (after falling down an old well in the middle of Split) meant a question of his innocence went unheard.
However, when Beth returned home to London, the harsh truth came crashing down around her after she paid her ex-husband Rob a visit with their daughter, Aster. Rob was the killer.
Fans of the book would not have been shocked in the slightest at the killer's identity but how the movie played out certainly would have come as a surprise as the film's ending differs slightly from the original novel.
In the book, Beth realizes Rob is the killer but before she can confront him, he has already disappeared with their daughter, ending the novel on a huge cliffhanger.
However, in the movie, Beth, who has now split from Rob after learning of his affair with Kate, discovers he was the killer after coming across one of Kate's necklace beads in his jacket pocket.
Thankfully, Beth was able to contact Czech police detective Kovac (Iva Mihalic) just in time. He alerted the British police as Beth confronted Rob about his crime.
Ultimately, Rob did confess to killing Kate but lied about the details. Rob claimed Kate had been crying about their affair ending and begging for them to get back together but this was not the case. In reality, Kate had rejected Rob, saying their affair was a mistake and the biggest regret of her life.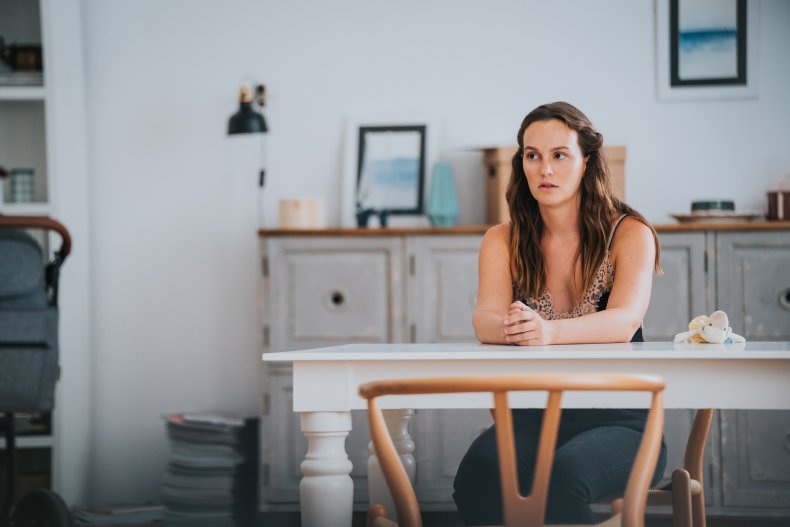 Rob had then pushed Kate onto the rocks where she fell and smacked her head and fell into the ocean. He told Beth he presumed Kate was dead and fled in a panic but from the autopsy report, Beth knew Kate was alive when she fell into the water, meaning Rob had left her to drown.
On the different ending, Meester reflected: "I think the other part of it that makes it more cinematic is the tension [between Rob and Beth] but then also truly this sort of undercurrent of tension with the police, and in general, anybody that Beth interacts with, that makes her feel like she has to scream, to be heard and to be listened to and believed. So I think that [ending] is giving it even a newer meaning and just trying also not to like, give it away."
Thankfully, in the end, Beth makes it out of Rob's apartment unscathed with Aster in her arms. As she walks through the park holding her young daughter, the police are seen racing to Rob's house.
So, did Beth get a happy ending? Meester does not think so.
"It's bittersweet. There'd be no happy ending truly because there's a lot that's happened and that is incredibly tragic" Meester said.
"I think what she can hopefully do is start to put the pieces together and what her life will from now on, but there is no really happy ending."
The Weekend Away is streaming on Netflix now.