Weekend Before Christmas Sees 152,000 More Travelers Than Thanksgiving, Highest Since March
After months of airports sitting practically empty because of the new coronavirus, people are traveling for the holidays and Christmas is shaping up to be a busier travel period than Thanksgiving.
After months of living during a pandemic, people started traveling again and Transportation Security Administration saw an uptick in passengers over the summer and fall, breaking the 1 million mark on October 18. The day before Thanksgiving, known as the busiest travel day of the year, broke a record for the number of people passing through TSA checkpoints, at 1,070,967 people, but Saturday, December 19, was an even busier day.
More than 3.2 million people passed through TSA checkpoints over the weekend, including 1,073,563 on Saturday. It was also the first time since March that the TSA has processed at least 1 million people for three days in a row.
During the weekend before Christmas, 152,790 more people passed through TSA checkpoints than the weekend before Thanksgiving.
Officials cautioned people against visiting friends and family for Thanksgiving because increased social gatherings could foster a surge in coronavirus cases. In the weeks since, America's reported a record-high number of new cases six times and while progress on vaccinations is a hopeful sign, Dr. Anthony Fauci, director of the National Institute of Allergy and Infectious Diseases, implored people to continue doing their part to slow the spread of the virus to prevent hospitals from being overwhelmed.
"We're sitting here talking about vaccines, which is such a positive thing, but all of this is sort of bittersweet because ... as we're moving ahead with what will ultimately be the answer and the final solution to this, we're living through very, very difficult times," Fauci told the Today show on Friday.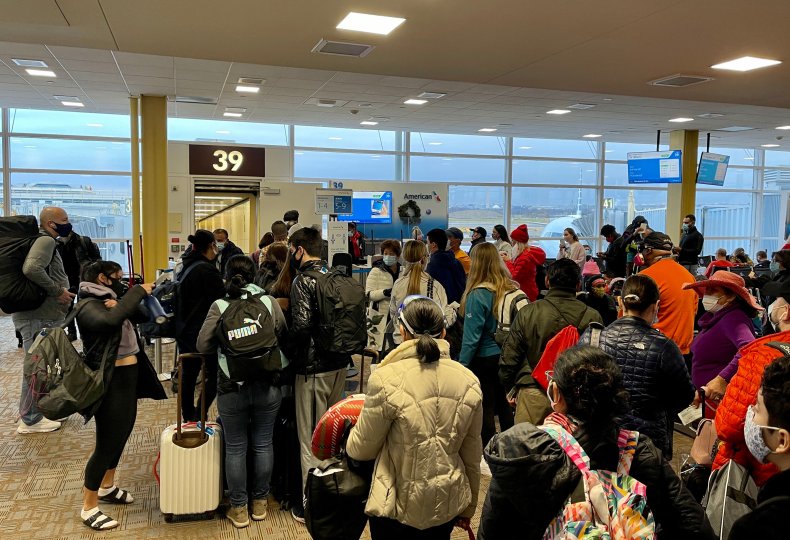 America reported more than 18 million cases of the new coronavirus, more than any other country, and 300,000 deaths. On December 16, the United States reported more than 3,600 deaths, breaking its previous record. People started receiving a vaccination against the new coronavirus last week and Fauci implored Americans to keep up the fight for a bit longer because there's light at the end of the tunnel.
Fauci said Christmas will be different for him this year and instead of gathering with his daughters in person, they'll opt for a virtual celebration. Millions of people followed suit and canceled travel plans, resulting in a 4.4 million drop in people passing through checkpoints during the weekend before Christmas from last year.
Last year, the TSA regularly had more than 2 million people pass through its checkpoints on a daily basis, but that number dropped down to 200,000 at the end of March. Travel on the Friday leading up to Easter was down 95 percent from 2019, compared to the 57 percent drop seen before Christmas.
There wasn't a significant increase in nationwide case trends after Thanksgiving, but Fauci told BuzzFeed News on Saturday people need to be "really careful" around Christmas because it may be a different situation.
"It's a larger holiday. It's extended over a larger period of time. It goes from a couple of days before Christmas to New Year's Day, which is much longer than Thanksgiving, which is essentially a weekend holiday," he said. "So I'm afraid it might be a little more dramatic than what we saw with Thanksgiving."