During Sunday night's American Music Awards ceremony, The Weeknd appeared with his head all bandaged up. His eyes, the tip of his nose and mouth were visible during the awards show, but the rest of his was covered in gauze—even his hair. Naturally, the Internet had some thoughts about the look, and folks were wondering what happened to the "Blinding Lights" hitmaker.
"Damn, when The Weeknd said 'I can't feel my face when I'm with you' he wasn't joking," one person tweeted.
"It just doesn't make any sense to me," another chimed in, trying to figure out what was going on.
One person likened his alarming look to Joaquin Phoenix's Joker.
Someone else suggested that he see a medical professional.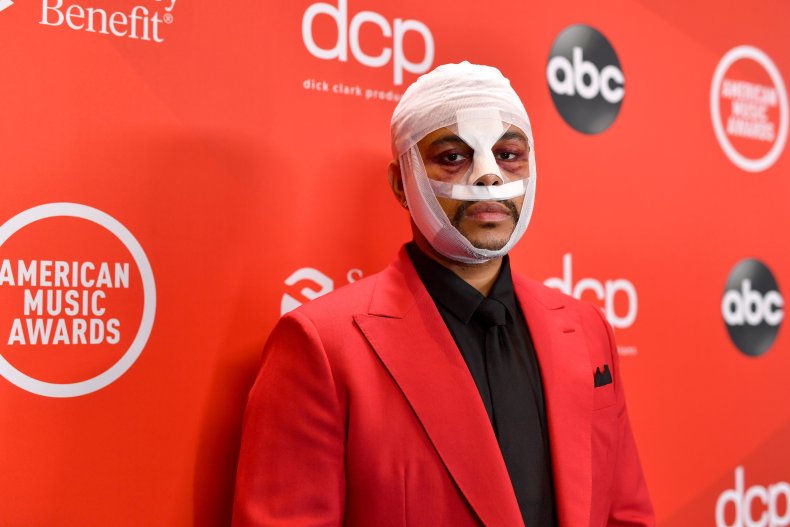 Despite the singer's alarming look, rest assured that he was actually just playing into the aesthetic of his latest album After Hours, specifically his 2019 smash "Blinding Lights."
"'Blinding Lights' [is about] how you want to see someone at night, and you're intoxicated, and you're driving to this person and you're just blinded by streetlights," The Weeknd told Esquire in August. "But nothing could stop you from trying to go see that person, because you're so lonely. I don't want to ever promote drunk driving, but that's what the dark undertone is."
As an album, After Hours focuses on this character, bloodied and bandaged up, and he's featured in an accompanying short film that shares the album's name. The character debuted in September 2019 for the "Heartless" music video, and has appeared in subsequent music videos since.
The Weeknd rocked the bloody beat-up look when he performed on Saturday Night Live in March and fans were concerned then, too, as per The Blast. In an April interview with GQ, The Weeknd described the concept behind his After Hours persona as a character "losing his mind in Vegas."
Whether or not The Weeknd will keep up with this look for the 2021 Super Bowl Halftime Show, remains to be seen. (We can't imagine that he'll up the ante, because performing in a full body cast wouldn't make for a dynamic Super Bowl stage show.)
At the 2020 AMAs, The Weeknd won three awards: Favorite Male Artist – Soul/R&B, Favorite Album – Soul/R&B and Favorite Song – Soul/R&B.
That's an impressive haul, but he was also nominated for five additional awards: Artist of the Year, Favorite Music Video, Favorite Male Artist – Pop/Rock, Favorite Song – Pop/Rock and Favorite Album – Pop/Rock.