Weekly Testing, Vaccine Mandates and Fines: How Some Colleges Are Combating COVID Surge
As colleges prepare for the fall semester and the return of many students to campus, they're implementing a combination of tactics to help reduce the spread of COVID-19, including shifting financial burdens to unvaccinated students and taking a multi-layer approach to mitigation.
Colleges and universities can be a hot bed for infectious diseases spreading because there are large numbers of people gathering and living in tight quarters. The possibility of large outbreaks prompted schools to shut down last year and with on-campus learning back in place, there are concerns about how to keep students and faculty members safe.
Some schools, including the Massachusetts Institute of Technology (MIT), are requiring that most people who live or take in-person classes must be vaccinated against COVID-19. Given that there can be breakthrough cases or people who aren't able to be vaccinated, some schools are requiring masks be worn indoors on top of a vaccine mandate.
However, MIT is taking their response one step further. Along with wearing masks and being vaccinated, the school is requiring that people who are on campus at least once a week be tested weekly for COVID-19. Those who test positive must self-isolate, even if they're asymptomatic.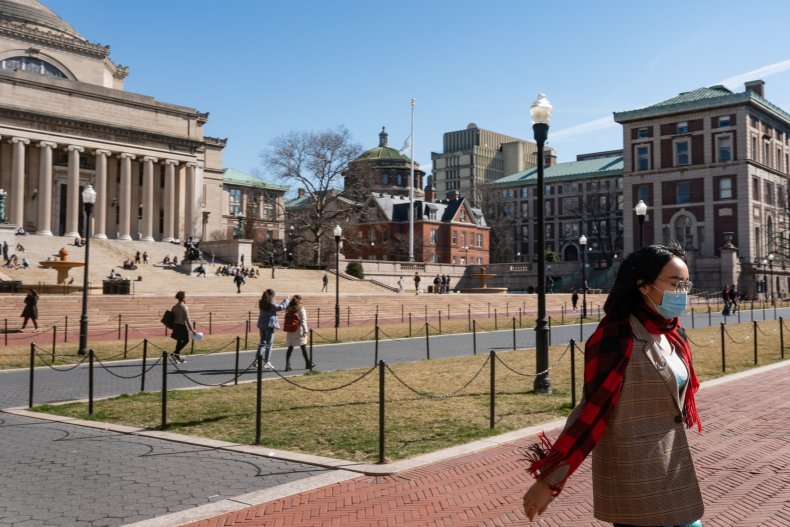 Farther south, in West Virginia, Wesleyan College doesn't have a vaccine mandate in place, but is "strongly encouraging" students, faculty and staff members to get inoculated against COVID-19. About 90 percent of faculty and staff have been vaccinated and the school noted if a vaccine gets full approval from the Food and Drug Administration (FDA), a mandate could be put in place.
Unvaccinated students must wear a mask whenever indoors, submit to weekly testing and pay a non-refundable fee of $750. The fee is intended to cover the cost associated with testing, President Joel Thierstein told CNN's New Day. Theirstein said students, faculty and staff members weighed in on the policy before it was implemented and many were on board, although he acknowledged that some were disappointed, as is the case with any decision.
"We're looking to just make sure our costs are recovered," Thierstein said. "But if we find alternative sources of support for the testing, we'll go with those and the fee will go away."
Rhodes College in Memphis, Tennessee, implemented a similar policy, charging unvaccinated students $1,500 to cover weekly testing costs. A spokesperson for Rhodes College previously told Newsweek the school didn't want to ask vaccinated students to pay for testing for unvaccinated students since vaccines are widely available.
Colleges across the country have implemented mask and vaccine requirements, but in Texas, school leaders are frustrated by restrictions on their ability to implement policies. In July, Governor Greg Abbott signed an executive order that barred any public or private entity that receives public funds from instituting mask or vaccine mandates.
Some private schools in Texas, including Southwestern University and Paul Quinn College, are requiring students to be vaccinated but others are in a tough spot. Dale Race, speaker of the Texas A&M faculty Senate, told the Texas Tribune the school has a "rich history" of scientific studies and are now "being constrained from following the science."