The Weeknd's New Lyric That He Can 'F*** You Straight' Prompts Criticism He's Denouncing and Fetishizing Lesbianism
The Weeknd is being hounded by social media users for a set of lyrics found in his latest single, which claim he can make a woman straight by having sex with her. The song, "Lost In The Fire," was released Friday and is tagged as a song by Gesaffelstein, who commonly produces The Weeknd's music.
The lyrics receiving heavy backlash are as follows: "You said you might be into girls/ You said you're going through a phase/ Keepin' your heart safe/ Well, baby you can bring a friend/ she can ride on top your face/ While I f*** you straight."
One of the first commenters to point out the said problematic line was Amber Bain, lead of indie pop group The Japanese House. "You can seriously f*** off with these lyrics," she tweeted alongside a screenshot of the lines.
Bain's point was echoed by indie musician Marika Hackman. "Well done to @theweeknd for managing to deride, fetishize and dismiss lesbianism all in one verse," she wrote.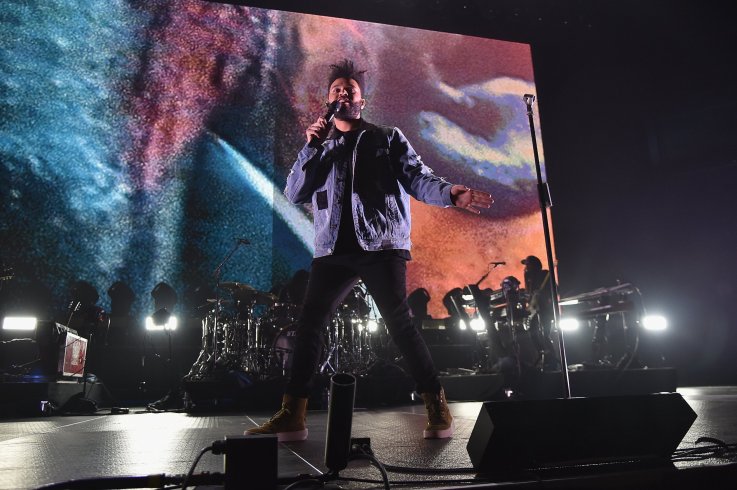 Both musician's posts received comments about the last line, most calling it offensive with a small handful agreeing with The Weeknd's lyrical point. "Making lyrics out of vomit," wrote Twitter user @theanticries.
Another user, drummer Louise Bartle, compared the song to Rita Ora's "Girls," which was met with heavy controversy for sexualizing those who identify as bisexual and lesbian. The lyrics of Ora's song claim "sometimes I just want to kiss girls." The song was slammed for being "tone deaf," by pop singer Hayley Kiyoko and "harmful" by artist Kehlani, according to Billboard. Ora alleged she meant the song as a bisexuality anthem.
The Weeknd has long been known to produce promiscuous and raunchy lyrics, and many times his work has included mentions of group sex. This is one of the first times, however, his lyrics have been considered insensitive and problematic past being majorly explicit.
"Lost In The Fire" is also receiving attention for a lyric some listeners believe could be a diss at rapper Drake. The lyric, found at the start of the song, talks about The Weeknd's wish to have a child.
"And I just want a baby with the right one/ Cause I could never be the one to hide one," the lyric reads. As Drake fans know, the rapper revealed he had a secret son in 2017 when he released his last album, Scorpion, in June 2018. The idea of Drake's son was originally outed by rapper Pusha T during a heated feud between the two.