Weeks Before Election, Trump Says Investigation Into 'Corrupt' Biden Would Show Financial Benefit From Hunter
President Donald Trump capitalized on a story published in the New York Post to re-up calls to investigate former Vice President Joe Biden, a man he said has been a "corrupt politician" all his life.
Trump, who's pushed for Biden to be indicted in the past, said news about his involvement with his son, Hunter Biden's, role on Burisma's board warranted investigation. Had the former vice president been put through an investigation led by special counsel Robert Mueller as Trump was, the president said they'd find "in a day" that Biden benefited from Hunter's financial success.
Speaking to Fox Business' Stuart Varney on Thursday morning, Trump addressed a report from the New York Post that Hunter Biden used his father's position as vice president to leverage his position with Burisma, a Ukrainian energy firm. He brought up that Hunter "got thrown out of the military" and "didn't have a job," a point he mentioned in his debate with Joe Biden, and then began "making millions" a year when his father became vice president.
"And the father gets some of that too," Trump said. "You check him out. "Put him through a Mueller investigation they'd find in day one, 24 hours, they'd find out ... Joe Biden is a corrupt politician."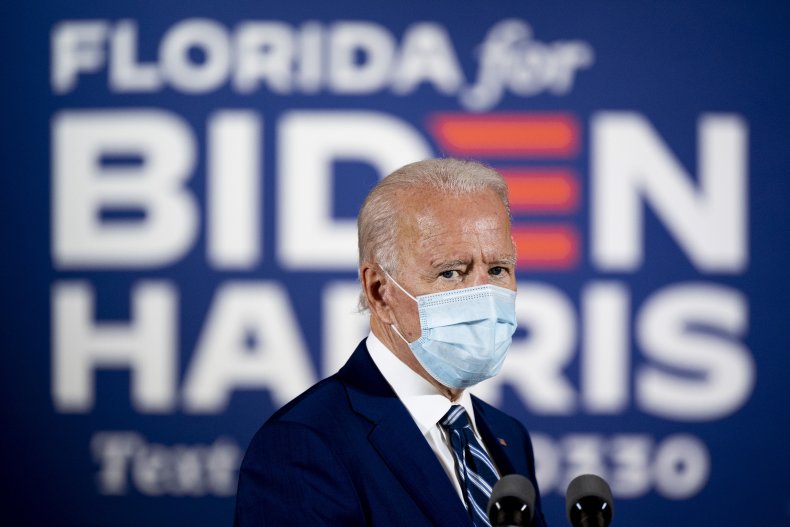 Days earlier, Trump called for Attorney General Bill Barr to indict Joe Biden, as well as former President Barack Obama, after handwritten notes from former CIA Director John Brennan showed Obama and other officials were briefed on Democratic candidate Hillary Clinton's "alleged approval" of a proposal to "vilify Trump by stirring up a scandal claiming interference by Russian security services." The assessment containing the notes was previously rejected by bipartisan members on the Senate Intelligence Committee for not being based in fact, according to Politico.
Newsweek reached out to the Biden campaign for comment but did not receive a response in time for publication.
The New York Post story included an email from April 2015 that was supposedly sent by Vadym Pzharskyi, an adviser to the board, to Hunter. In it, it says that Pzharskyi was invited to Washington, D.C., and had an opportunity to meet Hunter's father and spend "some time together."
The validity of the story has been called into question, with some questioning if it's a set up concocted by the Trump campaign. Biden's categorically denied that he had any influence in his son's international dealings. A review of Biden's schedule from the time also showed that "no meeting as alleged by the New York Post, ever took place," a statement from the Biden campaign said.
Hunter's role on Burisma's board has come into question on numerous occassions, but Biden campaign spokesperson Andrew Bates said it's repeatedly been resolved. Multiple investigations both within Congress and by the press, he said, reached the "same conclusion: that Joe Biden carried out official U.S. policy toward Ukraine and engaged in no wrongdoing."
This also isn't the first time Hunter's military service has been a target of Trump's attacks. However, Hunter wasn't dishonorably discharged, as Trump previously suggested, but was administratively discharged after failing a drug test for cocaine in 2014. Biden addressed his son's difficult past head-on at the debate, explaining that Hunter struggled with a drug problem that he's since fixed. It's work that makes Biden "proud."
The New York Post article said the emails were found on a laptop that was brought in to a repair shop for service but never picked up by a customer. Trump told Varney that he couldn't "believe they found [Hunter's] laptop" but that it wasn't necessary to prove Biden's corruption.