Weeping Caeleb Dressel Celebrates With Family After Powerful 100m Freestyle Gold
Caeleb Dressel finally got his individual gold medal. He sprinted past a Russian, an Australian and the rest of the world to win his first individual Olympic medal on Thursday in the 100-meter freestyle race at the 2020 Tokyo Summer Olympics.
Dressel touched first Thursday morning (Wednesday night in America) with a time of 47.02 seconds, a new Olympic record. He touched the wall ahead of Australia's Kyle Chalmers (47.08) and Russia's Kliment Kolesnikov (47.44) to claim victory. It's the first individual gold medal for Dressel, who's also won gold in the 4x100 freestyle relay at both these Olympics and the 2016 Rio de Janeiro Summer Games, along with a 4x100 medley relay gold in Rio.
Dressel's family went berserk after the win, as shown by NBC.
Dressel, who was born and raised in Florida and went to the University of Florida, walked to the TV cameras for his swim-deck interview as a tape showed his family in the Sunshine State cheering and crying.
"Right now I'm just kind of hurting," Dressel said in his initial TV statement. "It's been a really tough year."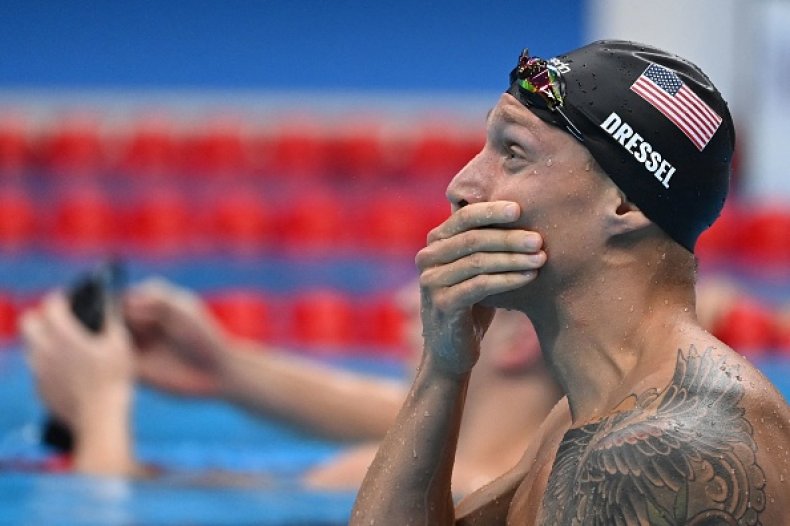 There were no family or friends in Tokyo to celebrate Dressel's lifelong dream, per Japan's COVID protocols of having zero fans. However, the NBC crew rewound a tape, and then showed a group of family and friends celebrating his historic moment half a world away.
Dressel, all of 6-foot-3 and built like a swimming gold, broke down in tears when he saw his family cheering him. The tape then went live.
"I love you so much, I'm so proud of you," said his wife, Meghan, in the video chat.
"I love you, too," Caeleb said, as his eyes cried more water than he'd just swam through at the Tokyo Aquatic Center.
Dressel got out to a blazing start from lane five, touching first in the first 50 meters ahead of Kolesnikov. Chalmers had the fastest split in the last 50, going 24.37 seconds, but it wasn't enough to deny Dressel his first individual gold medal.
"I wasn't worried about anything," Dressel said. "During the race there's only so much you can do. Whatever's going to happen is going to happen. I stuck to my race plan, so if it got me first, OK. If it got me second, OK."
Dressel, who was mysteriously left off the 4x200 freestyle relay team earlier this week, is still scheduled to swim the 50-meter freestyle and 100-meter butterfly heats over the next two days, in addition to any other relay teams he may be added to.